Valiant Armoury
Kriegschwert Sword Review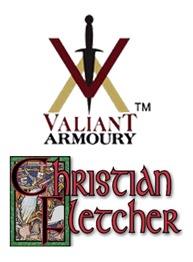 The Kreigschwert Sword is a flagship blade from Valiant Armories "Signature Series" - a project that revolutionized the sword industry with blades designed by modern sword Legend Angus Trim, scabbards and leatherwork designed by artisan Christian Fletcher and made to exacting specifications by Valiant Armory.
These swords not only handle incredibly well, but they are stunning art pieces - all the leatherwork is done in house in the USA by Sonny Suttles and the blades are beautifully hand forged and tempered by one of the best Chinese forges (and are approved by Angus Trim - indeed, he was actually impressed by them!).
But the big question is - do they truly live up to the hype?
In this hands on review, we look at the Kreigschwert from two perspectives to try and find an answer - Chris from Long Island gives it a good once over and yours truly dons some armor and does some HEAVY testing to put it through its paces...!
---
Valiant Armory Kreigschwert Sword Review
Review by ChrisA, Long Island, USA
(With Additional Testing by SBG Editor in Chief, Paul Southren)

---
Steel 

Weight 

Point of Balance 

Price Range


1060 Carbon Steel

3lbs 4oz

6" from guard

US$550
The Kriegschwert is an Oakeshott type XIIa. Type XII's were an upgrade to earlier designs by improving thrusting without sacrificing the cut. Still mostly a cutter, typeXII's were capable of thrusts against lightly armored opponents. Type XIIa is the two handed version of type XII.
Kriegschwert means "Warsword" in German.
Initial Impressions

My Kriegschwert was shipped with my Practical Arming Sword, each in their own boxes but taped together. The swords were in two boxes for added protection. They were padded nicely though the styrofoam packing took a beating. The sword itself was intact.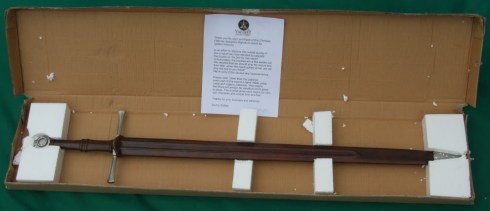 The signature series comes with scabbard, belt and suspension system. Valiant Armoury was unhappy with the buckles of the belt and ordered new one to be cast. This held up the belt and suspension but they decided to ship the swords so we can at least enjoy the blades while we wait. (Valiant later shipped the belt and suspension system at their cost as soon as they came in). I could not ask for better quality control than that. It is obvious that Sonny takes pride in these products and does everything he can to ensure quality.
Additional Statistics

Overall Length: 44 3/8"
Blade Length: 35"
Handle Length: 7"
Blade Material: Hand Forged 1060 High Carbon Spring Steel


Blade Width at Guard: 1 13/16".
Sword Weight 3 lbs. 4 oz.
Sword, Scabbard & Belt Weight 4 lbs. 3 oz.
Center of Gravity 6"
Center of Percussion 23"
Components

The scabbard and sword are beautifully done. Finish is nice but not perfect. This is something I like. It makes it look less like a mass produced item and more a hand made work of art. The blade as per Type XII has distinct profile taper. Though I lack the tools to measure it, it also has distal taper.

The fuller is evenly done and ends about 2/3of the way down. Though flexible, I detect no undue whippyness in the blade.
The point is sharp and penetrates testing medium easily (plastic bottles). The edge is sharp and cuts the testing medium as if it wasn't there.
There is a noticable scratch and scuff mark on the blade right under the hilt. This is very light and should come out with a little Metal Glo, but is worth mentioning.
The back of the scabbard is glued together neatly. The seam is obvious but it is smooth and neatly done.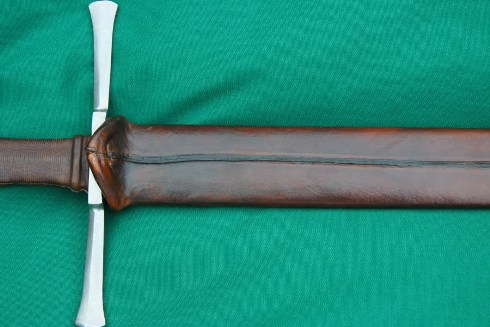 The sword fits snugly in the scabbard.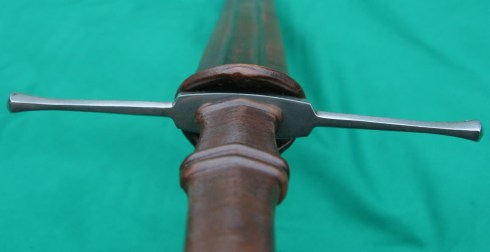 The chape is nicely done though tooling can be seen. Also note the imperfections in the leather. Not a bad thing at all.
The hilt and pommel are nicely done. The leather is tight and feels comfortable in the hand. The handle is the ideal length to fit both of my average sized hands, 7". Some tooling can be seen on the pommel but, again, I like the look of that.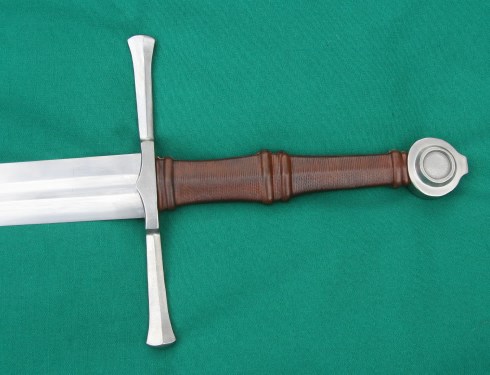 Now the two things I can find fault with. Not real gripes but what good is a review without finding something just not perfect? The wrap on the hilt is uneven and overlaps a bit. Nothing horrible but something that can be improved upon. With normal handling I can feel it if I think about it, but normally it is not an issue at all. The other complaint is that the hilt is a bit on the thin side for my average hands. I have no problem at all, but someone with larger hands might have an issue.

Now the two things I can find fault with. Not real gripes but what good is a review without finding something just not perfect? The wrap on the hilt is uneven and overlaps a bit. Nothing horrible but something that can be improved upon. With normal handling I can feel it if I think about it, but normally it is not an issue at all. The other complaint is that the hilt is a bit on the thin side for my average hands. I have no problem at all, but someone with larger hands might have an issue.
Just like "real" Atrims these are attached by a hex nut screw. This allows for customization if desired. I find the screw comes loose after a few dozen cuts and a few whacks on the cutting stand (oops!). A quick turn of the screw and all is right. There are products out there to put on the threading to make it hold tighter if this is an issue. It's not with me.
The Kriegschwert has a full, thick tang that is attached with screws. The threaded part does not seem to be welded on and is instead just a continuation of the tang.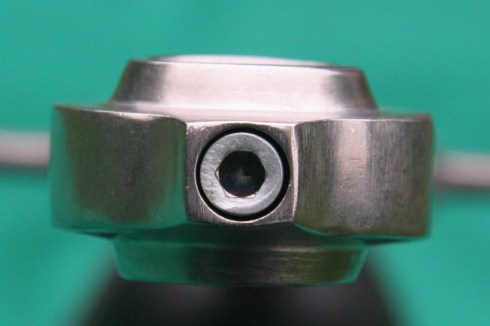 Handling Characteristics

I am untrained in swords. What little I do know is from this forum and some videos. I have three other swords to compare this one to: Practical Arming Sword, Dark Sentinel, and a Windlass Raptor. I have never handled a "real" Atrim or an Albion. Someone with more experience than I might have a different opinion.
The weight of this sword is 3lbs 4oz as per the VA site and while I have no digital scale I can say that feels pretty much on target. POB is 6". This makes for a rather point heavy sword that gives a strong cut.
This is a "warsword". A sword meant to be taken on the field of battle, meant to face various armor of maille and cloth. This is not a sword meant for swift unarmored duels.
Despite the weight and the 6" POB this is still an agile sword. It moves better than it's statistics would indicate. It has a authoritative cut, but is not difficult to reverse the stroke. Tracking in the thrust is ok, but obviously not this sword's strong point.
To me, this sword is best used two handed. One handed I find a little difficult but that might be more to my lack of training and skill.
Test Cutting

My friend and I spent an afternoon cutting various types of plastic bottles ranging from 1 gallon milk jugs to Coffee Mate bottles to kitty litter tubs. None gave this sword a problem. Although our form might be in question, the edge of this sword is not.
Unfortunately, and unintentionally, we had struck the various cutting stands. This includes a rather thin and soft pine 1/2 inch thick. We took several slices out of this. I expected no damage to the blade and was not disappointed. Not a mark on it.
However we also connected rather firmly with thicker, harder, pressure treated 4x4s. I was fearful, but to my surprise the edge was intact. Nothing more than a smear that easily wiped off. No rolling. No chipping. No set to the blade. The 4th picture I posted here, the one of the lower half of the blade, was taken the day after we struck the 4x4s 3 times, leaving gouges in the wood. As you can see, the blade is intact.
So i have to say the hardening and heat treating are wonderfully done. This is not just a beautiful sword, this is a tough blade meant for cutting.
Despite my better judgement here is a very short video of me using the Kriegschwert. I once read on that many of you get more from watching even an inexperienced user like myself than from reading the review. So I feel a video is needed. Please don't be too mean about my form. I know I am not good.
VIDEO: Cutting with the Kriegschwert
Typical targets with good results
I am totally satisfied. I would absolutely recommend this sword. It is as good as it looks in the pictures.
Thanks for reading and I hope someone found this review enlightening.
---
HEAVY TESTING TIME!
---
Ok, thanks Chris - Paul here, time to push the envelope a little.. ;-)
First off, I want to say that I second Chris's opinion of these swords and from memory, they are the ONLY medieval swords that I had 100% total confidence in even before I had personally seen them myself due to the pedigree of the designers (Gus Trim and Christian Fletcher) whose 'Signature' they bear and who have wholeheartedly endorsed the final product.
The only areas where I differ from Chris's summary is in the finish of the blade, which is actually pretty good (satin finish - like an Albion or real Gus Trim blade) and the handling, which in my opinion is actually one of the fastest, most easy to weild longswords I have had the privelege of owning.
Now as Chris mentioned in his review, he did not receive the sword belts until a couple of weeks after he received the sword (his order was one of the first for these swords, and they had a few minor teething troubles which have long since been rectified, but for everyone else, below is a picture of what the sword belt looks like when worn.
Now, let's get into some heavy duty testing!!!
Destructive Testing Results

DISCLAIMER
(Don't Try This At Home!)

Destructive tests of this manner are NOT recommended as standard test cutting exercises. These tests were conducted after careful examination of the swords structure and blade geometry to determine probable breaking points. Historical swords were designed primarily to cut human flesh and bone, with a little extra to deal with secondary unintended targets like shields, armor, etc. Breakages in battle were commonplace and if you attempt to recreate these tests, no manufacturer in their right mind would cover you for damages!
It goes without saying that the Kriegschwert is more than suitable for general backyard cutting, but for these tests I wanted to do something just a little different...
Several swords were tested on this day, but in my opinion the Kriegschwert was the real stand out performer..!
The flex and tempering of this sword is phenomenal, reportedly exceeding even Angus Trims expectations when he saw one of the forges early prototypes, and the Kriegschwert sword is no exception - the sword flexing and returning to true every time.
But it was this swords durability and cutting power that really blew me away after I subjected it to cuts and thrusts against a thick plastic rainwater tank, a 16 ga mild steel hauberk, 14ga steel helmet and a steel pole!
VIDEO: Destructive Testing

A flex test, and then a thick plastic rainwater tank, chain armor, helmet and steel pole!
As you can see, it is FAR more of an effective cutter than it is as a thruster, however it was able to penetrate the chain armor without any problems with a thrust - and a few cuts tore the armor to pieces! (if it was on the battlefield, I would say that a warrior would have survived the cuts, but one more in the same spot and his spleen would be on the ground)...
The only real damage it took was when the edge of the 1060 carbon steel blade hit the edge of the 14ga helmets visor, but close examination reveals that the helmet was more damaged than the narrow edge of the sword (this was the EXTRA sharp version btw!).
Overall, I'd hate to come up against this sword, it is both fast, tough and very, very functional (as well as rather attractive!!).
The only 'flaw' I can add to it was that the strikes on the steel pole did loosen the hilt slightly, but another sword that was peened also suffered loosening - which is extremely hard to retighten, though with the Kriegschwert sword, a quick turn of the Gus Trim designed allen key assembly and it was as good as new again..!
Sure, they are a little more expensive than most of the swords we recommend at SBG, but my goodness - it is worth it...
PROS
ugh! So much to list here! I hope I don't leave anything out!
Strong, sharp, durable blade.
Nice handling. Handles like a strong warsword should.
Nice leather wrap on hilt.
Excellent quality control.
CONS
Have to wait for belt and suspension system (but see last item under pros)
Uneven edge on leather wrapping of hilt.
Hilt could be a little thicker.
Small scratch and scuff on blade out of the box.

WHERE TO BUY
The Kriegswert is currently only available direct from Valiant Armoury for $550 here at the Valiant Armoury Custom Sword Shoppe.
Please note that as some customization of the leather coloring is available, lead time may vary considerably between placing an order and receiving the sword depending on their current workload.

---
I hope this review of the Valiant Armoury Kriegschwert Sword has been helpful. To return to Affordable Replicas of Medieval Swords from Valiant Armory Kreigschwert Sword Review, click here

Looking for honest, trustworthy sword sellers? Look no further than:


Sword Buyers Digest Newsletter!

Sign Up to Our FREE Monthly E-zine for all the latest sword news, info and much, much more! Click Here for more info..