Munetoshi T-10 Sword

I've watched this brand with interest since they started - created and sold exclusively by up and coming sword sellers Sword N Armory.com
They've been offering excellent customer service, been responsive to the needs of the sword community, properly tested their products and submitted them to scrutiny and have really taken it to a whole new level. Plus better still, they make a range of T10 tool steel swords (one of my favorite steels - I've always selected it for the differentially hardened Katana on my own SBG exclusive lines!).
It is one of their affordable T10 Tool Steel Munetoshi Katana (as many are above the $300 mark) that we will be looking at today with one of their youtube cutting team members. A light cutting sword with a real hamon for $200 called the (appropriately enough) the Light Cutter.
---
Munetoshi T-10 Sword Review

Review by Jennifer D. Bellew
---
Steel 

Weight 

Point of Balance 

Price Range


T10 Tool Steel

2.2lbs

4.5" from tsuba

US$198

Good Evening SBG,
After some deliberation on what I was going to review next, I decided on Munetoshis Light Cutter. These swords retail for $198.98 and come in two flavors: red and black, which can be found here for the red one and here for the black
There are a few reasons I chose this specific sword; I like the fact there's a color option other than black, it comes with accessories that are not the standard cotton-linen-ish sword bag (though it has that, too) and it has a proven track record with our cutting group. I also believe there's more to this blade than first meets the eye.
Historical Overview

I'm not entirely certain what the designer had in mind when they created this sword, but the handling and geometry is very reminiscent of some of the old Koto blades I've had an opportunity to inspect and handle. The blade is thin, but not quite 'tired-from-the-box', or 'one-polish-away-from-ruination' thin. Instead, it has a feel of a much loved and well cared for Koto piece, like an old warrior that still has a few battles left in them.
The Koto period in Japan fell between the years of 900 C.E. and 1596 C.E. It was characterized by two major periods within the Koto period, which were defined by the blade shapes of the time. The first half of the Koto period was called the Kamakura period. The blades of this time were typically long, with graceful curves toward the tsuka and very small kissaki in both length and depth.
Source: http://www.jp-sword.com
The second half was called Nambokucho and was defined by much heavier, more robust blades with o-kissaki and wider hamon.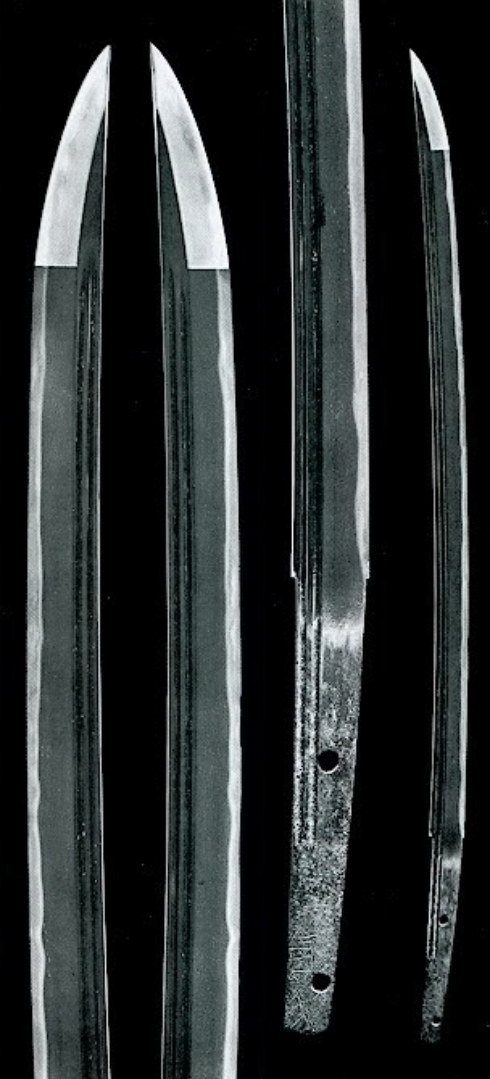 Source: http://www.jp-sword.com
The Light Cutter is reminiscent of a shortened Kamakura tachi. The sword features a chu kissaki, shinogi zukuri geometry and no bohi. It is well balanced and just has the almost inexplicable feeling of being a dedicated cutting blade, being ready to go head-to-head with and take down tatami warriors at any time.
Initial Impressions

The box is just the standard cardboard, but the sword sits very securely inside, thanks to three huge pieces of Styrofoam and the zippered Nylon carrying bag it comes with. I really love the carrying bag; it's lightly padded and has a pocket for cleaning supplies or tools for a quick fix. Its made of nice, heavy material and has a shoulder strap, so it's perfect to carry a sword back and forth to practice in.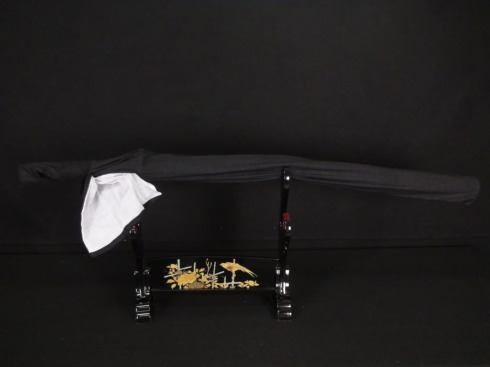 The paperwork for the sword is attached to an envelope in the top half of the box and is about average as far as sword paperwork goes. No monumental hurrah there.
These swords also come with the weird cotton/linen sword bag. Again, nothing to write home about and very average for the price. I can't say enough how much I love the nylon carrying bag, though; for the price range of these swords, it is a very nice addition.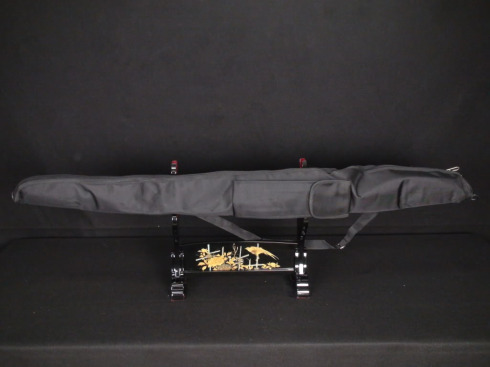 The first things I noticed upon handling the Light Cutter were its nicely tapered tsuka, the phenomenal hamon on the blade, the good balance... and the sukashi Higo cucumber tsuba, of which I have never been a fan. The blade feels very good in the hands and ready to cut. It is light enough to practice cuts repeatedly with without overworking ones' arms.
Components
To-shin
This is what sets this sword apart from others in its price range. The blade has a somewhat tired--though traditional—shinoji zukuri shape and an absolutely eye-popping hamon. The best I can describe the hamon as is gunome midare; I've never seen two even remotely alike on these blades. It is complete through the boshi and generally has a nice turn-back.
The Light Cutter weighs 2.2 pounds without the saya, which is on the light end for my tastes. It manages this without a bohi somehow, which I really like. I prefer my iaito with bohi, but my cutting swords without. I'm not entirely certain why this is; it could be subconscious. The blade is also 28" long, which is right in a comfortable draw/noto length for me. The one strike it has against it is that the kissaki is not well defined.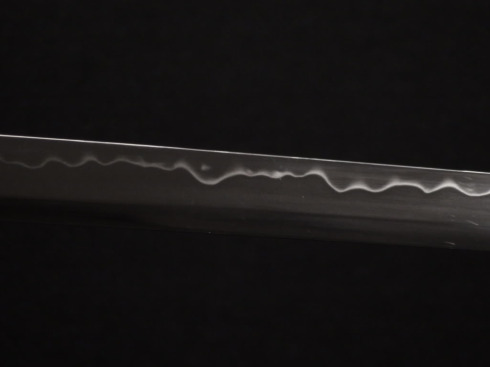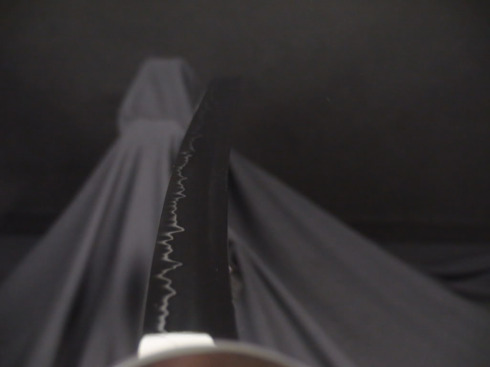 Tsuka
The tsuka on this sword is nice. It's well tapered and very comfortable in the hands. The ito is synthetic and the crossovers in the maki don't alternate, but the samegawa underneath is real. The menuki are kind of generic and blase; they're just there. I do like the fushigashira quite a bit though, as they're plain unto the point I could call them Higo style. They add a simplistic, elegant touch.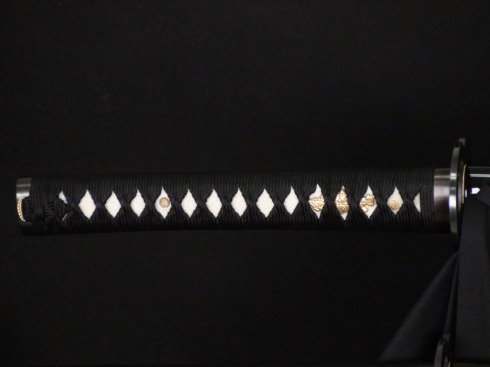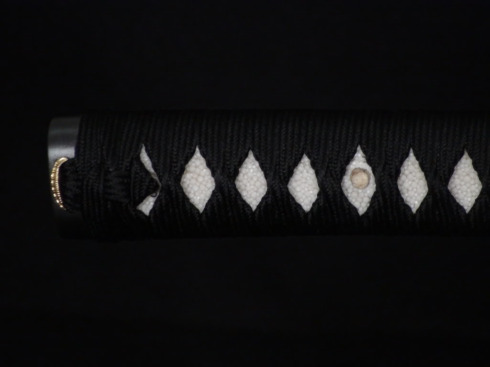 Tsuba
The tsuba is a decently-made blackened steel sukashi design. There is a little debate over what to call this exact design; some people refer to it as a 'double ring', others still call it a momo, or peach. It's also been called the 'Musashi' design, as Musashi Myamoto did design a tsuba of this sort. I believe the most accurate is that is a sukashi in the Higo style, representing two cucumbers. While it is pretty well made, I have never been a fan of these tsuba and refer to every single one I see as a 'butt' tsuba. I realize that this style has its fans, I just don't happen to be one of them. (Note: The author would like to take this opportunity to apologize to fans of the 'butt' tsuba.)
Fuchigashira
The fushigashira on the Light Cutter are my favorite components of its koshirae. They are blackened steel in a plain, Higo style. I feel they are very elegant and add an almost courtly air to this sword.
Saya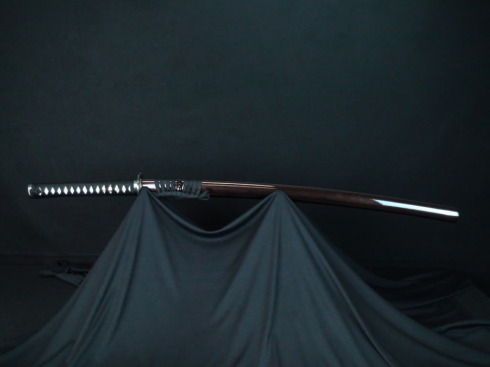 I chose to review the red version of this sword specifically because of the saya. It's so dark it's almost black, but really comes to life with some red metalflake. In just a little flash of light it's very eye catching and in the sun, it positively glistens.
Another thing to like about this sword is the fact that the chemical fiber sageo is just that: sageo. It is not the same material as the ito and is a very nice addition to the sword.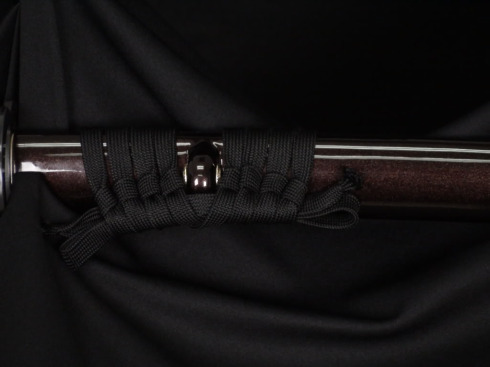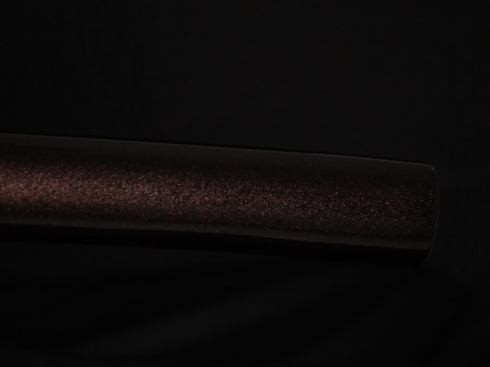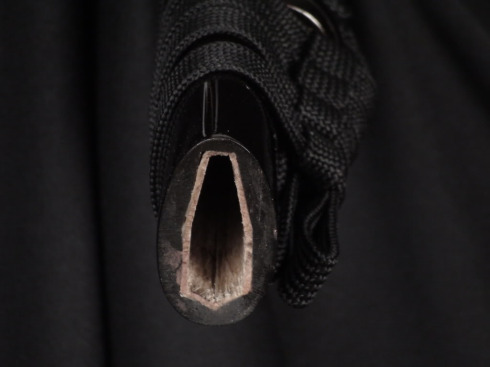 Handling Characteristics

As I stated previously, the Light Cutter reminds me a bit of a shortened Kamakura tachi. It has a good taper to it and a balance that just begs to be cut with. It's light and lively in the hand but with enough weight behind it that it can handle traditional targets but is not cumbersome. It's also great for shredding water bottles.
Test Cutting

This is one of the Cutting Squads' most used cutting swords and, as such, I couldn't think of a single movie that could best personify it, as it has cameos in literally all of them.
VIDEO: Cutting Bamboo

Unlike another (relatively) low cost real hamon Katana, this one CAN cut bamboo

Conclusion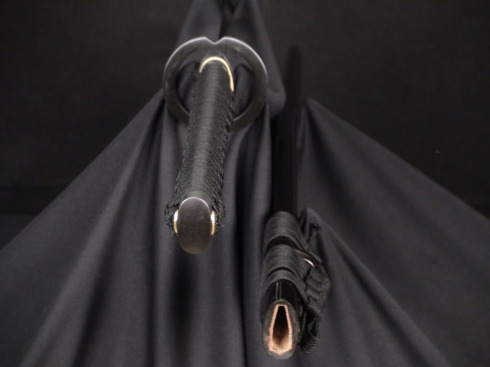 I believe that the Light Cutter is a fantastic sword for the sub $200.00 price bracket that it sits in. It would make a great 'first sharp', has proven itself against both traditional and non-traditional targets, as well as the abuse the group of us can dole out. The hamon is gorgeous, the fushigashira are elegant, and the tsuka is tapered nicely. Things I would like to see done differently on this sword are actually putting some shape to the kissaki, getting the alternations in the itomaki correct and getting a few different tsuba to choose from. Overall, I believe it's a great bang for the buck and that Sword N Armory has really delivered a great sword for the price.
PROS
Traditional geometry, giving a Nihonto-esque feel
Gorgeous hamon that's tough as nails
Nice Higo-style fushigashira
Very nice nylon sword bag
CONS
Ito crossovers do not alternate, which is incorrect
Kissaki has no definite shape
Slim sword; has an almost 'tired' feel
*Personal Taste* It has a 'butt tsuba'

---
I hope this review of the Munetoshi T10 tool steel Katana has been helpful. To return to A Beginners Guide to Authentic Japanese Swords from Munetoshi T10 tool steel Katana review, click here

Looking for honest, trustworthy sword sellers? Look no further than:


Sword Buyers Digest Newsletter!

Sign Up to Our FREE Monthly E-zine for all the latest sword news, info and much, much more! Click Here for more info..