"Hero-Sword" Brand
by Jon
(CC, Texas, USA)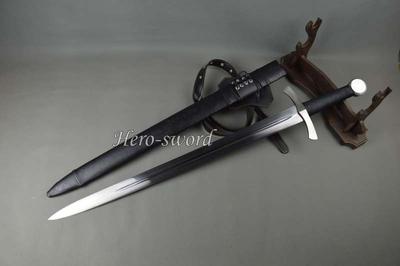 Hello All,


I was wondering if anybody has ever heard and or acquired one of these "Hero-Sword" swords. Found this one (attached) on Ebay and bought for around $330. The only description it had is below, but he later emailed me back and assured me it is a full tang sword. What do y'all think?
specification;
Blade material ;Real hand forged Damascus Folded steel
HRC ;58
sharpness ; can cut trees and bamboo,even can cut A4 paper!!!
overal length approximately;106cm
blade length approximately ;75cm
handle length approximately;22cm
blade width approximately (near habaki); 5.5cm
overall weight approximately (with Sheath);1932g
without Sheath weight approximately;1535g
handle material ; hard wood +nylon cord +Stainless steel top of the decoration
Sheath material ; hard wooden +leather
tsuba material ;Stainless steel
Conditional ;brand new

Sword Buyers Digest Newsletter!

Sign Up to Our FREE Monthly E-zine for all the latest sword news, info and much, much more! Click Here for more info..