Jason Quin Deerhornknives.com
by Ted MacKinnon
(Ottawa, Ontario, Canada)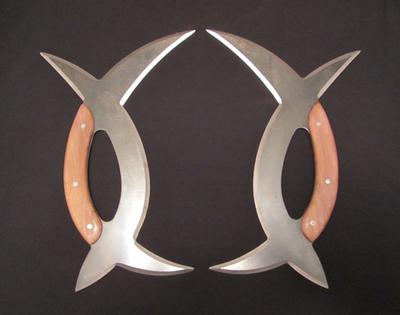 Edge picture
When looking for actual Deerhorn knives to purchase, I came across this website: www.deerhornknives.com. First one up on a google search.


I left a few messages with Jason Quin, the owner and manufacturer, and never got a reply. It was months later when he finally contacted me.
We entered into a genial discussion about the knives, and I was eventually satisfied with their quality - many photos produced, some during the creation stage, updates to the website showing he was active, etc.
I probably should have searched on Jason Quin, as I will mention later.
Anyway, he asked for payment up front, and being far too trusting, I agreed. Unsurprisingly, the moment Jason Quin received my paypal payment...he stopped accepting my calls, he ceased to answer his email. Basically, he went silent.
I tried for months to contact him. Nothing. Eventually, while poking into the Better Business Bureau, I discovered he had done this before. He has an entry for Deerhornknives.com, Jason Quin, with an F rating. F, for fail.
I am not the first person Jason Quin has hoodwinked. I have doubts I'm the second or third.
Since that time - over a year ago - I have periodically left messages with Jason Quin, attempted contact, checked his website(s). His websites continue to have updates, so he's still around. New products are offered.
And yet, still no Deerhorn knives in my mailbox. I'm out $322 dollars or so.
More fool me for being so trusting, but I figured it would be good for others to get the word on this guy, Jason Quin.
Included is one of the pictures he sent me - it's not the model I was looking for, but an example of how he grinds the blades. The second picture he sent me was for wooden trainers he was working on at the time - they're now available on his website.
Supposedly.
Do not purchase from Jason Quin or Deerhornknives.com. In fact, I'd be seriously skeptical of his other website as well, fiveelementarts.com.