regarding lamination of a Ronin Elite blade.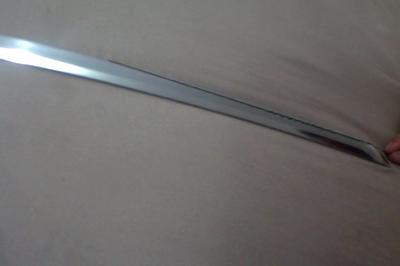 cotton is highlighting lamination for the photo.
Hello,

I just brought a Ronin Elite, from their scratch and dent sale.
On first impressions it looked very nice, but I now have concerns about its lamination.

The problem is I would expect a Soshu Kitae blade to have Two visable lamination lines on each side, but it only has one lamination line that starts on one side, runs along the blade, then crosses over the edge and continues along the other side to the kissaki.
It looks more like two billits weilded together and that is all.

I contacted Chris scoggins at ronin Katana, and asked if he had a certificate from the forge and he said no.
I then asked him to confirm the lamination type, and he said he doesn't know?
I have asked Chris Yesterday, to find out what info he has on this product and am waiting for a reply.

I am concerned that this is not what is advertised.

Is it common among their elites to not see the laminations? and if so, how do they prove they are laminated without some certificate or paper work of some sort from the forge?

According to the ronin video of them forging a Soshu Kitae, they wield a 1095, 1060, and 1095 together then fold it over once, and then add a 1045 spine.
When they do the fold over it results in a double layer 1095/1095 wield at the edge. I guess that is the lamination I can see but where are the lines where it changes to 1060 for the intermediate layer, then back to 1095 on the outer layer?
I have used black cotton in the pictures to highlight the path of the lamination line.

Any advice on this would be much appreciated.

Thank you.

Matthew Meyer.


Sword Buyers Digest Newsletter!

Sign Up to Our FREE Monthly E-zine for all the latest sword news, info and much, much more! Click Here for more info..