SBG $330 Custom Katana
by Thiago Jardim Pereira
(Brazil)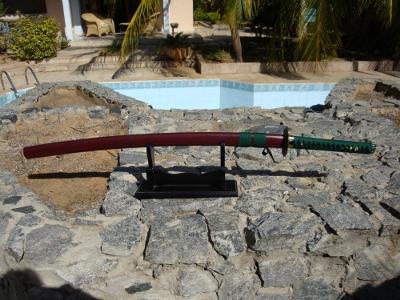 Hello SBG readers.


My name is Thiago, I am Brazillian, and am about to review a SBG custom sword
First of all I want to congratulate and express my admiration to Paul Southren and the SBG store crew ( if there´s any other ) for the marvelous customer service they provide. Ever since I bought the sword I had the best support ever, with regular news on the status of the blade, shipping and all, with a dedication and care much above average. The sword had some problems at Customs here in Brazil, but Paul was by my side all the time. Five stars for the customer service here!!
Now for the sword.
I chose a Standard Blade, 29" since I am big guy, with no hi, custom folded steel, and a B116 Tsuba, because I love the mokko gatta shape. As for fittings I chose C8, a beautiful gray and golden bamboo design. For the tsukaIto I went for B5 - Green Cord, Black Rayskin and a custom S5 - Maroon, Sparkling saya, based on an antique I saw online.
The wait was looong and nervous, not knowing how it would turn out. Then, on a fine day after a hard day's work I get home and see a long package on the couch!!! It arrived!! I grabbed it and ran to my room, to unwrap it. It was carefully wrapped in a box, a Styrofoam casing and a black plain bokuro.
When I finally saw it, I was speechless. It was exactly as I had pictured it, beautiful and elegant. The tsuba was just as I wanted, and the tsuka ito contrasted beautifully with the saya, and it was tightly wrapped. I found the menuki rather plain, and thin, but that´s a nitpick. Overall, it´s appearance was awesome, and I am extremely pleased with it.
Then I unsheathed it, it was covered in oil, and the result I got after wiping it was Stunning. The blade had an elegant sori, and the most beautiful and subtle details of he folded stell. And the hamon…Ah, for the hamon I need a new paragraph.
The hamon was subtle, yet very, very beautiful, appearing or fading in light, and I had the impression that it had a double colored hamon, one in suguha nearer the mune, more subtle, and another one, a kind of irregular gunome at the ha. I am out of words to express how beautiful it is, I just can´t stop looking at it, with a rather dumb expression. Stunning blade. The polishing is mirrored, but right at the kissaki it was a bit scarred, but hardly noticeable. And the transition to the kissaki was somewhat rough, with a small step, rather than smooth transition. But those are nitpicks
The saya is a beautiful color, nicely lacquered, but it seems to be rather light, and the wood somewhat fragile.
It was quite heavy, somewhat difficult to wield, but with a razor sharp cutting edge, very pleasing. So, what could I do but take it to the test?
I Bought a bunch of pool noodles for it and a straw beach mat. Despite my horrible form it cut like a razor, leaving clean surfaces, and making a very pleasant sound. No silent cuts yet, but someday I´ll make it. I performed poorly against the straw mat, but totally due to my lack of skill. Very nice indeed.
So, in a nutshell, I got an amazing customer service, an awesome sword with some minor nitpicks, and the most beautiful hamon I have ever seen. Was it worth it?? Hell yeah!!! Would I buy another from Paul?? I WILL, and I am also recommending everyone his site; for serious, high quality blades with an excellent customer service!!!