trying to find my sword
by Mark Simpson
(Nashville TN)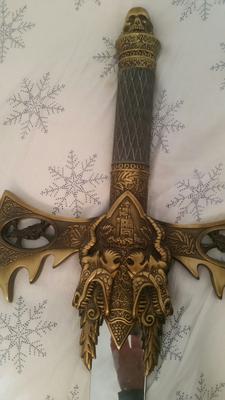 I have a sword I bought 20 years ago it is a two handed broad sword with a bronze hilt that has a skull dagger that comes out of the hilt it has no markings on it I can find at the bottom it has a tip guard that has SW on it could you help me find out who made it and what it might be worth. I have some pictures.

Sword Buyers Digest Newsletter!

Sign Up to Our FREE Monthly E-zine for all the latest sword news, info and much, much more! Click Here for more info..