Ye Old Valiant Armoury
Viking Sword Review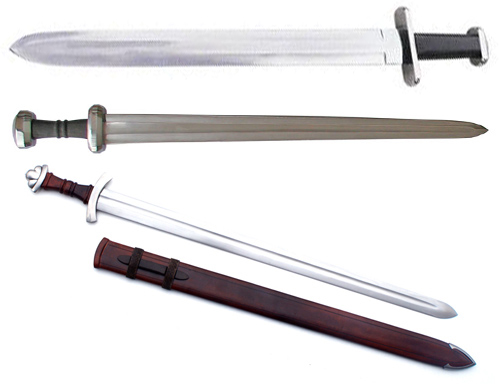 DISCONTINUED
While this product was discontinued in 2007 or thereabouts and is no longer available to purchase, it has been preserved here for informational purposes.

Nothing illustrates how far Valiant Armoury Viking Swords have come than the image above..
At the top we have the pre-Sonny Suttles era Valiant Armoury Viking sword - a clunky, shapeless crowbar of a beater sword. Then we have it's refinement by Sonny - and finally the expertly tempered, amazing looking Hedemark sword reviewed here.
The difference is like night and day - sword evolution in action.
Of course, the price is also quite different - back in the day you could pick up the original Valiant Armoury Viking beater sword for around $175 while the Hedemark is a little over twice this price - but arguably more than twice as good..
However, beater swords like this one have their merits - sure they are rough around the edges, but they can be fun. Read on and you'll know exactly what I am talking about as Ric Willy takes one through its paces.

---
Valiant Armory Viking Sword Review

Review by Richard Williams, Evansville, USA
---
I bought this sword from Bladeseller for $150 and $25 delivery charge.
I debated whether or not to due a review on this sword. I decided to do it because I don't see any reviews on any Valiant Armoury swords on this site and thought it might be useful information on someone thinking about a purchase of this brand of sword.
I kind of got this sword on accident as I ordered it on a whim. I then had to leave town suddenly and was gone for a month or so. I didn't think the sword had arrived in my absence as I had some one collecting my deliveries and they made no mention of it. I contacted Bladeseller and he said it had shipped.
I insisted it hadn't arrived and they refunded my money even though their records showed it was delivered. I give big customer service credit to then as I found out later my niece had picked up a sword sized parcel and hadn't told me. I by then didn't really want the sword as I had ordered different one but due to Bladesellers customer friendly conduct I kept it. (Yeah, I paid for it again).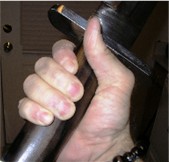 The sword arrived well packed and greased. The first thing I noticed was how bulky it was.
The fixtures are thick and look like stainless steel. The blade is made of a decent carbon steel it seems with a little flex the way I like it and a shallow fuller.
"The grip is rather large for my hand...
It seems solid enough however, it resembles a Viking sword only in that they are both sword shaped and made of metal. This does not concern me much. My main focus on swords when I bought this one was durability.
Here are some stats:
Overall length- 34 inches

Blade length- 21 1/4 inches

Blade width-2 1/8 inches

Hilt- 6 3/4 inches

POB- 5 1/2 inches below guard

Weight- 3 1/2 lbs
Now for the testing.
Part of the reason I decided to go ahead with this review was my wife said our yard was looking like the set of "Sanford and son". As I said I bought this sword with durability in mind so I decided to use it to chop up the junk out back.
I also have taken a notion to do some cutting lately so I tried my hand with this sword with mixed results.
As the pictures show I didn't meet with a lot of success in the cutting, partly my skill level, but also the sword is a bit unwieldy. I had a bit more success at the heavy work.
The sword suffered no significant damage, some expected scratches and still tight in the fittings. However I can't say it did too well on the cutting as it is too clumsy for me but it is very durable and is a good chopper.
I'm glad I have it as it broadens the range of my collection. I have seen pictures of some new products from Valiant Armoury that I find interesting...
PROS
Extremely durable blade and solid construction
CONS
Overly heavy and performs poorly on lighter targets
Not even close to being historically accurate. Very plain appearance

---
I hope this review of the Valiant Armoury Viking Sword has been helpful. To return to Modern Replicas of Viking Swords from Old Version Valiant Armory Viking Sword Reviewed, click here

Looking for honest, trustworthy sword sellers? Look no further than:


Sword Buyers Digest Newsletter!

Sign Up to Our FREE Monthly E-zine for all the latest sword news, info and much, much more! Click Here for more info..