The SBG Sword Store has had something of a facelift...
Ok, well it is a little more than a nip and tuck - it's actually something more akin to a complete overhaul...
Click here to see what I am talking about...!
You'll also find that a lot of old products have made a comeback. And there will soon be a lot more, primarily my best picks for the lovers of European style functional swords.
But for fans of the Katana and other Japanese swords, you'll see quite a few new additions there - and some very special limited price offers...
After the 3rd of August, my ongoing ridiculously low prices on the Hanwei line of Elite and XL Katana is due to go back up to the minimum advertised price.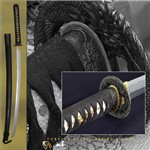 But the good news for you <>, is that they are all in stock and good to go out at these low prices until then - including swords like the Shinto Elite Katana (pictured right).

You will simply NOT find this sword anywhere else for under US$738.65 (the MAQ) - but until the 3rd of August we have them ready to go for a ridiculous $589.99 SHIPPED! (USA only - other countries, please contact me before ordering)

Anyway, before this annoucement gets too long in my usual rambling style, have another look at the SBG Sword Store. I am hoping that you will be pleasantly surprised at how it has evolved...

Click here to see what I am talking about...!

Kindest Regards,
Paul Southren