Hey,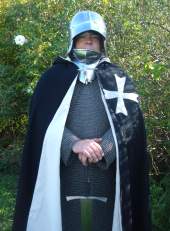 I usually prefer to send the April edition of the digest on the 2nd of April rather than the first simply because being the 1st of April, well – we all know what THAT date means, and I prefer to digest to be taken seriously.
But with so many things going on, and with a little streak of silliness added in as tribute to April Fools!
So without any further ado, let's get into it!
CONTENTS
1. SBG SITE NEWS AND UPDATES
2. SBG Sword Store News
3. SWORD MANUFACTUERS GUIDE: Sword Industry News Returns!
4. BEST FORUM POSTS
5. VIDEO OF THE MONTH – 'Amazing Sword Skills!'
6. BARGAIN HUNTERS CLEAROUTS AND DISCOUNTS
---
SBG SITE NEWS AND UPDATES
---
This issue is going to be a little lighter than usual, mostly because March was one of the busiest, craziest months for SBG ever – so I honestly didn't have the time to fill out the digest as usual.

For a start, I finally got around to adding 2 new reviews of my own – including the review of the Cold Steel Polypropelene Bokken - which tested Cold Steels claims that it is more impact and cut resistant than a regular wooden bokken (of which, only ONE of these claims proved to be true) and of course my full review of the Darksword Armory Black Prince Sword which was tested heavily on several targets, including a suit of maille armor (as was the Valiant Armory Kriegschwert Sword which tore through the same maille as if it was barely even there..)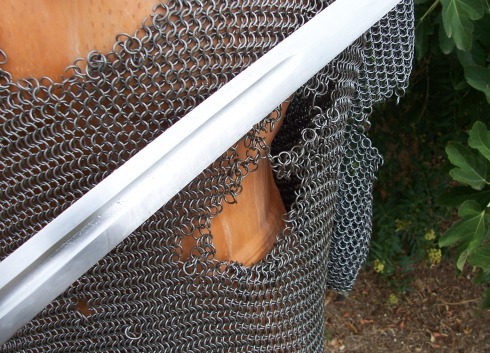 But while this took a fair amount of time and effort, the REAL heavy lifting occured elsewhere, in the SBG Sword Store AND our sister site, Sword Manufactuers Guide.com - so let's continue by looking at each one in turn...
---
SBG SWORD STORE NEWS
---
Mid March saw us open up on taking orders for two of the products from our own SBG Exclusive Swords - including the SBG Custom Katana and the Professional Grade Kuramono.
As mentioned in the last issue of the digest, the SBG Exclusive Swords have received several upgrades and now have a larger range of more interesting alloy tsuba options, plus we also added two new blade geometries – the Kogarasu and the Ninjato/Chokuto style blades (pictured below).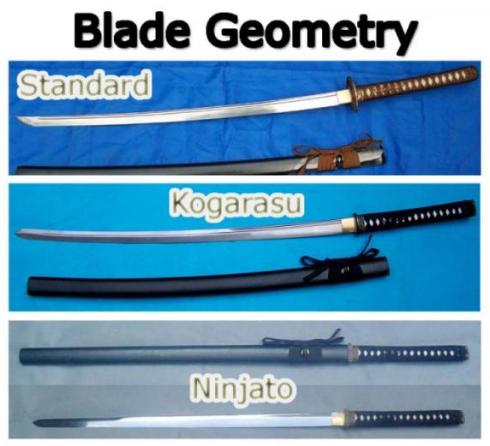 As we have filled almost the entire quota for this batch, if you do wish to get in on one there really isn't much time left before we close off – there are currently only around 8 spots left, so as soon as we fill them (or by April the 5th, whichever comes first) we will be closing off, so don't miss out!

We are also rapidly reaching the maximum number of the Professional Grade Kuramono Katana slots available (scheduled delivery in late May) so you might want to get in on these too..

Speaking of the Professional Grade Katana, I've been getting a LOT of requests from people to bring back the limited edition Torakami Katana (which when you see pictures like the one below, you'll know why – though to be honest the Kuramono can do the same thing, just looks, er – blacker).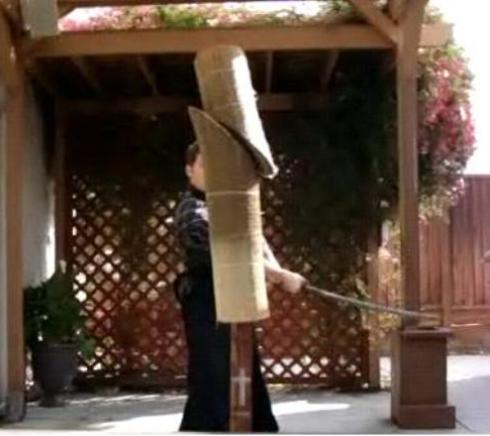 While it won't happen just yet, I am considering the idea of creating a 'semi custom' version for US$429.99 that would involve the Torakami Koshirae, but with your choice of bo-hi or no-hi blades and your choice of saya and ito color..

It's still a little while off, but it is definitely on the cards..

Which brings me to my final update – how to find out what is going on at the store?

While I created a news page, the problem is that you have to keep checking back to see when it gets updated, so we have added three notification news lists – one for the SBG custom katana, one for the pro grade series (which will tell you when a new product in this line comes out, such as Kuramono Wakizashi, the semi-custom Torakami, etc) and one for general sword news – which will let you know about restocks, new products, specials and closeouts, etc.

If you wish to stay informed this way, please: Sign Up to Our Store Mailing List Here
---

---
Well, its taken a long time to get to this point – but FINALLY our sister site, Sword Manufactuers Guide.com has found its identity and is poised to take its rightful place!
First off, you'll notice it has a brand new look – much wider, cleaner and easier to read!
But most importantly, it is fast becoming THE source for great articles and information to compliment the reviews and information on SBG – starting with some hard side by side testing on 4 of the best regarded entry level medieval swords by Darksword Armory, Valiant Armoury and the Tinker Pearce/Hanwei collaboration with our...

While the tests have been completed (and boy are there some surprises!) – the results will be released over the course of the week ahead – but you can see the lead up as well as handling, flex and cutting tests here

Anyway, the articles being written by industry insiders, serious side by side destructive testing results and manufacturer dossiers are just the beginning – new blogs and newsfeeds are currently in the pipeline – which of course brings us to last months industry news!!!

INDUSTRY NEWS

This month sees a new column in SMG created by Arnold Kotlyarevsky who answered the call a few issues ago to become a SMG reporter.

In this issue, we take a look at the new Malatesta sword by Valiant Armory, several excellent new releases by Cold Steel – including a fully functional USMC saber (about time!), the Wootz steel (yes, REAL wootz steel!) by Hanwei and the Dane by Albion! While the final format is not yet finalized (it will basically be a kind of blog) for now you can read all this news and more below:

Click here for the latest sword industry news!
---
BEST FORUM POSTS
---
Crazy Customization ideas – a Katana with a lightsabre hilt!
You can't get much more non-traditional, but what WOULD it be like? And how would it be done? Amusing thread!
The PAIN of New Sword Delivery Syndrome
You've heard of Sword Aquisition Syndrome (colloquially known as 'sword addiction' but here's a new one – Sword Delivery Syndrome, but here is a new one...
SwordFest 24th April
For anyone in or nearby Alexandria, VA – this is a MUST see event!
---
VIDEO OF THE MONTH
---
If you are like me, you have seen a lot of Japanese 'Spaghetti Western' sword movies..

And while the sword play is impressive in most of them, you really have to see these guys in action to believe it..

It is so well done it almost feels that they are jumping out of the screen at you...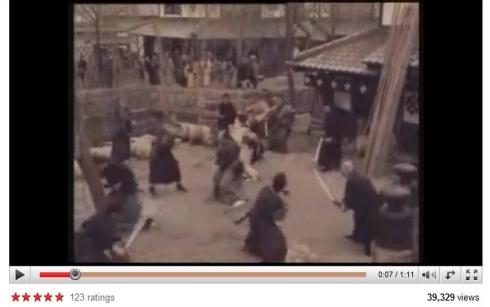 ---
BARGAIN HUNTERS CLEAROUTS AND DISCOUNTS!
---
A selection of hot product discounts and clearouts from our affiliated vendors. Grab a bargain and support SBG at the same time!

SBG SWORD STORE
Well, considering it is April the 1st, and we have already offered some amazing value blades in our hot specials last month (like a limited number of folded swedish powder steel blades in Shirasaya that normally retail for $800 to $1,100 – for $349.99!) no one would believe it if we offered something here today now would they.. ;-)
But there will be some great deals later in the month, so please Sign Up to Our Store Mailing List Here and I'll email you when we next have that something special...
---
Well, even though it was a little shorter than most issues, and yes – it did have a little bit of April Foolery – I hope you still enjoyed it!

See you all again next month!

Paul Southren
---