Hey,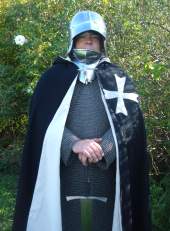 Really wasn't sure if this issue would make the deadline or not – the darned thing kept on growing uncontrollably as I wrote it..!
Happens like that sometimes, and while I didn't quite get everything in there that I was hoping, it appears I must have made the deadline.. :=)
So let's get straight into it shall we?

CONTENTS
1. From the Desk of Paul Southren
2. Best Forum Posts
3. Video of the Month: Kris Cutleries Forge
4. Sword of the Month

---
FROM THE DESK OF PAUL SOUTHREN
---
We have had another super busy month at SBG, as always working on several projects at the same time. Not all projects are highly visible – for example behind the scenes we have been working on the revamp and overhaul of the sister site, sword manufacturers guide.com, and hope to show you some exciting developments there soon (I was hoping we would be able to get it finished by this edition of the digest, but alas, it did not make the deadline).

But there's a couple of projects that are pretty hard to miss - and I'm pleased to say that one of my favourites has finally come to fruition. Yes indeed folks, THE KROM KILLER HAS LANDED!

The main delay on this one was we had to get super big shipping boxes brought in via an 18 wheeler to be able to ship the monstrous things! (full details on these at the bottom of this issue).

And Project X's Jian of Marquis Yi has started clearing customs with the first ones to be going out to pre-order customers as early as the next few days (and the others to be generally available in the store once all the pre-orders are accounted for).

But I think that for August, the most obvious action will be over at the SBG sword forum.

Apart from some overdue upgrades and additional coding owing there (some of which is quite novel, and hence, causing issues with coding), there are also some issues brewing away that we feel need to be properly addressed to ensure we keep the spirit of the 'friendliest sword forum'..

Nothing too dramatic, but some 'housecleaning' is in order.. More on this in the forums proper shortly…

But for the time being let's keep things moving along with…




SWORD NEWSFLASH

If you enjoyed Galatia Film's 'Reclaiming the Blade' documentary you'll be excited to hear that they are planning a follow up film - Reclaiming the Blade: Sons of Fire, but to bring it to the table, they need your help.

In their own words:

Bladesmith Peter Johnsson and many more sword practitioners will be joining us this time around. ARMA and HEMA are supporting the film and we will have some fun Hollywood stunt demos as well. If you love the sword, please join with us in making this film a reality. There are some great rewards available for those who do! Remember, Kickstarter is an all or nothing venture, if we don't raise our full funding goal we won't get the money and you won't be charged. Click on the image below to visit their kickstarter page and help make it a reality.

NEW PRODUCTS
I love a well made fantasy sword. Indeed, the amazing artwork in steel (and great price) of Kit Rae even allowed me to make an exception to the 'no stainless steel swords in the house' rule..
I only wished he was making them from carbon steel..
And it seems that my wish may have finally come true..!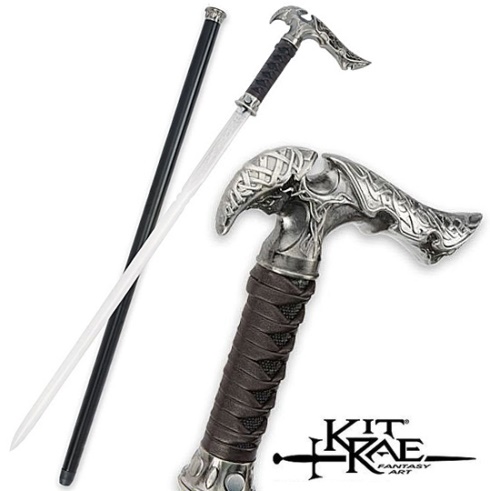 A sword cane at $109, designed by Kit Rae and made from carbon steel (1045, the cheapest stuff true, but it's a HUGE step in the right direction and allows the price to stay at the same level as their other stuff).
A big salute and two thumbs up from me on that one Mr. Ray! >Check it out at Trueswords here

WEIRD…
I often get emails from people asking me how to bring a sword back on a plane after a sword buying jaunt in the US. Not being a lawyer, I can only reply somewhat generally and suggest they contact the airline for more information, jokingly signing off that it certainly would not be a good idea to try taking it on-board as carry on luggage..
Bet this Canadian guy wishes he had emailed me first..
---
BEST FORUM POSTS
---
The future of the sword industry?
The sword market is tiny, so small that you could sneeze and it could disappear. So what direction is it likely to take in the future, and what can YOU do to make sure it's still around for the foreseeable future.

Cold Steel's Lynn Thompson: Rock Star?
I don't think much of the band, but kudos on convincing Cold Steel's Lynn Thompson to star in the vid! Lots of cutting coolness – I always like vids with slow motion cuts, really shows just how much force a simple cut subjects the blade to!

Want to bone up on your general medieval weapon knowledge?
If you want to broaden your interest in medieval weapons, this thread would have to be the best place to start!

Cutting obstacle course?
Running around with swords on an obstacle course certainly doesn't sound particularly safe (running with scissors x 100!) – but the idea is solid, and it depends on how it is done. Interesting food for thought..



---
VIDEO OF THE MONTH
---
The overwhelming majority of swords are, as we know, made in China. But behind China, India (i.e. Windlass Steelcrafts, Deepeeka) and the Philippines (Generation 2/Legacy Arms, Kris Cutlery).

In this video, we take a brief behind the scenes look at one of the Filipino sword makers from the Pangasinan region who supply Kris Cutlery.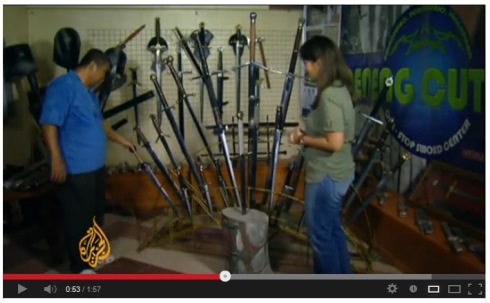 Always interesting to see where the swords in your collection come from and who actually makes them.



---
Sword of the Month
---
SBG SWORD STORE
Chris Scoggin and I found the prototype for this sword laying around in the workshop of a major Longquan sword forge… Here's the photo of that fateful meeting…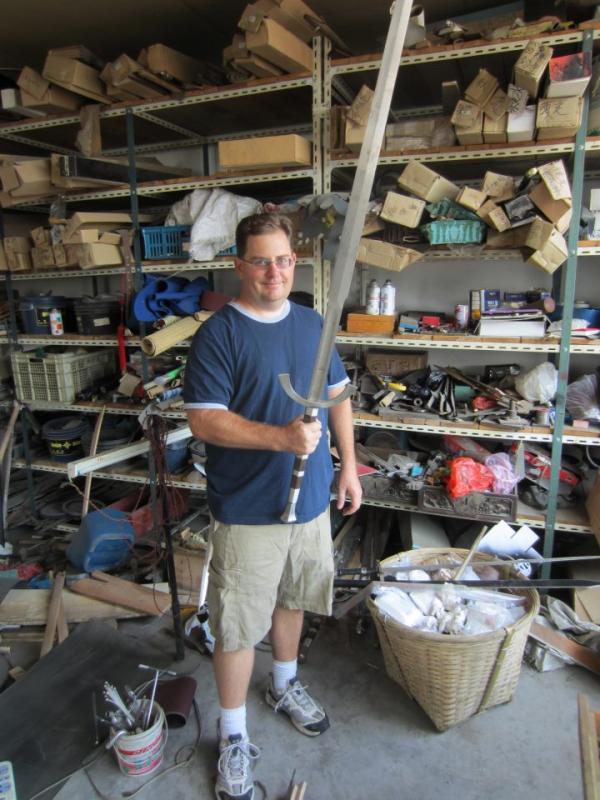 It's a massive sword, there is no doubt about that.
43 inches of 1060 carbon steel blade and 20 inches of full wire wrapped and peened handle based loosely on a Scandinavian Two Hander design seen in the 15th century. I say loosely because this thing is just a full on beater tipping the scales at a whopping 9lbs! It's just a monster, with the peening and overall solid assembly making it about as tough and mean as you can get in a sword..
Which is why when WE first saw it, we just HAD to get some of these made – and here they are, finally actually in stock and ready to go…!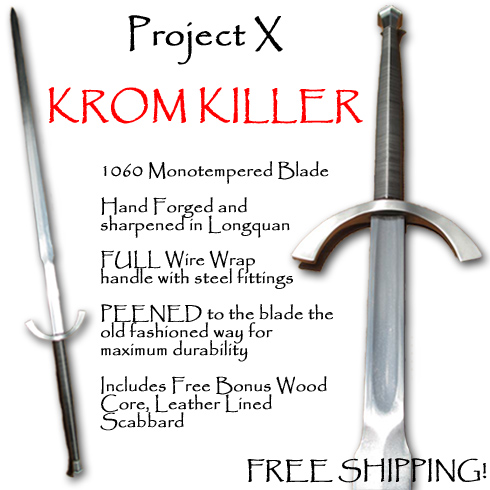 Check out the Krom Killer here at the SBG Sword Store


They aren't cheap, but you get your money's worth I promise you…
---
Ok, got to go - hope you enjoyed this issue and talk to you all again next month! Until then, as always, happy swordening folks!

Paul Southren
---