Hey,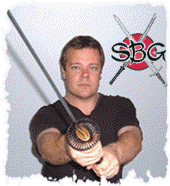 Well, the silly season is upon us again. And while we will be offering a few seasonal specials to fill out that Christmas stocking with something sword shaped (and a few other bits and pieces), that isn't the main focus of the December issue of the digest...
This issue sees the official launch of a 'secret' project that I have been working on since February this year – as well as a few cool competitions and some long awaited official SBG merchandise, including the long awaited 2008 'Beauty and the Blade' Calender!
Have a look and see what you think!
CONTENTS
1. SBG SITE NEWS AND UPDATES
2. SWORD INDUSTRY NEWS
3. SWORD COMPETITIONS: Win a Free Sword!
4. BEST FORUM POSTS
5. VIDEO OF THE MONTH – 'The Samurai Way'
6. BARGAIN HUNTERS CLEAROUTS AND DISCOUNTS
---
SBG SITE NEWS AND UPDATES
---
November saw the usual addition of more SBG reviews, both from me and from SBG visitors and forumites. But the REAL action was going on behind the scenes...

First off, after much pestering and demands throughout the year – I have FINALLY created a line of SBG themed accessories.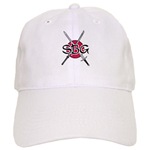 Here you'll find baseball caps (at the request of Kreigschwert), T-shirts and Mugs (for shootermike) and many other bits and pieces at my new Cafepress SBG Merchandise store
Proceeds from the sale of these various items will go to help keep SBG running, and are a great way of letting people know about the site and forums at such events such as cutting parties, ren faires and martial art competitions to name a few.
Plus it is in this store you will also find the magnificent 'Beauty and the blade' 2008 SBG Calender!
Featuring a selection of beautiful SBG forumites and/or their partners (and the stunning RicWilly in Drag for Octobers Halloween theme of course) tastefully posing with their swords, this Calender is an absolute MUST HAVE for the die hard SBG aficionado – plus proceeds will help fund a brand new sword from the SBG Sword Store as a prize for the model with the most popular photo!
But while all of this is pretty cool, it's just the tip of the iceberg...
---
SWORD INDUSTRY NEWS
---
Ok, now THIS is the BIG announcement – and the official launch of a major project I have been working on semi-secretly since February 2007...
Sword Buyers Guide now has an official fraternal twin and companion site – Sword Manufactures Guide.com

Over the coming few days, the links between both sites will be completed. The plan is that whenever a manufacturers name is mentioned in SBG, a link will be made to a landing page for the new sister site - so that an overview and the most up to date overview on this brand can be obtained with a single click...
Sword Manufactures Guide.com (SMG) is essentially a complete run down of each major production sword company – complete with information on their product lines, a newsfeed to manufacturer specific announcements, a breakdown of known issues and a guide on where to get the best deal – as well as a list of other stockists so you can do your own comparisons.
But perhaps most importantly, SMG is also a repository of sword enthusiast observations, warnings and recommendations – kind of like a mini forum for each manufacturer, though a forum where the info doesn't get buried and is kept as up to date and relevant as possible.
Naturally, as this site has only just been launched – the repository of information from visitors is a bit thin on the ground. So I hope you'll have a mosey on over there, have a bit of a read, and add your own experiences and observations into the mix...
...Because as you will see in our competitions section, doing so could nab you something cool for your time! Which leads us neatly to...
---
SBG COMPETITIONS
---
This months competition is intimately connected with Sword Manufactures Guide.com....

As I mentioned just a few lines ago, the comments and visitors experiences section of SMG is looking a bit like Old Mother Hubbards cupboard – there isn't anything there! Which of course, is only natural as the site was just launched... ;-)

However, to encourage people to post their thoughts, experiences, warnings, rants and miscellaneous others – I am holding a special competition for the best visitor contribution.

All you need to do to enter is to post something (anything!) with your name and email address (so I can contact the winner, naturally the email addresses are not actually published on the site of course) and the best entry (as selected by me) that is submitted by December 15 can select ANY sub US$300 sword in stock from the SBG Sword Store!

A pretty cool prize – and a great opportunity to share your impressions and experiences of the various brands so that the site can hit the ground running.



---
VIDEO OF THE MONTH
---
I can actually remember watching this video from the BBC series 'The Way of the Warrior' back in the 1980s...

Likely many of you will be familiar with it – but those of you are not, you are in for a special treat.

This old school video is one of the best on youtube, primarily because – unlike most other vids about Samurai swords there – the amount of BS and hype is kept to an absolute minimum.

Instead, this episode of the TV series - called 'The Samurai Way' and split into four parts concentrates on the philosophy behind the sword, with some amazing demonstrations of precision by the humble Master of the Katori Shinto Ryu school, Shihan Risuke Otake as well as some rare footage of sword forging with Yoshihara Yoshindo (immortalized in the classic Japanese sword book 'The Craft of the Japanese Sword').

This meandering classic is a must watch for anyone even vaguely interested in Japanese swords and the Samurai culture.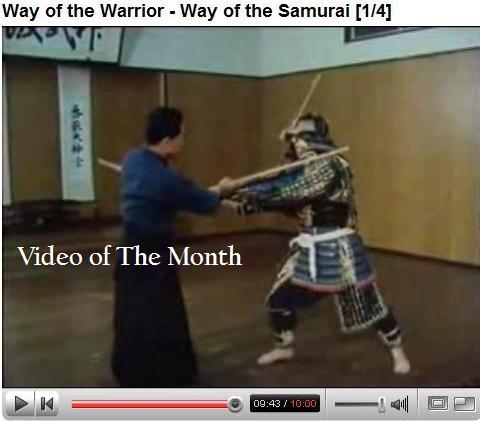 For the other parts in this 4 part series: Part II
Part III
Part IV
---
Well, that's all for the December issue.

Hope you all have a fantastic holiday season and a very Merry Christmas and I'll see you all in 2008! Until then, stay safe and Happy Swordening!

Paul Southren
---