Hey,



A slightly later and lighter issue than usual but for good reason..

As you may have noticed if you have visited SBG in since late December, we have a new look site across the board, and the new look was also intended to extend to the digest as well. However, due to a recent trip to Hong Kong to test a very exclusive, limited edition release sword we have been working on with industry legend John Lundemo from Odin Blades/Longship Armory - the digest revamp had to take a back seat..

But fear not gentle reader, while this issue may be different than the format you have grown used to over the years - we still have plenty to share with you and we thought a break from the previous issues routine was in order anyway as we take the digest in a brand new and exciting direction..

I hope you enjoy it!
---
FURIA: SWORD OF THE APOCALYPSE
---
This sword has been in development since the last quarter of 2015 - a post apocalyptic style Ninja hybrid zombie slayer designed by myself, James Fang from Longship Armory and John Lundemo from Odinblades.

Hand made by John in the USA, we originally announced it HERE on the SBG Sword Forum, and I have just got back from seeing it first hand and testing it on a variety of targets including, er, zombies..!
The zombie targets were a whole lot of fun - while these ones are primarily designed for firearms (inside there are many small "blood" filled, hard pellets that need either a bullet or a really sharp blade to cut) the two targets were a whole lot of fun to cut and really stood no chance against this hand forged in the USA, S7 shock steel blade..
Here are the videos:

Video 1: Testing on Waterbottles and Bamboo
Video 2: Testing on "Zombies"

What I liked most about this sword, other than its inherent durability and Craftmanship (after all, it was made by John Lundemo, a true legend of the sword industry) is it's lightning fast handling. While it is loosely based on a Ninjato, it is amazingly fast, nimble and versatile - able to be used equally well one handed or two - and slicing and dicing zombie targets, thick bamboo and even cutting anti-cut Kevlar - would definitely be the sword I would want strapped to my back should a zombie apocalypse ever occur.. (yes, it also comes with a wearable back mounted sheathe).

The full review and order details will be made available on the site shortly - needless to say it will not be cheap (just shy of $2K) and there will be only 2 runs of 10 swords per run before it will be retired, so it is truly a limited edition collectable - but we WILL be making it as affordable as possible, after all - it is not every day you can get your hands on a sword made in the USA by a modern day, highly respected custom sword maker made from one of the toughest steels money can buy…

For more details, either visit the site, forum or sword store in a week or so, or better yet Sign Up to Our Store Newsletter where we will be making the official announcement on its release..


---
Affordable Swords of the Apocalypse..
---
To continue the slightly dark, tongue in cheek apocalypse theme - last month saw the re-release of the extremely popular Sword of the Zombie Apocalypse by Ronin Katana, and a new brand being spun off from this design called Hanzo Steel The basic concept of Hanzo steel is to take the expertise of the forge that makes the dojo pro Katana, differentially harden the blade and coat it with black titanium to produce a modern sword with great cutting ability, superior edge retention and a futuristic look.

Currently there are three swords in the line up, the Apocalypse Katana, a Kill Bill inspired Hanzo steel version of the brides sword and my personal favorite, a Bujinkan inspired Ninja sword with extra long handle and shorter, versatile black blade..
Check out the current line up here

---
New Medieval Swords
---
Fans of medieval swords are in for a bit of a treat from Darksword Armory with their new "Herald Series" swords which sees them return to their sub $300 roots..

All these swords are functional replicas of museum originals, with EN-45 steel blades hand made in India (EN-45 is manganese spring steel with many of the characteristics of heavy duty 9260 Spring steel, also a manganese steel) and stunningly ornate work hardened copper fittings that are leather wrapped in Canada and housed in the high end scabbards DSA use on their standard line (including sword belt and suspension system) that is usually a $105 extra..

At only $274.99 with free shipping to Canada and the USA, it really is good to see DSA focusing again on affordable swords as they have been focusing on swords closer to $1000 in the last few years. But it is not just the price I like about these swords, it is also the fact they are based on actual historical swords - and the first three are just the tip of the iceberg, below is the proposed entire line up: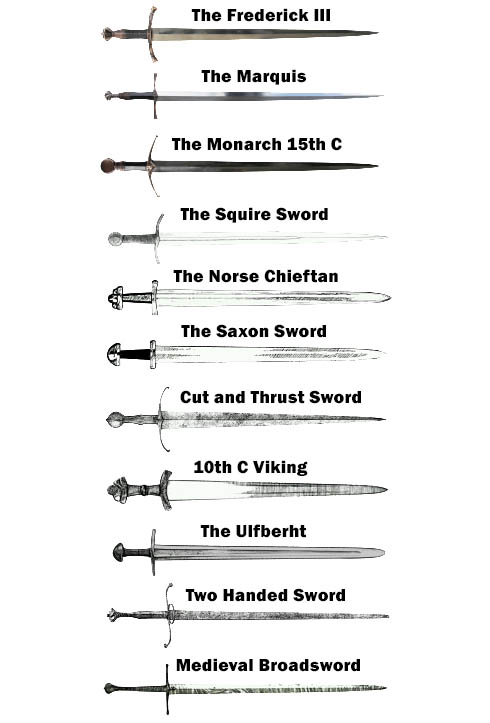 The swords sketched out should be available sometime in March or April 2016 - personally I can't wait to see how they turn out. If they are anything like the first three, this should be a great line for medieval sword enthusiasts..

Check Out The Herald Series HERE

And for those who prefer function over form, we are pleased to announce a restock of the ready to cut straight out of the box RK Euro series swords models 7-9 from Ronin Katana.
While we could not hold them at the special introductory price any longer, we are pleased to be able to offer them for $25 less than expected and at just $249.99 - for this kind of tempering and solid construction, great handling and great cutting ability, they are still an absolute steal - so get them while you still can..!

Click HERE for the RK Euro Swords


---
DISCOUNT COUPON CODE
---
With all these new swords in stock, the following coupon code which is exclusively for subscribers of the digest will help you snag the absolute best deal on EVERY sword we stock at the SBG Sword Store.

Simply enter the coupon or click on the link above and it will automatically be applied to any and every item we have in stock in your cart. The only conditions are that the discount cannot be applied to previous orders and expires in three days, at midnight the 6th of February. So don't miss out, we price low so that we can rarely afford to offer discounts like this very often..


---
Video of the Month
---
While we are shifting to a new format next month, there are some things that we want to keep the same. And one of them is the long running YouTube Video of the Month..

This month we bring you an hour and a half long sword documentary - History of Swords: Ancient Killing Weapon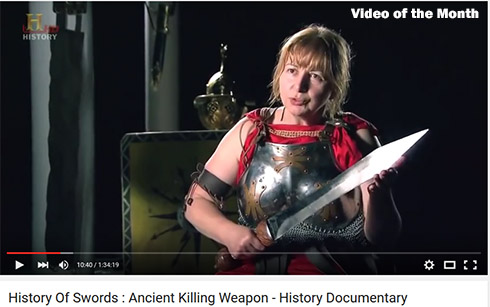 As always with these documentaries, take the historical facts with a big grain of salt. But it should at least spark your interest in doing your own research when you encounter something you have not heard before..

And that is always a good thing.
---
See You Next Month!
---

Well, that is it for this "in transition" version of the digest. Next month, if all goes to plan, the digest will come to you in a new, improved and more modern format. So stay tuned folks and until then, Happy Swordening…! ;-)