Hey,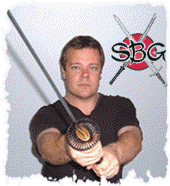 Nice to be back, it's been a while..!
But I'm glad to report that we are back to business as usual after moving house and office, and ready with another juicy issue of the digest hot off the press to you.
So let's get straight into it!
CONTENTS
1. SBG SITE NEWS AND UPDATES
2. SWORD INDUSTRY NEWS
3. COLLECTORS CORNER: Sword Tracking
4. BEST FORUM POSTS
5. VIDEO OF THE MONTH – 'Tinker TV'
6. BARGAIN HUNTERS CLEAROUTS AND DISCOUNTS
---
SBG SITE NEWS AND UPDATES
---
While the Christmas and New Year period was fun in one way, it was a bit of a pain from a practical point of view...
As many of you know, last month we moved house and office – not far mind you, only about 3km away. However, the internet provider I have been with for the last 5 or 6 years - with up until about 2 weeks ago (people telecom, you B%$@*&$s!) seriously dropped the ball – and after a whole heap of hassles, it has literally taken 1 month to get anything faster or more reliable than the most rudimentary dial up set up...
Naturally, this whole debacle made correspondences several times more difficult and slower than usual (I had to use a combination of hotmail, and two other web-based email services to stay in touch with everyone – not to mention everything loaded at a snails pace) and this did, as you might imagine, pretty much rule out any updates or new content...
Anyway, the good news is that I am now officially back with a decent internet connection – faster and more efficient than before, so it's time to get back to building both SBG and SMG. One heck of a backlog to get through, but I've been chomping at the bit to get it all happening again! As always, be sure to visit the SBG News section or better yet – subscribe to the RSS feed for up to the minute additions.
P.S. Happy Birthday SBG!
February 16th marks SBG's offical 4th year in existence. We've come a long way from some pretty humble beginnings (I just spent a few hours of nostalgia looking at the site through the internet archive 'Wayback' machine... While it is a little embarrassing to show it, here's the very first page that started it all...)
---
SWORD INDUSTRY NEWS
---

CANADIAN SWORD 'WOODSTOCK'
Organized as a labor of love by Jonis Lowry from youtube's United Backyard Cutters, and Wiwingti from Wiwingti Sword Supply – the first annual Moyoushi is a grassroots sword festival which will feature Music, Games, a Bonfire and of course LOTS of good clean cutting fun in Parry Sound, Ontario Canada from the 10th to the 12th of July 2009.
There will also be plenty of prizes and it sounds like it will be a real blast (SBG is one of the proud sponsors). For more details, click here. (We will be making more updates as the event draws closer – and there is a dedicated thread about it on the SBG Sword Forum here).
VALIANT ARMOURY
A couple of sneak previews this month, but it's not all 'tease'.. ;-)
Valiant recently unveiled two more designs in their much acclaimed Signature Series collaboration with Christian Fletcher and Angus Trim with pictures of the prototypes of the Crusader Sword, and what may possibly be their most attractive looking sword to date (at least in my opinion, and I know many others feel the same way) – the Malatesta.
You'll have to wait a while for these ones as they are not expected to be available to purchase until MUCH later in the year. But for those of you with a medieval itch to scratch, two much lusted after Signature series swords are now available for pre-orders, the incredibly ornate and attractive arming sword – the Bristol – and the stunningly beautiful Kriegschwert (not the SBG forumite by the same name, though he is of course a good looking man in his own right! Lol).
These swords left the forge at the start of January, but with such interest and demand – it is going to be extremely hard to secure one. So with this in mind, the SBG Sword Store has started accepting pre-orders on these swords, which should be shipped out to you by the end of February.
Stocks are extremely limited so if you want to get one of these, you'd best get in quick. (I should also note that this same shipment includes a restock of the budget line Angus Trim designed Practical Arming and Long Swords, which last time they came in was almost 1 year ago, and they sold out super fast too, so you'll want to grab one of these while you can also).
Click here to check them all out at the SBG Sword Store
SBG Custom Katana
NOW accepting a limited number of orders!
I know that a lot of people have been waiting for me to 'take the blasted lock off' these custom Katana so they can get their own personal design underway. So I'm pleased to say that they are now officially ready to be ordered again.
Unfortunately for me, I miscalculated on a lot of the costs and barely break even at the current price, so they will be going up to $329.99 after the 10th of Feb – at which point I will likely be pausing orders again for a time to ensure that this batch is processed and efficiently as possible, with the forge giving 100% attention to YOUR sword (and not getting distracted by more orders pouring in).
So if you have been waiting for this notice, I don't think there is much more that needs to be said!
SBG Custom Katana
Addendum: R.I.P. – Jody Sampson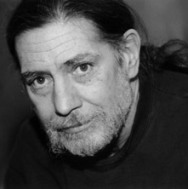 Another one of the old guard has left us...
The original creator of Conan's Atlantean sword, Jody Sampson, passed into legend on the 27th of December 2008...
You can read some fitting tributes from both friends and customers of this quiet, reclusive yet generous and incredibly talented man on his website here: Jodysampson.com
As one of the tributes on his website aptly stated: "He indeed did learn the riddle-of-steel. May he now forge weapons for the Gods."
To stay on top of developments in the sword industry as they happen, be sure to check the SMG Newsfeed often - or better yet, use the RSS feed to get announcements in your RSS reader.
---
COLLECTORS CORNER By Daniel S. Dacombe
"Shipping Swords: Tracking your Sword"
---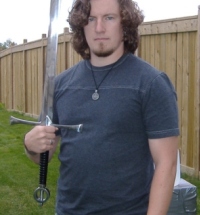 Hey all, and welcome back to Collector's Corner. I've been a little absent lately as my wife and I have a newborn, and are busy taking care of her and spending our free time having conversations like this:
My wife: "Dan, do you want to watch the Sound of Music with me?"
Me: "No thanks, I don't like Mary Poppins."
My wife: "…."
We're still getting used to having her home full-time.
But I'm back now, and ready to write more editions of Collector's Corner. This month we're going to be looking at the ins and outs of tracking your sword as it flies through the ether from wherever you ordered it from to wherever you are. The addition of Tracking Numbers to most orders have made locating your sword in the mailing system a breeze, but unfortunately eliminated the need to engage in the 'harassing of the postal employees' ritual that many sword collectors such as myself have fond memories of.
However like in many aspects of life, when it comes to tracking your package using these numbers context is everything. The tracking information you receive will be different from carrier to carrier, and that includes accuracy. Of the 4 main carriers that I have experience with – FedEx, UPS, USPS and Canada Post – I have seen a wide range of quality and clarity when it comes to the information that they give you about your package's whereabouts.
To illustrate, here are some examples of what you can expect to see from the different carriers when you enter your Tracking Number.
USPS
Day 1 – sword ordered, Tracking Number received.
Day 2 – Tracking information reads: "Your order has been placed and will be shipped by the end of the next business day."
Day 3 – "Your order has shipped and estimated date of deliver is (Day 5)."
Day 4 – "Your order is on schedule."
Day 5 – "Your order has arrived." Sure enough, there it is.
FedEx
Day 1 – sword ordered, Tracking Number received.
Day 2 – Tracking information reads: "At 22:08, we received a parcel order in the amount of $187.99. Shipping and handling charges $31.00. The parcel weighs 8.00lbs shipping weight. It is composed of 1065 carbon steel, A-grade leather and brass. Its average density is 7,861.093 kg/m³. The mode of delivery will by first FedEx truck, then FedEx jet (757), the FedEx Truck and finally to your doorstep. Estimated time of delivery is 13:57 (central time) on (Day 5)"
Day 3 – "Your parcel has shipped and is at GPS location (long number). It is currently in the first FedEx truck travelling at a speed not exceeding 110% of the posted speed limit."
Day 4 – "Your parcel is in air transit at GSP location (long number). It is currently in the FedEx jet (757) and travelling at an air speed of 485 knots (530 mph) at an altitude of 35,000 feet."
Day 5 – "Your parcel is in the second FedEx truck and en route to your location." At 13:57 exactly (central time), there it is.
UPS
Day 1 – sword ordered, Tracking Number received.
Day 2 – Tracking information reads: "We have received your order. Your item will be shipped in a large UPS van, driven to you all the way from Chicago by a charming young Italian man named Raoul, who is 5'11" and smells like smoked leather. He will drive your item with all the care it would receive if it were a dinette set ordered by the Queen of England, paid for by the Pope and had been carved from a single piece of Balsa wood by Jesus Christ. Raoul is very tender, and you may trust him with your life. Estimated time of delivery is in the afternoon on (Day 5), depending on how often Raoul stops to return my calls."
Day 3 – "Raoul left today, and it was the hardest day of my life. How long must we be apart? Why must you always leave me, and drive those oddly-shaped vans across the country? Why can't things be the way they used to be? Your item is on schedule."
Day 4 – "Your item is currently at the border. Raoul, why do you not return my calls? Your Myspace status lists you as 'contemplative,' what are you contemplating? Is something wrong? I admit that sewing my name on the inside of all your boxer shorts was impulsive of me, but I wanted you to think of me whenever you got dressed in the morning, and also when you stop to relieve yourself at truck stop diners. Did I overstep myself? The item is being cleared with customs and should arrive tomorrow."
Day 5 – You hear the doorbell at shortly after noon and are greeted by a friendly, somewhat harried looking young man who has a pleasant smell about him. Ten minutes after he leaves the dispatcher calls, sobbing, to demand why you have come between them and Raoul.
Canada Post
Day 1 – sword ordered, Tracking Number received.
Day 2 – No updates.
Day 3 – No updates.
Day 4 – Tracking information reads: "We have received your order in our system. Your item will be shipped on (Day 2) and arrive on (3 days before you ordered it)."
Day 5 – No updates.
Day 6 – No updates.
Day 7 – Your sword arrives, but the box is covered in claw marks and has a bumper stick reading, "In case of Rapture, this car will be without a driver!!" on it.
Day 8 – Tracking information reads: "We are unable to locate your item in the system. It is likely that it was lost in transit, never shipped at all or potentially never ordered in the first place. Please hang up and try your call again."
So there you have it folks – use that tracking info wisely. And say hi to Raoul for me, will you? I miss him dreadfully…
---
BEST FORUM POSTS
---
Onion Rings and Pickle Chips
How many can YOU cut from a water filled Milk Jug? Click here for the official/unofficial competition!
Your Deepest Darkest VA Signature Series Desires
What would you really like to see Christian, Gus and Valiant turn their amazing skills to?
Want a Giant Anime Sword?
A functional Sword of Berserk (probably the only Anime that I really enjoyed watching, great series) or a Buster up your alley? If so, you'll want to check this thread....
Were two handed swords actually even used much?
...And if so, when? Interesting historical thread with lots of external links and vids...
---
VIDEO OF THE MONTH
---
Taken from the Las Vegas SHOT show earlier this year, one of the best sword designers and custom sword makers of our time – Michael 'Tinker' Pearce – demonstrates both a prototype of a Type XIII War sword that has been made to his specs and produced under license by Hanwei (you gotta see this thing to believe it) – and gives a hands on demo of harmonic balance, and the two nodes present in every well made functional medieval sword.

There is also a 'part II' here
---
BARGAIN HUNTERS CLEAROUTS AND DISCOUNTS!
---
A selection of hot product discounts and clearouts from our affiliated vendors. Grab a bargain and support SBG at the same time!

DARKSWORD ARMORY
This one is really very special. As a thank you to the SBG forum members for their support, Eyal from Darksword has put up a number of their ex-demo swords for sale at drastically reduced prices.
But as a thank you to SBG, they have generously decided that each SBG forum member who buys on these swords will donate the price of the sword to SBG and the World Wildlife Foundation.
A really great concept, that allows you to get a great sword at a great price, with the money you spend going to support SBG and a very worthy charity. Truly Win-Win-Win, which is ALWAYS the way I like it to be...
For more details and to see what swords are on offer, check out Eyal's Post on the SBG Forum here
---
Ok, well that's all for this issue! With my internet back to full capacity, and more work to be done than you can point a sword at, it's time to get right back into it!

I've got a lot planned for this year. But more on all that in coming editions...

See you then!

Paul Southren
---