Hey,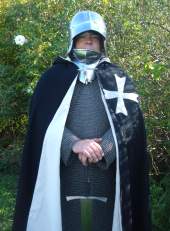 Good to see you all again, hope you had a great new years celebration and am all set for another issue of the digest (I did get quite a few emails from people wondering where the January issue is – which of course traditionally we don't do one – but nice to know it was missed!).
This issue has the usual mix, with a 9 part documentary as our video of the month, plus some great new products lining up for 2011, a few unique and extremely low priced discount offers for Katana enthusiasts and my review of the somewhat controversial instructional manual 'the Modern Swordsman' – so hope you enjoy it all!
CONTENTS
1. SITE NEWS AND UPDATES
2. SBG Sword Store News
3. Sword Industry News
4. Book Review: The Modern Swordsman
5. Best Forum Posts
6. Video of the Month: The Sword (9part doco)
7. Bargain Hunters and Closeouts

---
SBG SITE NEWS AND UPDATES
---
The site's been fairly quiet update wise the last few months, and I'm afraid that February isn't really going to make up for it in any significant way..

There is still the ongoing saga of the massively delayed SBG/Proswords collaboration that needs to be sorted out, a heap of custom Katana about to come in and another batch to open up at the end of the month – and to top it all off - on a personal note, I am also planning a very short trip to Japan to see my daughter towards the middle of the month (from the 8th to the 18th to be exact), but as I have not seen her since May last year and all the forges are pretty much closed for Chinese New Year for two weeks from the 3rd, I decided that now really is the time to take a little personal time out to visit her..

That said, I do have a few half-finished sword tests and reviews that I have been working on that I hope to add either before or after my short trip, and plan to spotlight some exceptional reviews submitted to the forums by members of the SBG community in March – so while it may be tricky to fit everything in I'll do my utmost!

Oh, and as I will be staying near Osaka castle – no doubt I'll have some cool sword and Samurai related snaps to share with you all upon my return. ;-)
---
SBG SWORD STORE NEWS
---
As mentioned briefly elsewhere, we are currently coordinating a the arrival of the most recent batch of SBG custom Katana, and of course this also means that we are planning to start taking orders for what we will call batch 16 towards the end of the month.
Here's a few snaps that the forge took for me of some of the completed swords: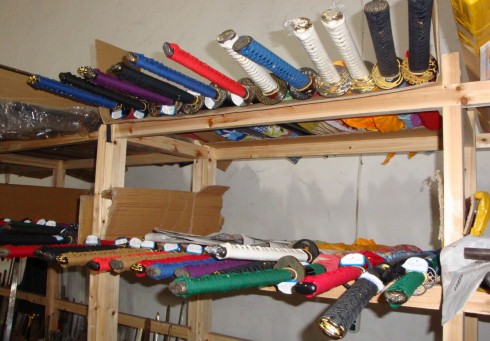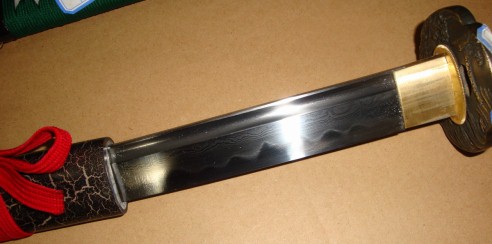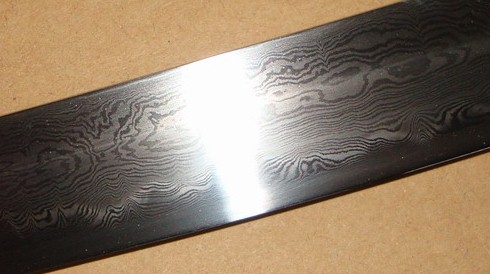 Love seeing the new saya options and folded steel (looks really well done even if I do say so myself)!

Judging from the amount of emails I get on a daily basis enquiring about this batch, it is going to be a fairly big one – and while I have simply not had the time to answer each and every email about them this far out from accepting new orders, I do plan on addressing as many of the frequently asked questions as possible in the stores SBG custom Katana mailing list – as well as of course giving the official 'go' signal when it is time to open up on a new batch of orders.

Because I am going to Japan from the 8th to the 18th of February, orders placed during this time may well be significantly delayed – there will of course be a heads up and further information in the store during this time – however please accept my apologies in advance if I am not able to answer emails very quickly during this time, I'll be more than making up for it upon my return.

I should also mention that our special prices on the range of Ronin Katana offered in the SBG sword store will be returning to their normal prices within the next few days now that the special introductory period is over, however we are holding the special prices open for the next few days and also offering some super special deals on a range of their basic dojo level Katana in the closeouts and discounts section of this very newsletter, so if you have been on the fence about getting a Ronin – now is definitely the time to pull the trigger and either get one of the special discounted dojo level blades or lock in the old prices on the Dojo Pro series before the price rise!
---

---
2011 is going to be a telling year for the sword industry.
And while in the December issue of the digest my overall outlook was (and still largely is) somewhat pessimistic, it's not all doom and gloom – especially for lovers of medieval swords who are soon going to be SERIOUSLY spoiled for choice!
In this post on the SBG Sword Forum, Michael Tinker Pearce discusses the future of the Hanwei/Tinker line – including a move away from the overly shiny, somewhat devoid of feature fittings and also mentions some of Hanwei's own newest products – including the Rhinelander (pictured below), Cawood and the Crecy: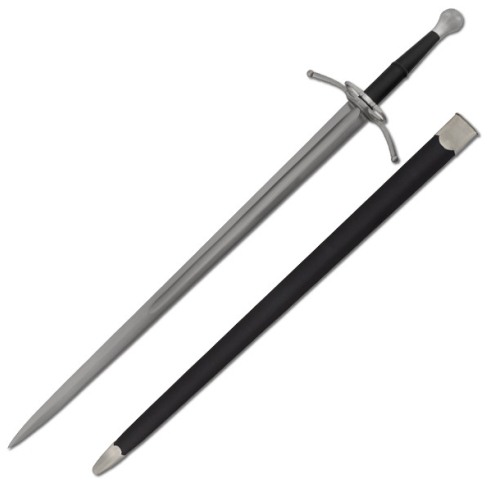 The MSRP on these is around the $260-$270 mark, but you can pre-order them here at Kult of Athena from between $160-$170 (I honestly don't know how KoA can stay in business with such a low margin on these – it's barely a few dollars above the wholesale cost!!).

While these look like good deals, they are as yet not quite tried and tested, which is the opposite of what Windlass Steelcrafts have brought to the table for medieval sword enthusiasts!

You might remember a few months ago there was a post on the forums about bringing back some Windlass Classics, great medieval swords that were widely acclaimed but discontinued, including my personal favourite the 'European Sword'?

Well, it finally came true – check out this post to see which extremely popular ones are making a comeback and how to pre-order with a 10% discount (pretty much locking in the old prices from 2005!).

Not as much happening (yet) with Japanese swords this year, other than the full size companion to the incredibly popular Hanwei Tactical Wakizashi – the Tactical Katana!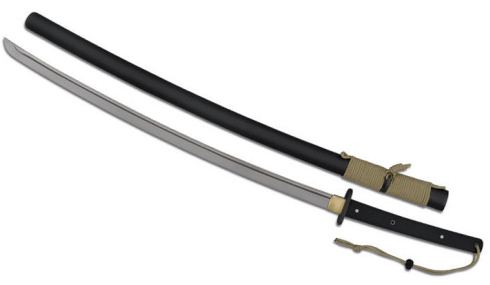 With a pre-order price of just (wait for it) $124.95 at KoA it's no surprise that they are getting snatched up BEFORE they will officially hit the market, so at this point, if you want to get one of I would be VERY surprised if they will not all be pre-sold out before they even hit the shelves..!
Finally, 2011 looks like it will be the year of Garret's Chan's JinShi for Chinese Swords, at least if the Han Dynasty two handed Jian I received from him earlier in the month is any indication!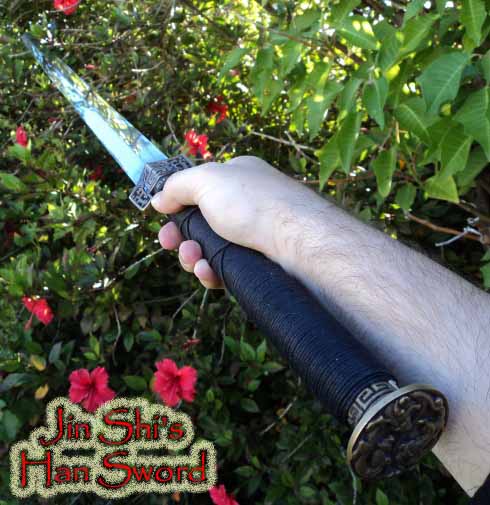 For the last few years, Garrett has been slowly gaining recognition for his extremely high quality, yet low cost Chinese swords – but with a new revamped website and new products to be released over the course of the year, JinShi looks set to REALLY take off (I'm also currently in the process of testing and reviewing the Han Jian, and I must say, it's so much fun to handle it is hard to put the darned thing down!).

So while yes, while things are a bit shaky for the sword industry as a whole, it is good to see it continuing to innovate and refine the changes from the last few years..
---
BOOK REVIEW: The Modern Swordsman
---
"The Modern Swordsman: Realistic Training for Serious Self Defence" by Fred Hutchinson is certainly quite a controversial book and at times quite distinctively 'nutty' in flavour – but it is also one of the most enjoyable reads with more sword training drills and techniques to improve your swordsmanship skills than you can poke a sword at.
Now personally, I don't advocate the use of swords for self-defence – primarily because the kind of mess you would make with them if ever used against another human being could land you in serious legal trouble as opposed to using a more socially acceptable method of defence, from a baseball bat to a shotgun depending on the level of force required. Not to mention that using a sword in self-defence would definitely make the headlines and lead to the kind of negative publicity that could seriously harm our hobby.
Instead, I find the true value of this book is in the training drills themselves, and the challenge of increasing a skill for its own sake – though I must admit that the self defence tips from the first chapter are extremely entertaining to read, such as the use of a large dog and sword cane to a high lumens flashlight in the left hand to blind an opponent before striking with the sword with a lanyard in the right..
Training techniques begin in earnest from chapter two and three, which is a veritable goldmine of strength and accuracy training methods – such as slow motion training (with an emphasis on using much more exaggerated strikes than would be ideal to factor in the effects of an inevitable adrenalin surge), using extra heavy swords and isometrics to reinforce the muscles that are used when wielding a blade, and a range of targets you can use and make to cover everything from sustained attacking to charging and escaping drills to everything in between.
In chapter four though, the real fun and challenges begin – with innovative drills designed to create pinpoint accuracy, for example – thrusting at a suspended ping pong ball, stationary at first and then swinging, or my favourite – popping soap bubbles with the help of a partner.
---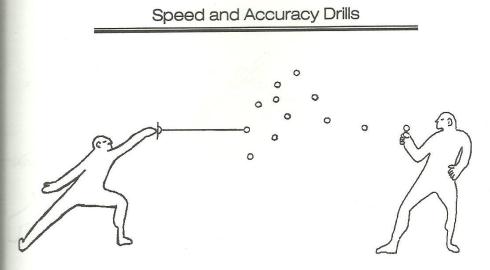 SOAP BUBBLE DRILL
"This drill requires a partner. Using a child's bubble-blowing kit, your partner blows bubbles towards you. Strike the bubbles with the wooden sword or live blade. The floating bubbles can also be attacked with unarmed strikes and kicks"
– from pg 45.
---
The last two chapters include some advanced drills designed to replicate 'battlefield' conditions, such as fighting with a sword that has broken, forest drills, fighting in the dark, etc and then some basic instructions on how to fight against opponents ranging from a knife or nunchuku wielding maniac to a large dog determined to do you some serious bodily harm.
My only real criticisms of this book is that at 66 pages it is a bit on the flimsy side, and as you can see from the illustration above, the drawings are rather crude – but after all is said and done, there is no fluff in this book – and it is more than suitable to a jack of all trades, master of none like myself as it does not focus on any one particular style of blade but rather reveals basic principles common to all swords that can be further refined based on your own individual preferences.
It's not for everyone, but for the sheer number of drills and sword training ideas crammed into this thin book it is a worthwhile investment, not to mention a thoroughly entertaining read.
While Mr Hutchinson is definitely a tad eccentric, personally I loved it and can confer that it lives up to its title - and then some!
Available here at Amazon.com
in both hardcover and ebook (kindle) format.
- Paul
---
VIDEO OF THE MONTH
---
A few months back I showed a brief video on the Khopesh by 'hands on' English Historian Mike Loades.

Being a big fan of his work – I could not resist including his documentary 'weapons that made Britain: the sword'.

Mike's enthusiasm is catching – and this is a nice long series of videos featuring training drills, Artisan Hector Cole at work, attempting to cut helmets with a sword and much, much more, so settle in and enjoy!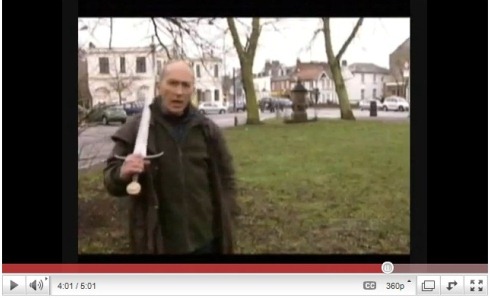 Here are the other 8 parts of this series:
Part II
Part III
Part IV
Part V
Part VI
Part VII
Part VIII
Part IX
Mike also contacted me recently to let me know that his latest book, Swords and Swordsman, has just been published and while it is has not quite been released in the USA yet you can pre-order it at amazon.com here
– if it is anything like his videos, I would think it would be both an incredibly entertaining and informative read.
---
BARGAIN HUNTERS AND CLOSEOUTS!
---
SBG SWORD STORE
As mentioned earlier, early this month (the 7th to be precise) we will be raising the price on the Ronin Katana Dojo Series blades from the introductory price of $249.99 with free shipping to $264.99..
And while grabbing one of these awesome heavy duty cutters at the special price while it lasts is a good deal, until the 7th we decided to make a bargain price on a small selection of their entry level Dojo line down from $175 to $149.99 with free shipping in the USA for anyone looking for a serious blade at a truly affordable price…
There are 3 new blades that have been added for this special, and stocks on each model are extremely low (a maximum of 10 per model!) so if you want to snatch up one of these, you will need to act FAST!
Here are the swords (click on the pics to for more info):
While each of these swords are uniquely themed, where it counts they are all the same – with each of these swords kitted out with real silk ito, real rayskin, ALL IRON fittings and very thick, powerful Dotanuki style blades in 1045 carbon steel – and all are an absolute steal at $149.99…
So get in on these while they are still there – offer ends the 7th February or until sold out.
PLUS, STOP THE PRESS! NEW HANWEI DEALS!
These deals ALMOST didn't make it into the digest, but they were so good that I had to pass them on to you guys..
The first is for a complete set of Raptor blades - Katana, Wakizashi, Tanto and 12 bottles of Hanwei Sword oil for just $429.99 SHIPPED (I checked all around the internet and the best deal to buy these individually is just shy of $600!!).
And the other is a special for medieval sword enthusiasts - buy the Hanwei/Tinker Sword of War for $269.99 and get ANY other Tinker Sword (long or sharp) for FREE!!
Need I say much more? (well, even if I wanted to - I'm almost out of time to get this in the digest before it goes out! All I can say is that the value on offer here is amazing, but sadly these offers can ONLY be shipped to US addresses - click on the pics for all the details).
---
So there you have it!

I should also make a quick mention that February is SBG's official 6th birthday – so let's blow out a some virtual candles on a virtual birthday cake and cut it cleanly in half with a sword to celebrate..!

Talk to you all again in March when I get back from my trip – will take some snaps especially for you guys. ^_^

Paul Southren
---