Hey,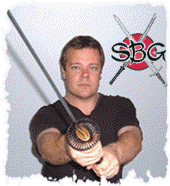 Happy New Year!
Due to the holiday season, and to help recharge my batteries for what is going to be one heck of a big year – this special new years edition is just a little bit lighter than normal...
But better a lighter version than no digest at all (I think!) ;-)
CONTENTS
1. SBG SITE NEWS AND UPDATES
2. SWORD INDUSTRY NEWS
3. SWORD COMPETITION: RESULTS
4. BEST FORUM POSTS
5. VIDEO OF THE MONTH – 'Medieval Manuscripts'
---
SBG SITE NEWS AND UPDATES
---
December was a fairly quiet month for new additions to SBG, though there were a couple of significant goings on.

The first was the long awaited Master review site map – an expanding and image driven page which shows every detailed 'hands on' review featured on the site. While I much prefer visitors to the site, especially new visitors, to go through the pages where these reviews are originally situated in (both to get a 'bigger picture' idea and to pick up on information on swords that may not yet have a full review listed there) – this map is more for regulars to find all the reviews in one place, or others who prefer to just 'cut to the chase'.

The second thing was a further refinement and overhaul of the SBG Sword Store, which took a fair while to set it up just right – but I think is a good improvement over the old one. Since this update on the 19th though, I must admit to taking a few days off here and there – though I have been keeping up with all emails and Sword store correspondence of course – but apart from that have just been spending time with family and friends and recharging my batteries for the new year.

To be honest, the amount of projects I have going on at the moment is kind of intimidating – my 'to do' list is longer than a No-dachi.. But it's better than wondering 'where to now' ;-)

To see the newest reviews as they are added take a look at the SBG News section or better yet – subscribe to the RSS feed for up to the minute additions.



---
SWORD INDUSTRY NEWS
---
2008 is going to be a BIG year for the sword industry.
And if you've been following this editorial, you'll know that there are a lot of new products being prepped behind the scenes, as well as new manufacturers starting to surface, sword movies and more.
To make things as easy to follow as possible, my new industry portal – Sword Manufactures Guide.com - has been designed with a 'newsfeed' feature in it's blog.
Very soon all the manufacturers will have a newsfeed on their pages which will be updated every time they release new products, make announcements, give interviews, etc, with their announcements being available in date order on the 'newsfeed' page.
You can apply newsfeeds to many websites, instead of going there to see if something is new – what is new unobtrusively appears in your newsreader (I use one in iGoogle, though you can use whichever you prefer). Anyway, it is about to start churning out the news in early 2008 – and while the highlights will appear here, to really have your finger on the pulse you'll probably want to subscribe to the feed.. Stay tuned, it is going to be fun.
---
SBG COMPETITIONS: Results
---
As you may recall, there were two competitions last month – both with a prize of ANY sub US$300 sword available at the SBG Sword Store.

Not surprisingly, the sword chosen by the winners was in both cases the ever popular (and now sold out until March 2008) Cheness Cutlery Kaze Katana.

Anyway, for those who may have missed out – the winner for the SMG 'submit an entry and win' competition was John K for his experiences with the Cold Steel Warrior Katana – and the most popular entry from the SBG Calender was Miss February – as voted upon en masse my digest subscribers, and finally selected in a sudden death too close to call round on the SBG Forums where she (just barely) came ahead of the beautiful Miss September.
And just a reminder, the calenders are still available, so if you want to get yourself one (as well as other SBG themed merchandise) – and help support SBG to help fund further giveaways and competitions – there is no better time than right at the start of the year.
Click here to see our current cafe press line up
---
VIDEO OF THE MONTH
---
Mostly Talhoffer, this collection of manuscripts shows applications of a variety of medieval swords and weapons.

Short, to the point, and very beautiful – I hope you will enjoy them!
---
Well, that's all for the January issue.

A little shorter than usual, and with no special offers – to give your credit card a breather from Christmas. After all, there will be so many cool swords hitting the virtual shelves this year that it might need a little rest.. ;-) Here's to a happy, safe, healthy and prosperous 2008!

Paul Southren
---