Hey,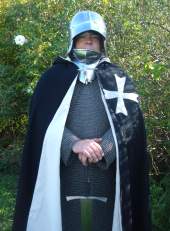 I have to admit that taking a little over a week off from the site(s) to visit my daughter in Japan last month did result in a few projects being postponed while I played catch up, and the SBG exclusive Katana lines have taken up even more time than usual this month, however the trip itself was also quite inspiring – and in this months issue I'd like to share with you a few cool sword related discoveries I made when I was in Japan, plus make up for the lack of updates on the site itself with a few cool bits and pieces I have been saving for the digest inner circle!
Hope that you will enjoy it!
CONTENTS
1. SBG SITE NEWS AND UPDATES
2. SBG Sword Store News
3. SWORD INDUSTRY NEWS
4. 21st CENTURY SWORDSMAN: By Steaphen Fick, DEMAS
5. BEST FORUM POSTS
6. VIDEO of the MONTH: A very big knife...!
7. BARGAIN HUNTERS CLEAROUTS AND DISCOUNTS
---
SBG SITE NEWS AND UPDATES
---
Bceause of my trip, not a lot happened on the surface of the site and a couple of reviews I was planning have been pushed back into July/August – so with not much to report, I'd like to take a moment to share with you some of the cool swordy things I saw in Japan..!

Naturally, as I wasn't there for all that long (just a little over a week) the vast majority of my time was spent going out and about with my daughter Lana. But even when I wasn't trying to – I did find myself stumbling over some neat discoveries, like the Japanese knife shop in Kyoto which sold a stunningly beautiful array of folded sushi knives that are made in a very similar way to a Katana: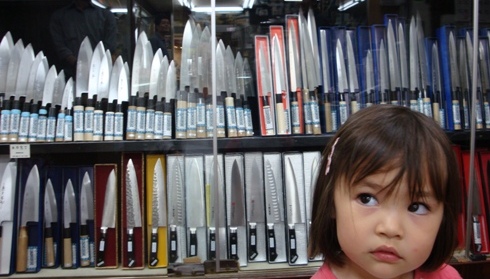 But I think the highlight of my trip, with not all that much time to spare, was a visit to the Tozando sword store in Kyoto.
While they sell some nice iaito downstairs, upstairs behind glass cases they had a stunning collection of Nihonto – some of which were antiques and others Shinsakutou (modern swords made after 1989) such as this one, which sold for Y950,000 (approx US$10,450!).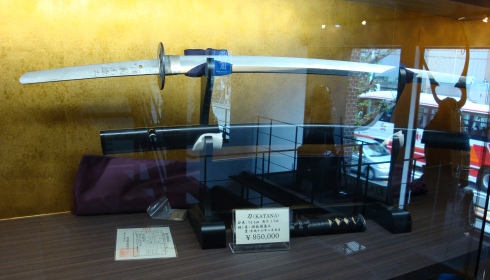 With wistful dreams and hopes of one day being able to afford such works of art filed away in the back of my mind – I went back down stairs and bought what I could afford, which was a familiar menuki (which itself was US$41) that Cheness Cutlery are particularily fond of and that many people can't figure out what the heck it is supposed to be..
But if you own a Cheness sword, I am sure you will recognize this gent straight away – that turns out to be a kind of spider kami/spirit..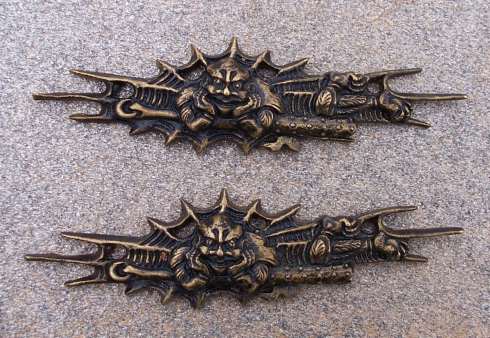 They actually had quite an interesting selection of menuki there, and I enjoyed a conversation with the friendly staff members Haruko-san and Hisashi-san about how, when a sword was being made for a high ranking Samurai, it was entirely up to him what color scheme the sword would be, and how they would select a menuki that best represented their character and temprament.
Have a look at some of the menuki below to see what I mean – another interesting one was a 'bean', which I found to be slightly eccentric!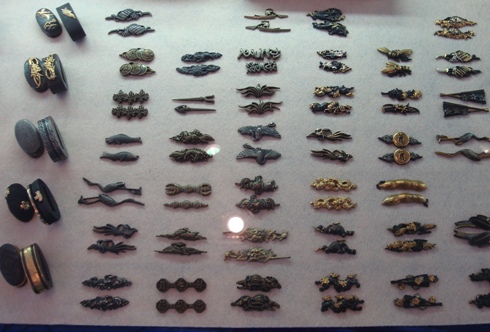 Anyway, the trip to Tozando was inspiring – the staff members very friendly and accomodating and they also had some cool books and odds and ends, so if you are in Kyoto – I highly recommend a visit!
Next time I visit Japan to see my daughter hopefully I will be a bit more organized (this time around, it was all a bit last minute and done with no real planning – I just decided I had to be there for her 3rd birthday). And next time I'll plan ahead to take a few more side trips to take some video of swords being made, visit some dojo and take some better pics – but even this day trip to Tozando was inspiring, especially the very cool looking black leather on black ito iaito pictured below that reminded me of the Kuramono Katana and is only really something I have seen on the old PPK, but would look great on the SBG Proffesional Grade Katana...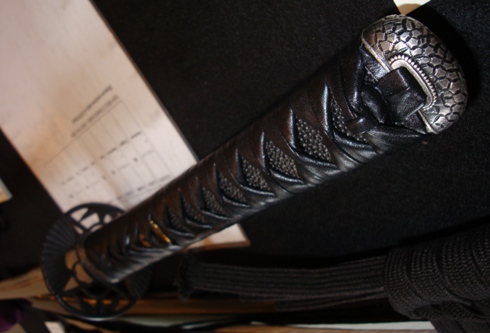 Which leads us rather neatly to...
---
SBG SWORD STORE NEWS
---
Now as mentioned briefly before, my visit to Tozando was quite inspirational, and I enjoyed my discussion about how historically there really were no rules on what colors and style of fittings a Katana could have – as it was the individual's own sword, it was expected that it would reflect their own individual taste and temprament – and this made the work of the two levels of SBG custom Katana even more 'real' somehow, offering a unique option instead of the usual 'off the shelf' designs.
With the last of our Professional Grade Custom Katana having landed and a large number of our Kuramono orders from Jan-Feb all about to ship, it is almost time to get the forge working on another run – so we went back to the drawing board and added a few new options...
The first new option to the Professional Grade Custom Option Katana was the addition of four colors of leather ito wrap, pictured below: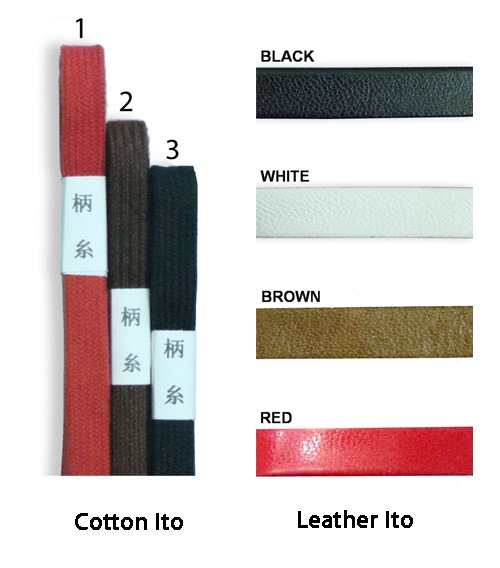 Plus, we also narrowed down and cleaned up the pics of the synthetic rayon ito (which is the same ito used by Tozando on their high end iaito) and added a few high grade cotton ito options for those of you who prefer it.

While all of this was more of a 'clean up' than anything else, after so many requests to bring back the Torakami Katana – I decided to add it again but with a twist – and that is to offer it as a semi-custom option!

Naturally, custom options mean that they cannot be made as systematically as the standard Torakami, but I have come upon a happy medium – with a price right in the middle of the standard Torakami and the custom option blade for $449.99 shipped.

With the semi custom option, you can choose what color and material ito you would like (as well as the color of the rayskin), select a blade with or without bo-hi and choose your own sageo and saya color to create what you think best suits the awesome looking 'year of the tiger' fittings (which are a direct casting of an actual antique).

While I am still waiting on the most recent shipment that is currently with my agent in Canada being quality checked and packed before shipping (he is quite meticulous, each sword gets a 30-45 minute 17 point pre-inspection before being shipped out) we should literally be taking new orders within the next week or so at the latest, so to be notified please sign up to our store newsletter here:

Store Newsletter - specifically 'SBG Professional Grade Katana' list.

In other sword store news, we are a bit behind on the Cheness restock, which has been pushed back to mid June due to that blasted Shanghai expo debarcle (which as you know, also delayed the SBG Pro Grade Katana shipment), have listed an incredible deal on the 27" blade Hanwei Gorin Iaito at a well below wholesale closeout price, and have lowered the prices on our range of Ronin Katana swords from $264.99 to $249.99 shipped across the entire range (you can read a recent review of these swords in the forums here by Marc Ridgeway).

There is actually quite a bit in store for the store (pardon the pun) this month, so the best way to stay informed about what is happening is to either visit our news page here or sign up to the general store newsletter Here
---

---
May was a bit quiet newswise, but there were a few recent developments of note, two of serious interest to lovers of more unique and underrepresented sword styles..
The first is the sneak preview of the executioners sword by Darksword Armory – a blade sans any kind of tip (after all, the historical design it is based on is only used for ONE thing – and if you look at it, it's pretty easy to guess what that one thing is!).
The other unique design is a contemporary but extremely utilitarian hand made in the US Khopesh – which I must admit is one of my personal favorite styles of sword – and this one looks about as mean as they come..! To see the pics and read more about these new designs, visit our Industry News Page on SMG here:
---
21st Century Swordsman
"The International Swordfighting and Martial Arts Convention – By Steaphen Fick"
---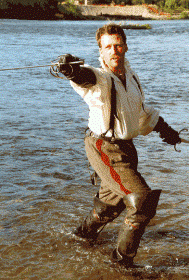 Eleven years ago, Jared Kirby and John Lennox met at a small western martial arts workshop in Chicago, IL. This was a very small event, the first of its kind, held in one room with everyone participating as different instructors taught a variety of classes. Jared and John thought it was a great idea and decided to do something similar in Michigan.
In 2000 the first ISMAC, http://www.theismac.org, was held at Lansing Community College in Lansing, MI with instructors from Germany, the UK, Australia and across the US. They wanted to have an event to bring like minded people together who would share their knowledge of different historic Western weapons and systems. The first ISMAC had two tracks of classes and has grown into an event with six tracks happening at the same time. This multi-track plan allows the attendees to pick and choose the class that they would like to attend, and will allow them to follow a core curriculum of weapons and principles in their training with various instructors.
In 2007 ISMAC moved from Lansing Community College to the Marriot Hotel in Detroit, MI, and in 2008 was moved to the Westin Hotel at the Detroit Airport. This year the International Swordfighting and Martial Arts Convention has brought together some of the finest instructors from around the world to teach the best classes in Western Martial Arts for over a decade. In that time many participants have had their first exposure to WMA and many more continue to return and hone their skills.
Participants can choose from over 50 classes on almost any Western Martial Arts subject. Classes are always offered on the fundamental weapon systems and masters but we also present unique classes such as Carpathian mountain axe, Edwardian Bicycle Self Defense and Germanic Dueling Shields.
In 2004 I was driving from Detroit to Lansing to attend ISMAC when I received a call from Mr. Kirby that one of his instructors was unable to attend, and he asked if I could teach a couple of classes at the event. This was the first large seminar I taught at and it has always been one of the most fun events I attend each year. Some of the instructors that will be teaching classes at ISMAC this year are Bob Charron, Christian Tobler, Steve Huff, Maestro Ramon Martinez, Maestro Paul Macdonald, Maestro Jeannette Acosta-Martinez and more.
If you are looking for an opportunity to meet and learn from some of the leading instructors in the western martial arts, or would like to learn about systems that you are not able to study in your area than this is the event for you. You can even sign up for private lessons with any of the instructors at ISMAC, as well as the regular schedule.
You can find out more about the International Swordfighting and Martial Arts Convention by going to http://www.theismac.org
Steaphen Fick
DEMAS (Davenriche European Martial Arts School)
Author of The Beginner's Guide to the Long Sword
Western Martial Arts Coalition
---
BEST FORUM POSTS
---
R.I..P. Frank Frazetta
A tribute to a much loved Fantasy Artist. He will be missed...
What's the WORST sword you ever owned?
While we try not to review them on SBG, we all have bought at least one real lemon – either before we discovered the site or when taking a chance on something that seemed too good to be true (and was..). Quite a long an interesting thread!
The best way to put an edge on a sword using power tools
While using power tools are in general a no-no for sharpening swords, most modern day sword makers who know what they are doing get a good result with them (i.e. Gus Trim, Tinker, Brenno from Fableblades, etc). So if you have the tools and want to give it a go, this post and the links within are a must read...!
Sword Training DVD recommendations
While we list a few good ones in the sword training section of the main site, here are some more excellent user recommendations
---
VIDEO OF THE MONTH
---
At the knife store in Kyoto, I saw some very cool extra long tuna filliting knives that looked a heck of a lot like a Katana in Shirasaya and were priced at something fairly close to the $300 price point..

Stupidly, I did not buy one – but below is a clip of one of these 'swords' being used for Tuna Tameshigiri..! (well, not really, but at least you can see what these blades look like).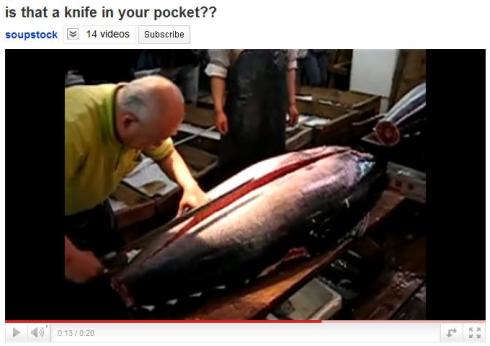 Personally, I'd be curious to try one of these out for some non tuna related cutting to see how it would do..! Maybe next time..!
---
Hope you guys enjoyed the June edition of the digest! See you all next month!!

Paul Southren
---