Hey,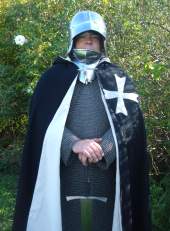 You might find that this issue of the digest is a little different than usual. Due to my increased personal workload, I am currently 'tweaking' the site and the digest to make it a little less intensive, but don't worry – most of your favourite articles are still here (plus at least one new addition!). I hope you still like it and welcome any feedback – after all – I don't write the digest for myself, I write it for you! So take a look and see what you think..
CONTENTS
1. From the Desk of Paul Southren
2. Best Forum Posts
3. Video of the Month: Seinawski and Sons
4. Bargain Hunters and Clearout Specials
5. Sword of the Month
---
FROM THE DESK OF PAUL SOUTHREN
---
Sounds nice and official doesn't it – but 'from the desk of Paul Southren' is really just a way of trying to streamline three sections of the digest into one, allowing me to pick and choose what site, store and industry news is relevant, as well as just a good place to 'chat' to you all, so I hope you don't mind..!

Anyway, as you can tell by the general lack of updates to the site it's been another busy month for me personally – I've been teaching English at a couple of high schools in the Osaka countryside as well as trying my hand teaching at some private lessons in the evenings and it is certainly quite enjoyable, if rather exhausting (nothing like coming home after a hard day of work for another hard day of work on the site, but lucky for me at least both jobs are satisfying ones, so I can't complain too much!).

I also got to spend this month celebrating my daughter's birthday together – I couldn't afford to buy her much, but got her a couple of small things she liked and then stocked up on toys from the 100yen shop (100 yen is around $1 or so) before heading off to the park to play with them. Kind of like when you buy a young child a large toy and they spend the afternoon playing with the cardboard box it came in, she preferred the cheap toys we bought, but the important thing was we could be together and she really had a blast.

SBG Store wise the store has been pretty bare still which has been pretty hard, especially as the last couple of months have seen SBG come extremely close to the red line on more than one occasion. So far I have managed to keep things going and hopefully by the end of June we will have restocked our supplies of Cheness Cutlery and Ronin Katana swords – as well as finally see batch 16 of the custom Katana ship from the forge, allowing us to take some new custom Katana commissions again.

I'm doing my best to hold on until the situation improves, but with such limited stock SBG sales are predictably, shall we say, "not so good" (though to try and stimulate a few sales I have added a 5% coupon code you can use on any in stock items SBG-VIP which is valid from now until the 11th of June, so feel free to use it!).

So yes, basically this month I plan to just keep things running as smoothly as I can. Even though several large projects are kind of on indefinite hold at the moment (due to a lack of time and finances)I do hope to try tackling some of them whenever I have a spare moment, so hopefully this new section of the digest will be a good place to reveal them when the time is right!

COMPETITION RESULTS – the 50/50 Split!

As you may recall last month we ran a brief donation drive and 50/50 split where forum and digest members could choose to either make a straight donation to the site or enter a competition where for every $10 you submitted you would get one chance win half of the total donation pool as a prize.

Sadly, we were not able to run this competition for very long – within the first 2 days I received a rather nasty notification from paypal that this kind of thing was against their terms and conditions and had to work hard for over a week trying to provide them information to avoid having my account terminated..

It came at a really bad time, but I was able to at least save the paypal account and we did raise $590 - $295 of which was won by Dave S and announced HERE on the SBG Sword Forum

. Anyway, I'd like to extend my thanks to everyone who entered or who donated to the site – I'm a little shy about accepting any kind of donation again due to this, but the money raised bought us just enough time to make it through the SBG credit crunch and while we aren't quite out of the woods yet, at least there is no imminent threat of losing the site like there was early in May.. (a pretty stressful time I can tell you!).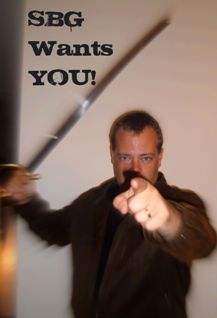 CONTENT REQUEST AND SUBMISSIONS
Finally, because of my own personal time constraints that make it really hard to put in as much time writing the digest as usual (I had to start writing this particular issue MUCH earlier than usual), I'm taking this opportunity to reach out to anyone who might be interested in contributing a 'column' to the digest every month..
Indeed, I am even quite happy to publish any well written 'one off' articles that any SBG member wishes to add – it's up to you - basically, its an open invite!.
So if you have a little bit of spare time and a flair for writing, I'd love to hear your submission idea!
Who knows, you might be seeing your own work in print in the July edition..!
---
VIDEO OF THE MONTH
---
We all know that modern sport fencing has its origins as a true martial art. And in Poland, Seinawski and Sons have been carefully re-establishing the link between the current sport and the original fighting techniques of this lost art.

In this video, we can see some of these hard core techniques in action and can begin to appreciate modern fencings somewhat brutal origins…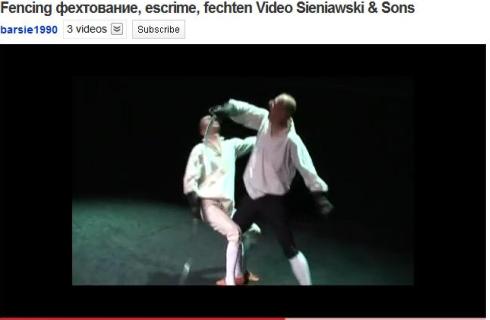 Personally I am quite fond of the good old elbow in the face technique! You could almost feel that one..
---
SWORD OF THE MONTH
---
A new addition to the digest, each month I will pick out what I think is a unique and extremely interesting sword sold by one of SBG recommended sword sellers.

This month, I have selected Scorpion Swords 'Khopesh Sword of Pharaoh' featuring a grip made of osage orange wood with a torched finish and a thick 5160 Spring Steel (slightly sharpened) blade.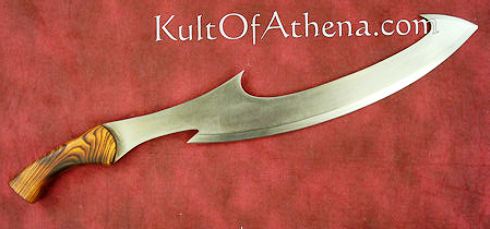 Currently on sale here for $215.95 at Kult of Athena, you can also check out Scorpion Swords full range of products here at KoA – all of them extremely well made blades designed and MADE by hand in the USA.



---
I hope you enjoyed this somewhat abbreviated version of the digest – I'll continue to tweak it over the coming months and hopefully get some additional member contributions and content.

So until next month, take care and talk to you all then.

Paul Southren
---