Hey,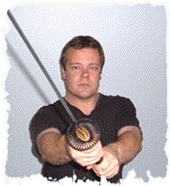 I've had to make a rather difficult decision of late...
In recent months I have begun to realize that the biggest problem with the Digest is the amount of time it takes to put each issue together. And as a consequence, there is a lot of new content on the main site that continually gets side tracked because of the Digest deadlines...
Trust me when I say that this was not an easy decision to make. But I have decided that the only way to move forward is to streamline the digest back into a standard ezine format.
Now before anyone gets upset and decides to hit that old unsubscribe button, take a few minutes to see exactly how this old/new (?) format works. Because I think you will find that even though it is streamlined, the spirit of the digest is unchanged...
CONTENTS
1. SBG SITE NEWS AND UPDATES
2. NEW FREE EBOOK – 'An Introduction to Backyard Cutting'
3. SWORD INDUSTRY NEWS
4. COMPETITION RESULTS
5. BEST FORUM POSTS
6. VIDEO OF THE MONTH – 'Amazing Haidong Gumdo Cutting'
7. BARGAIN HUNTERS CLEAROUTS AND DISCOUNTS
---
SBG SITE NEWS AND UPDATES
---
June saw only a few visible changes to SBG, primarily concentrated on updating and expanding the Sword Buyers Directory. But behind the scenes, I have been preparing some exciting new pages – including the biggest project yet – sword training resources!

These new pages and articles will be the # 1 priority over the next couple of months, and it might take a while before it all comes together. .. So to keep abreast with these changes, check the SBG News section often, or better yet – subscribe to the RSS feed for up to the minute additions as they happen.

It's going to be some pretty exciting stuff!



---
FREE EBOOKS!
---
As part of the upcoming sword training section, I have begun work on a series of FREE ebooks. The first one has just been completed and is an expanded compilation on backyard cutting targets.
Check it out here and see what you think!
---
SWORD INDUSTRY NEWS
---
If you've been on the SBG Sword Forum, you'll know that over the last few months there have been some problems with tempering at the Generation 2 Forge...

Clyde from Generation 2 has been taking this issue VERY seriously and is now working with the forge to rectify this issue as quickly as possible.

Often the road to improving a product may be beset with unexpected obstacles. But I think you'll find it is only a temporary set back – and Clyde's openness and willingness to constantly refine his products stands Gen 2 in good stead for many, many years to come...



---
COMPETITION RESULTS
---
Last months 'submit your recommendations and Win a FREE Sword' competition was a real success – and a great chance for me to know what direction you want the site to head in. At the risk of being corny – it really was one of those competitions where EVERYONE wins...!

But of course, there could only be one winner for the prize – and that goes to prolific SBG forumite Rammstein for his popular suggestion of more high end vs. low end comparative reviews and tests.

Congratulations Rammers! I look forward to your brief review of your new Cheness Ko Katana! ;-)



---
VIDEO OF THE MONTH
---
This one is something special. In this vid you'll see some very senior exponents of the rapidly growing and extremely popular Korean Sword Art system, Haidong Gumdo, demonstrating some amazing cutting skills...

How they can cut through tatami, and leave it standing like that is simply breathtaking...



---
That's all folks! Hope you enjoyed the new digest format – it's a lot faster, leaner and meaner than ever before...!

Until next time, stay safe and have fun with swords!

Paul Southren
---