Hey,



Happy Chinese New Year!

The February issue is a little lighter than usual, partly because February is a little lighter than other months - and partly because, well, you will see why as you read on..!

To make up for it, we selected a decently long video of the month to keep you off the streets and a way to check out our "other" newsletter that you may or may not know about.

So without further ado, lets get into it shall we?


---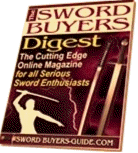 CONTENTS
1. From the Desk of Paul Southren
2. Collectors Corner with Dan Dacombe
3. Bad Sword of the Month
4. Video of the Month
5. Best Forum Posts
6. SBG Sword Store News

---
From The Desk of Paul Southren
---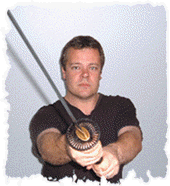 It was a busy month at SBG, Pre-orders for the re-launch of Project X Japanese came and went and we are again finally taking orders for the SBG custom Katana batch 32 (paused to make space for Chinese New Year) as batch orders 30 and 31 finally start shipping out (delayed slightly by Chinese New Year, but thankfully we got them out in a nick of time to avoid the worst of the shut down).

Chinese New Year is often a frustrating time for the industry, as - like most things these days - pretty much all affordable, entry level swords are made there. So when the country shuts down for a full month, sword supplies and new stock tend to dry up pretty quickly!

Thankfully this month, everything should be returning back to normal, not just at SBG but across the board. We have already seen some new offerings from Hanwei come in - which is great news as it has taken them years to recover from the terrible fire that consumed their original factory quite a few years back - but they now seem to be almost back to full swing again, which is great news for everyone!

It does seem though that there are some changes ahead, and not all of them are positive for sword buyers. Prices look set to increase at several well known sword manufacturers - and the increased competition from China selling direct to the market is weakening local sword sellers to the point where many of them will disappear over the coming months.

The more things change, the more they stay the same..

But one thing is for certain, SBG will be around to keep you informed as to what is going on - and there is no doubt, the year of the sheep will be an interesting, action packed one..! That is for sure..!
---
Collectors Corner with Dan Dacombe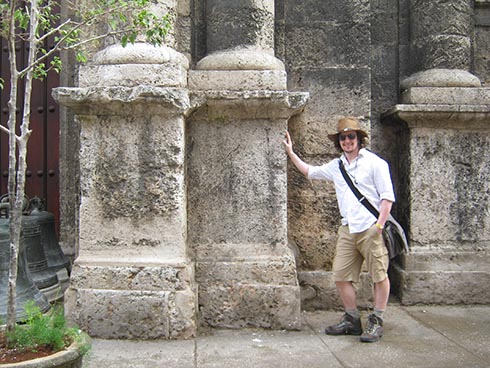 Oops, Dan didn't make the deadline for this months digest - he was too busy looking like a Canadian Indiana Jones over in Cuba, where he took a holiday with his wife and kids..!
I am sure we will hear about it next issue, wonder if he picked up any cigars??

---
Bad Sword of the Month
---
It's called the "Dual Attack Twin Sword Set of the Anime Warrior"..

That's bad enough..

But honestly, I don't know what this thing is supposed to be or how it is supposed to be used.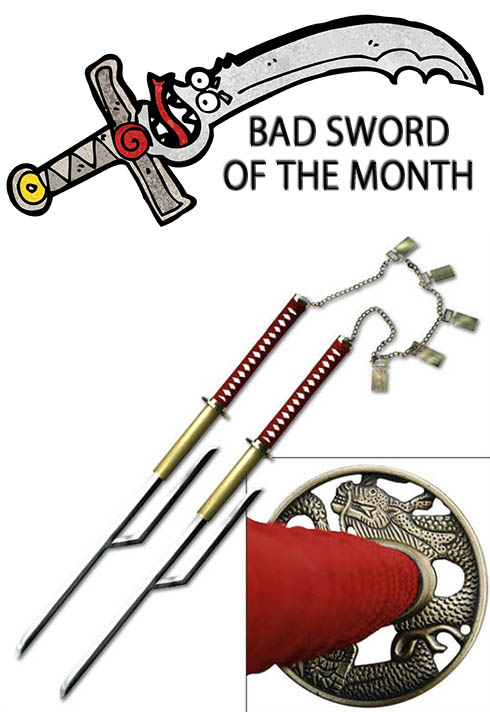 Maybe you can use it as a skipping rope?


---
Video of the Month
---
The last few months Video of the month feature have been a bit short and light hearted, so this month we present a rather well made 2 part documentary on the history of swords from the United Kingdom.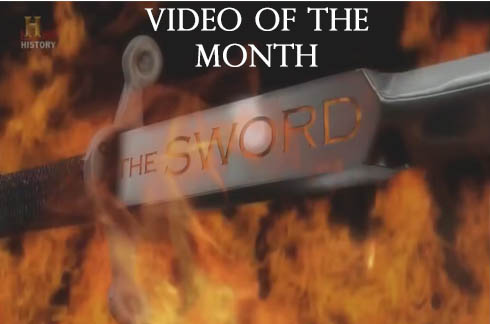 Includes guest appearances by Magnus Siggurdson, Neil Burridge, Gassan and many other well known smiths, this is an intelligent foray into the history of swords, from Bronze age to Hollywood - and unlike many other history channel sword specials, has only a few points of contention.

Hope you will enjoy watching it as much as I did!




---
Best Forum Posts
---


A Gladiators life: Not like the movies
How many fights on average did a Roman Gladiator have per year? And what was the average survival rate per bout? Interesting, succinct post!



Hollywood Ninja Sword - Or Not?
One of my favorite subjects, with some interesting twists and turns - plus nostalgic magazine mail order sword ads (shows just how far we have come!).

Wall mounting Two Handed Swords
Lots of great ideas on how to wall mount a massive two handed sword, plus links to more info on hanging swords on walls (not to be confused with "wall hangers"!) in general.



Why Use oil?
Well of course, you need to use something - but why not wax? Or Silicon Spray? Interesting thread on what different forumites use and recommend to keep their swords rust free.


---
SBG Sword Store News
---

It's been over two years since the last project X This month we have quite a few excellent deals on - including some that are limited time offerings such as the single handed Lionheart Sword by Hanwei which is going out the door for a ridiculous $149.99 (normally $290).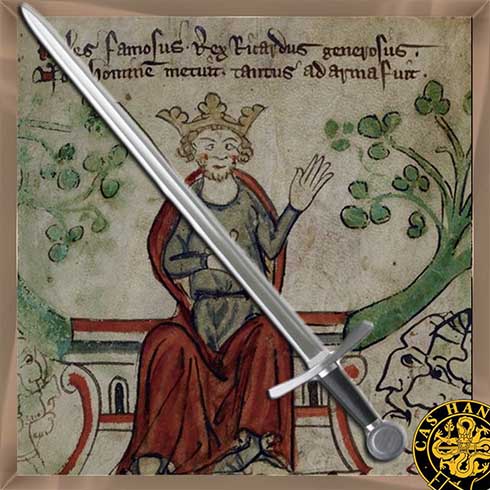 At the same time, we also have some great deals on Hanwei`s newest Katana - the Renshu Series, a hybrid design with Raptor series blades and practical katana fittings.


Definitely a steal at $249.99 - not to mention a great opportunity as this is a limited edition release, once they are sold out - they are gone!

Both of these deals (and more) are available in the Hot Specials Section of the store.

And if that wasn't enough, Legacy Arms/Generation 2 have some of their most popular European swords back in stock and for sale on the SBG Sword Store front page - though as usual, they won't be there for long…
Now while these specials and hot deals are definitely great value, did you know there are ways to save even MORE money and get the inside scoop on what's new and access to special limited time special deals?

Well, if you are a subscriber to the SBG Sword Store Newsletter - you will know exactly what I am talking about. And if you are not, below is a sneak peak of what you have been missing out on..!

Storenewsletter Feb Edition sneakpeak

Actually, you don't need to miss out - the discount code mentioned in the newsletter has been reactivated and extended until the 3rd of March, so if you like what you see and want to get in on THIS months specials - sign up to the SBG Store Newsletter here It might not be quite the same as getting two issues of the sword buyers digest every month, but it comes close!
---

Well, that's it for this issue, hope you enjoyed it!

Talk to you all again soon - until then as always, happy swordening folks!