Hey,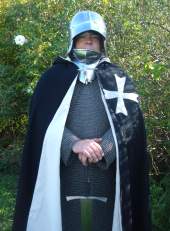 Well, another month has zipped by – I honestly can't believe that it is May already!
It's definitely been a busy month, mostly working on breathing new life into our sister site (there are some great new features and articles there, more on this shortly) but also working hard to try and get all the SBG professional swords out (it's been very stressful, but there is light at the end of the tunnel)..
So in this issue we will be covering all that, reading a fascinating article about mathmatics and the sword arts by Steaphen Fick and all the usual stuff – plus a fairly personal announcement that is really quite private (I am a very private person by nature) but as I try to keep the site as transparant as possible and it has been effecting my ability to do the job at hand sometimes (and heck, quite a number of the readers of my newsletter I count amoung my personal friends) I felt it only right to share a little, even if I would rather keep it to myself in some ways..
Anyway, enough rambling from me – time to get into it!
CONTENTS
1. SBG SITE NEWS AND UPDATES
2. SBG Sword Store News (and a personal note from Paul)
3. SWORD INDUSTRY NEWS
4. 21st CENTURY SWORDSMAN: By Steaphen Fick, DEMAS
5. BEST FORUM POSTS
6. BLAST FROM THE PAST 7. VIDEO of the MONTH: Myth of the Sword
8. BARGAIN HUNTERS CLEAROUTS AND DISCOUNTS
---
SBG SITE NEWS AND UPDATES
---
Not a lot has been happening on the surface of SBG as you can plainly see on the sites blog page, with almost all of my attention focused squarely on the sister site and just keeping things running (though that said, SBG is a lot like an iceberg – a heck of a lot goes on behind the scenes with mini updates, tweaks and working on trying to finish several major projects – and never having enough time to do them all!).

So as most of the action has been in the store and SMG, we might as well move on and check out the latest...
---
SBG SWORD STORE NEWS
---
We've actually had quite a few changes at the store last month – many are actually internal (and I have been spending countless hours tweaking some new systems that will hopefully make it all a bit more efficient) and external, such as the new look header (a real 'east meets west' theme I guess!).
The most dramatic change is the addition of the store newsletters, two issues which have already gone out earlier in the month, so if you haven't already you might want to subscribe to one of the three newsletters listed on our site (or all three if you like!).
Apart from the changes though, we've also seen some cool new products added – especially the gorgeous and long awaited John Lundemo designed 'Warder' fantasy sword (pictured below) and the equally stunning Crusader Arming sword (which would have to be one of the nicest single handed swords I have seen in a looong time!).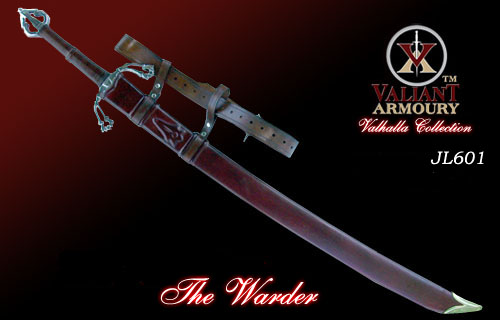 Stocks are pretty limited on both of these, and while they are slightly above the usual price we aim for at SBG – it's only around $100 more, and the value for money ratio is so far off the charts that they simply cannot be ignored.
(Plus, for Japanese sword lovers, you'll find a few super deals in the HOT SPECIALS section of the site – have a look, there are a few unique one offs there!).
To stay abreast of what is happening at the store, you can subscribe to our store specific newsletter here: Here
A PERSONAL NOTE FROM PAUL
I really must apologize to everyone here, but from the 6th to the 14th of May I have to take a personal trip to Japan and as my internet access will be limited I may not be able to arrange full store operation until I get back..
While I am a very private person by nature, I feel some explanation is in order and just want to share something that I have wanted to get off my chest for a while now..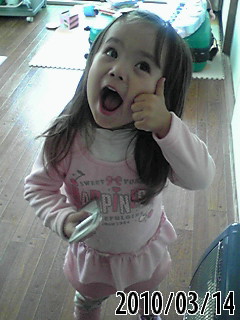 Early last month, my 9 year marriage to my Japanese wife come to a close and we amicably decided to call it a day, with my wife returning to Japan with my daughter Lana – and as Lana's birthday is in early May – I had to go there to see her..
As such, during this period I may not be able to get back to all emails and other store related situations until I get back, but rest assured that everything will be taken care of as soon as possible after I get back and I will be doing my best in the evenings to deal with any urgent or pressing matters.
I don't really want to talk about this and DEFINITELY do not want any sympathy as in the end, this was all rather inevitable – and my only concern now is to ensure that my daughter is happy, safe and knows that I love her.
Thanks for your understanding – and sorry hijack the newsletter – so let's get back into it with…
---

---
Ok, now we get to some REAL meat and potatoes!
Last month saw SMG getting some long overdue TLC – and we have not finished yet (though I must admit, I do need to get better at juggling between the two sites!).
Before we get to the most recent sword industry news, you may want to check out the completed Side by Side Destructive Testing of 4 medieval swords HERE (I really enjoyed doing this, and amazing how some swords really did shine in some areas and not so well in others – yet in the end they ALL came out pretty good, just with different strengths and weaknesses – which I hope will help folk to narrow down one that best their individual preferences!).
Plus an extremely eye opening and revealing look at the production Katana industry in China with an interview conducted by Chris Scoggin from Ronin Katana with a Chinese Forge Manager called Katana Made in China: "A Peek Behind the Bamboo Curtain"
Really interesting stuff.

INDUSTRY DEVELOPMENTS Last month saw two new updates from SMG reporter Arnold Kotlyarevsky.

APRIL 13th: We have a beautiful new Gladius and Spatha by Albion Armorers, Bugei's Peace and Old Pine Swords (supposedly some of the TOUGHEST swords to hit the market since Howard Clarks Legendary L6 Steel), and a competition organized by Darksword Armory to get new designs and feeback on how to even FURTHER improve their products: Click here for the April 13 News Update

APRIL 21st: Albion does it again with yet another Spatha and the incredible looking 'Dane' Sword, Windlass catching up on the competition with some very nice looking belts and suspension systems for their swords, and the sneaky Ninja swords from Hanwei that slipped under the radar (in true Ninja style): Click here for the April 21 News Update

More Updates coming soon – as well as a neatening of the newsfeeds and much, much more! (Arnold and I have some VERY interesting things in the works, so stay tuned!)
---
21st Century Swordsman
"Math in the Martial Arts – By Steaphen Fick"
---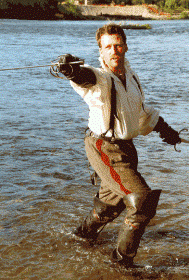 People generally think of Asian martial arts as an art form and the European martial arts (if they even know about them) as thuggery. The general thought is that sword fighting is about big muscle bound men swinging 14 pound iron bars at each other – that all you need to be is strong. This is the impression given by most forms of media.
In truth, math is a large part of the art of swordfighting. Masters have known and used math to teach the art for centuries. In fact it was so prevalent that math was even referred to in the media of the 16th century. In Romeo and Juliet, Mercutio is stabbed by Tybalt and as he lies bleeding he says 'Zounds, a dog, a rat, a mouse, a cat, to scratch a man to death! A braggart, a rogue, a villain, that fights by the book of arithmetic!' Romeo and Juliet Act 3, Scene 1.
Geometry allows the sword fighter to put himself in beneficial position while making a good attack at his opponent. There are three main shapes that we use in the fight: the triangle, the circle and the square.
The square is the shape that we use in our footwork. By moving on squares, the combatant will move from one side to another side of the opponent. By placing his feet on either corner of the square, he will also give himself support and a good position to work and move from.
The circle is the shape that all attacks occur on. If you perform a cut, you will do some portion of a circle. Even if you perform thrust, you will still be performing a circle, because of the body structure and the way that the shoulder moves. When you make a cut, you want to place the angle of your cut in such a way that your circle will intersect the opponent's circle. This crossing of circles, if done properly, will protect you while striking him.
We grapple in triangles. When you freeze a fight at the moment where the two swords cross, you will see that the swords create a triangle with the apex of the triangle at the crossed swords and the base from your quillons to his quillons. You can either have your swords grapple (this is the crossing of the swords while creating a good position for you and a weak position for your opponent), or you can grapple with your opponent's body. When you are grappling with the body, you want to look for triangles to use to weaken his structure. You can find these triangles all over the body, like the throat, the bent elbow, the bent knee, under the nose, the fingers, and there are more.
By using these shapes together, you can put yourself in a stronger position while making it easier to hit your opponent. If you both swing at each other with no foot movement, you will both be hit. If, on the other hand, you step to the side while making that strike: your swords will cross, creating a triangle and your circle will intersect your opponent's body while taking you off his angle of attack. You can fight without using the angles, but if you do that you run a greater risk of getting hit when you make your attack.
You can find out more about these angles in my book The Beginner's Guide to the Long Sword published by Black Belt Books available at bookstores, online book sellers or through my web site.
Steaphen Fick
Davenriche European Martial Artes School
Steaphen Fick
DEMAS (Davenriche European Martial Arts School) Author of The Beginner's Guide to the Long Sword
Western Martial Arts Coalition
---
BEST FORUM POSTS
---
PDF Guide to Modern Katana customization
Some great links to a very cool guide to customizing your Katana!
What's the best longsword?
Opinions on the best production longsword on the market.
Making Your Own Tsubas!
Got a unique idea for a tsuba? Here's how to make your own, with step by step instructions and pics!
Sword Training – Improving Strength, Balance, etc
Forum members recommendations for improving the fundamentals required to be a more effective swordsman!
---
VIDEO OF THE MONTH
---
You might remember a little while ago I found a pretty cool video by the late sword historian and founder of Museum Replicas, Hank Reinhardt on youtube about Viking sword fighting techniques..? Well if you liked that one you will LOVE this one - also by Hank – which explains about how swords were used, how they were made and busts a heap of myths - including explaining how even the best made sword can break quite unexpectedly and why they were not used edge on edge if you could help it, plus sharpening, cleaning and more (fascinating stuff and highly recommended).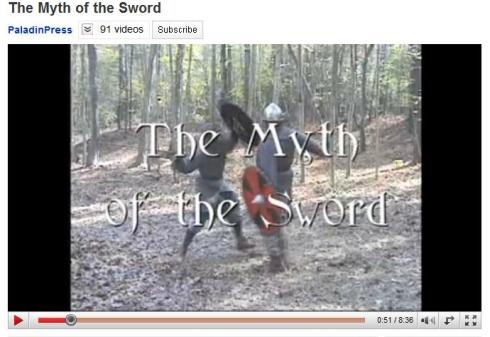 8 minutes with Hank can distill the equivalent of a sword knowledge PhD (well, almost!)! Very educational and enjoyable to watch..
---
BARGAIN HUNTERS CLEAROUTS AND DISCOUNTS!
---
A selection of hot product discounts and clearouts from our affiliated vendors. Grab a bargain and support SBG at the same time!

SBG Sword Store
We don't have many of these, but boy do we have some bargains this month...
Katana lovers should definitely check out the HOT Specials section of the store..
As there are so few of these swords available, I don't really want to say much more other than if you like Japanese blades, you should definitely check it out...
Trueswords
You might remember a few months ago I did a review of a very unique Katana by Global Gear, the Titanium Infused Katana
Well, it would seem that Masahiro have come up with a very similar, and fairly impressive looking budget version with their Red Anodized Katana
Now while I haven't had a chance to check this one out firsthand yet (it has literally just come out), it looks pretty good for $114 and is definitely quite unique!
---
Well, that's about it for this month – I have to start making preparations for my trip to see my daughter now, and will hopefully also check out a few sword stores over in Kyoto too, so if I do, I'll be sure to share some snaps with you guys when I get back..!

Until then, take care and have fun with swords!

Paul Southren
---