Hey,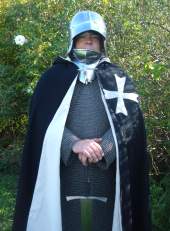 A busy month, and a BIG issue of the digest – with a competition to win a Katana and customized medieval scabbard, the return of the SBG custom Katana, pre-orders on the master forged Project X Jian of Marquis Yi, SBG forum t-shirts, a preview of a very cool new product in development, industry news, a 13 part instructional JSA video series, tips on how to buy swords at 10% of market value and more – yeah…! Lots to get through, so let's get straight into it shall we..?

CONTENTS
1. From the Desk of Paul Southren
2. Best Forum Posts
3. Video of the Month: Japanese Sword Training Series
4. Bargain Hunters and Clearout specials

---
FROM THE DESK OF PAUL SOUTHREN
---
April was perhaps the busiest month on record for SBG (and that's saying something!).

The final push to finish the SBG overhaul, of both the site AND the forum at the same time was incredibly demanding – and it would be too early to say I am finished with stage one, but it's pretty darned close and I am reasonably happy with what has been achieved.

Now the vast overwhelming majority of the pages are the new SBG format – with the final skin for the site being a scroll like background with an oversized 'sword' like abomination.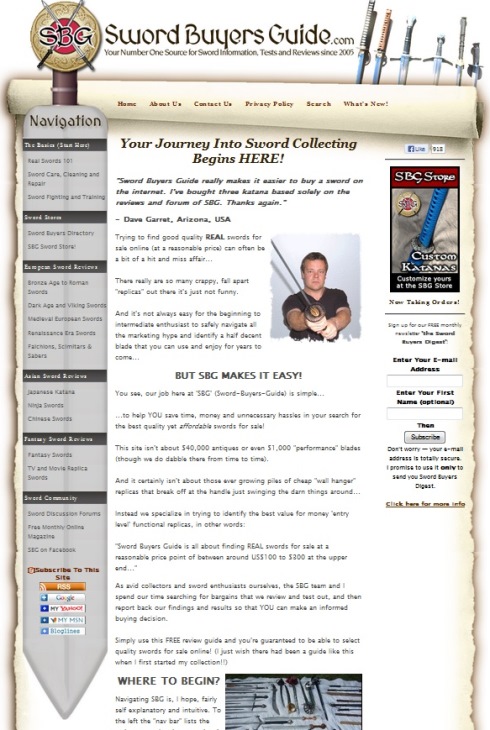 I like the scroll part. Not so sure about the 'sword'..
So with that in mind, time to run a little competition..!

DESIGN A 'SWORD' COMPETITION
The competition is to come up with a cool design we can use in place of the current SLO navigation bar – you don't need to be a graphic designer to enter, even a written cool concept will get you the prize, but you'll stand a better chance to win if you can submit a useable design according to the submission guidelines.
And the prize? Well actually, there are two – a custom scabbard gift voucher from Crusader Monk and a customized Dojo Pro Katana with battle wrap ito!

Click here for details on how to enter!

IT'S BAAAACK!
SBG CUSTOM KATANA 3.0: LAST ORDERS!
Yes, the site itself is not the only thing that had an overhaul and makeover last month..
Last month, I wasn't really sure what direction it was going to take. But as I looked over and updated much of the information on SBG, I was able to get what I believe was a pretty solid bird's eye view of the sword industry. And everything that I think was missing, I have built into the Custom Katana 3.0..
I've told the backstory both in previous issues of the digest and the custom Katana blog enough times that I don't think I need to go into detail. But in all honesty, I think that our recent troubles with a larger than normal percentage of the SBG custom katana having the wrong customization options was a real blessing in disguise..
It forced us to go back to the drawing board. And come up with THIS..!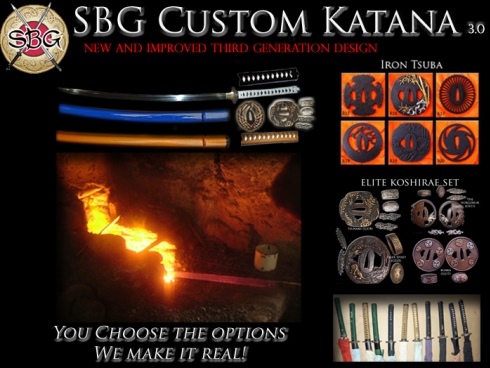 Basically, the custom Katana is now at the same level as the second round of SBG Prototypes I had made in 2011, but stripped back to a core selection of only the coolest selection of highly durable fittings mounted on our famous T10 Tool Steel differentially hardened blades.
The blades themselves have always been exceptional and were hard to improve upon (after all, they were severely under-priced to begin with) but improve upon them we have – with some subtle improvements to the blade itself, especially at the kissaski..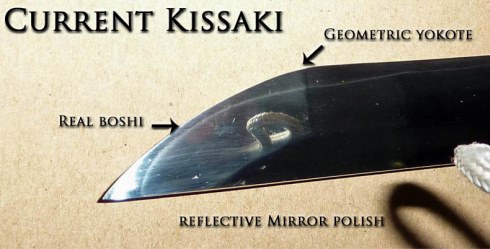 But as a sword is only as good as it's weakest point, we have done away with the alloy fitting options entirely, and sourced a range of awesome iron or work hardened copper (with silver and gold plated) tsuba and fuchigashira sets to minimize errors, increase the overall durability of the product and ensure that it's impossible to choose a set that will not either look good or stand up to heavy, frequent usage..
In short, the whole project has been taken to a new level, and yes – while the price has had to go up a lot to keep it viable, I've done my best to keep it as low as possible without sacrificing anything that is necessary or taking any shortcuts.
The design possibilities are pretty cool, we have included some real classic fitting combinations in the current line up to suit almost all tastes in Katana. You can take an existing favourite Katana fittings style and 'tweak' it like never before – make a 'Torakami' tanto, recreate the classic Cheness 'Kanbai' Katana but with a stunning SBG Custom Katana blade, make the neo version of the 'Black Dragon', a classic Mokko with white ito and black rayskin or make your own unique design – like a blue 'tsunami' with silver plated Fuchigahsira or a solid dojo sword with all iron fittings, blade length to suit your reach and the rayskin wrap upgrade on the saya.. The combinations coming in are amazing, it's really great to see people running with the options..
The only thing is, it shares one thing in common with it's predecessor – orders are only open for a limited time. And we want to wrap this batch up and get it to the forge to start work asap – apart from the odd job here and there their slate is clean and they are chomping at the bit to fire up the forge again..
So if you want to lock in your own personal design, you've only got another few days – orders are scheduled to close off between the 6th and the 10th of May, so unless you want to wait another 3-4 months, now is definitely the time to get your order in.
Click here for the SBG Custom Katana 3.0 to see what all the fuss is about

THE JIAN OF MARQUIS YI!
Two months ago we introduced it, but since late last month it has been available to pre-order!
The elite level, master smith forged Jian of Marquis Yi is now available to pre-order – and while it is certainly not cheap, I think you'll agree that the value for money is off the scale..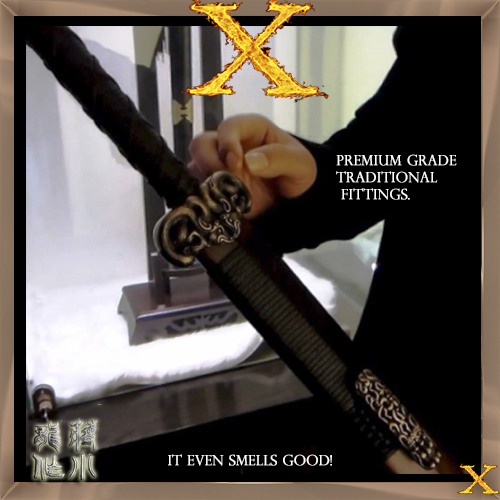 If you want a chance to reserve a sword made by a truly world class, famous modern day sword smith descended from a linegage that goes back several thousand years – this is it!
Without a doubt this is the most incredible blade ever offered by SBG and if you are able to swing it, it's a PARADIGM changer..
Like I have mentioned before, it's cost makes it sadly out of reach for many so I won't go on about it too much more other than to say that if you want in and you want to get the cream of the crop (even their WORST sword is arguably better than any other comparable sword in this price bracket), here's your chance..
Click here to see the Marquis of Yi in all it's glory

COMING SOON: A Sneak Peak at a NEW Project
This may not be the most historical thing ever, but my goodness it is one of the coolest..
Now some people think that a back mounted Katana is untraditional, but there's no doubt that it is cool, and I have lost count of the number of times people have emailed in and asked me where to get one..
Until now, the only recommendation for a Katana back mounted suspension system was this $15 'thing'.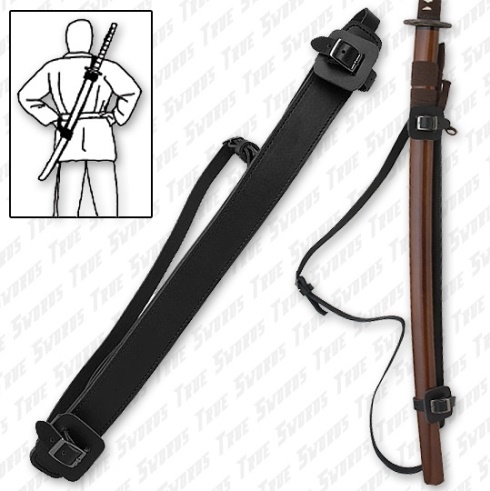 Which is fine if your sword is worth less than $100, but anything half decent on it is kind of insulting the sword..
If you had a half decent sword and wanted to back mount your sword for the zombie apocalypse, then wouldn't you be better off with something like THIS!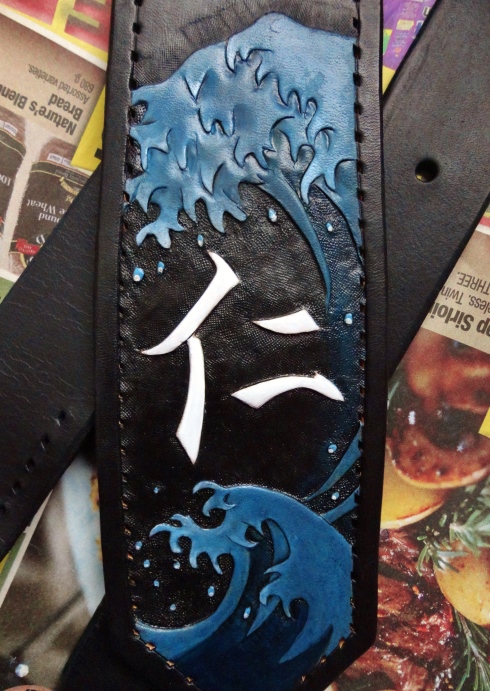 Well, very soon you may well be able to..
So stay tuned folks, like I said it may not be traditional, but if this kind of thing speaks to you, you are in for a real treat...
---
BEST FORUM POSTS
---
With new, high speed Sword Forum back – we now return you to your regular programming!

Wang Katana – hmmm
For under $200 a "fully hand polishing and hand folding genuine traditionally forged Japanese Tamahagane"? I don't think so (a pet hate of mine is work marketers like this, there's just so much wrong with this listing I don't even know where to begin)…

Generation 2/Legacy Arms purchased by Cas Iberia!
Yes, it's true – Clyde Hollis has stepped down and Hanwei have stepped in to take over the Generation 2/Legacy Arms line! Watch this space!!!

Make Your own super simple apocalypse sword!
When the zombies come a knocking, you don't want to be without a decent tactical style blade. Here's how to make one nice and quick without fiddling around trying to make the handle components..

How Do the Pros Polish a Sword?
Some great tips and techniques on how to polish a sword to a new level.

MRL's annual sale (Georgia)
May 18 is the day, if you are close to their Georgia based showroom you can pop in between 8am to 4pm for a minimum 15% discount (up to 80%!) on a whole range of goodies. You never know what you might find.


SUPPORT THE FORUM - BUY A SBG T-SHIRT!

The costs of running the SBG forum have skyrocketed in recent years. From free hosting at Proboards.com to shared hosting once Proboards started picking on us, and now to a dedicated server.. And to date, it's cost us more than $2,000 just to get to this point - and we still have quite a few more additions and upgrades to go..

While it won't cover the costs, we have created a line of basic SBG T-shirts, so if you are a forum regular and wish to show your support - please buy one and show your support by wearing it to events or when you make videos to help spread the SBG message.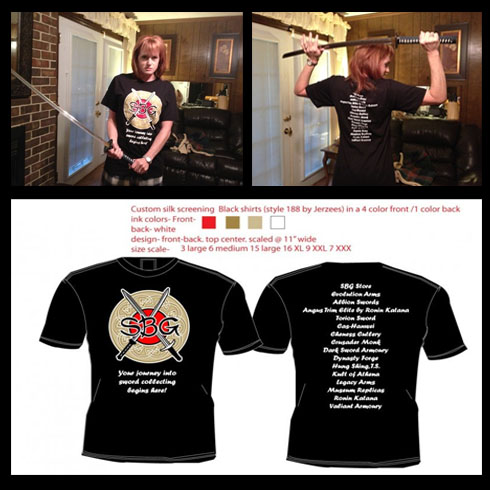 They are available via the SBG forums global moderator Marc Ridgeway here at Torion Swords.com
---
VIDEO OF THE MONTH
---
A massive 11 part upload by 7th dan black belt Kyoshi Carl Long from the Jikishin Kai is a solid grounding in Japanese sword training, from A to Z, start to finish. If you haven't seen it before, you have been missing out!

Of course, video instruction is no replacement for a real live instructor in a dojo setting, but to brush up on some of the basics, see how a different style does it or just get a few basic ideas is a whole lot better than nothing.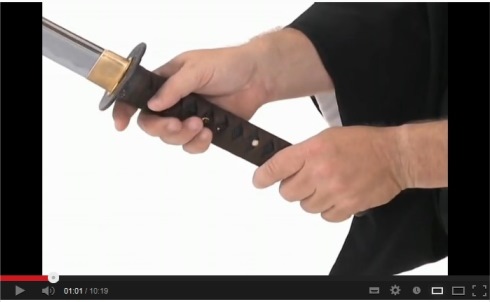 It's in 13 parts, so best to favorite it and learn as you go!
---
Bargain Hunters Clearout Specials
---
As you probably know by now, the digest goes out monthly on the 1st of every month. And last month of course, that meant that our digest just happened to go out on April fools day..!
I resisted the urge to be silly for most of the digest, but the last article I could not help myself, and told a ridiculous story about finding a Japanese sword at a flea market in Tokyo for a few bucks that turned out to be a real Nihonto.. (and the review was disrupted by a Godzilla attack, a frequent occurrence here in Japan that you learn to live with).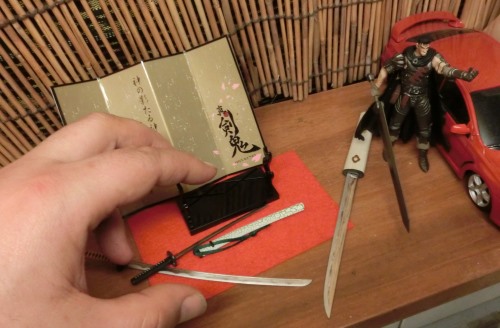 Click here for the companion video footage documenting the attack
Well in response to this, I received a very interesting email from a digest subscriber Rick Johnson about some REAL bargain finding experiences that I thought you might be interested in..
Here's what he wrote (reprinted with Rick's permission of course):
ok, you got me.
I didn't think your Tokyo sword purchase story was a joke until you mentioned the price you were selling it for.
Why? because there are a lot of people out there who are gifted or inherited a blade that they think is a wall-hanger and then sell it for a very low price.
I answered a Craigslist ad for a sword that looked to be too good for the $20 he was selling it for. But I bought the thing, took some pics, posted them on a couple forums and got a couple replies! "Dude! You got a Del-Tin!"
Basically I had purchsed a $550 Del-Tin for $20.
Another ad netted me a $400 Valient for a mere $25. It was this Valient Armories sword that led me to the SBG site seeking info on my purchase!
And a Swap Meet find netted me a Hanwei $200+ Celtic Sword for $15. He wanted $20 but settled.
So the deals are out there. You just have to be patient, look around and enjoy the search as much as you enjoy the thrill of discovery.
THEN you have a great story to tell!
Rick Johnson
The deals are out there! Just beware of the Godzillas..!!
ADDENDUM – the Mini Katana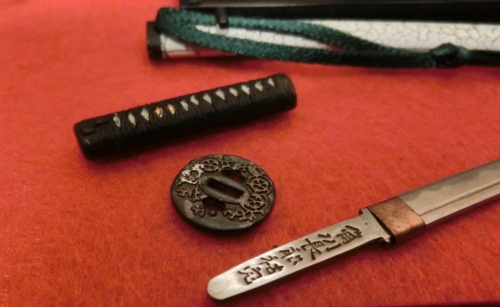 About the mini-swords seen in the video – since I have been in Japan I discovered a cool range of miniature Katana that are miniaturized replicas of actual historical swords. Later when I have some more time I plan on providing a bit of a more detailed review of these as they are highly detailed little complete sets, able to be disassembled and as you may have seen in the Godzilla video when one of them grabs on to the magnetic ball things, actually made of steel..
I haven't seen them outside of Japan and think they would be great gifts for home or office, but in the meantime if anyone is interested in more info on these shoot me a quick email.
---
Okay, got to get back to the tasks at hand – as you know we have a lot going on right now, but stay tuned guys, in truth we are just getting warmed up…!

The best in happy swordening is yet to come..

Paul Southren
---