Hey,



We have a fairly big issue to get through this month. Nothing (hopefully) migrane inspiring, but a lot of it is new stuff appearing after the usual classic entries.

So strap on a sword, sit down and enjoy!


---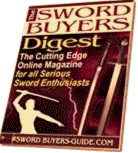 CONTENTS
1. From the Desk of Paul Southren
2. Video of the Month
3. Best Forum Posts
4. Cool Deals on Katana
5. Project X Chinese Update
6. FAGANARMS: Antique Sword Sale
7. P.S. and P.P.S.

---
From The Desk of Paul Southren
---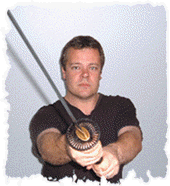 In the latter part of the month, our long neglected sister site - Sword Manufacturers Guide.com - has finally been getting some much needed TLC.

The last time it was updated was back in 2010 and with so many broken links and outdated information, it had definitely been SBG's "poor sister" but behind the scenes I have been sending countless hours reformatting, updating and preparing for the re-launch.

Here is the old format: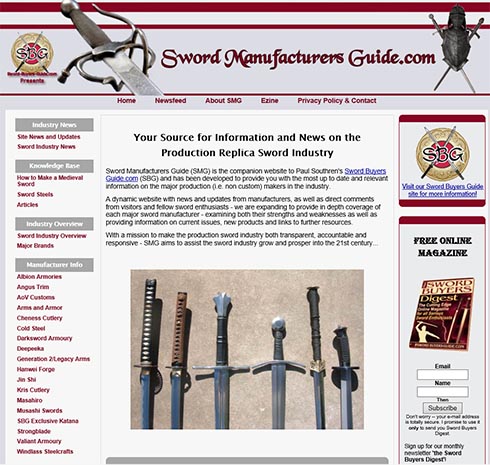 Here is a sneak preview of what the new format looks like: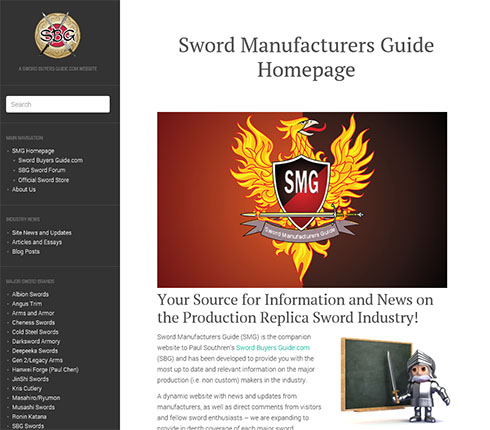 But it is more than just an update - the plan is for it also to be, in addition to a one stop news and manufacturer info site, also a place where budding "home grown" sword makers can let the world know about who they are and what they are up to, provide more resources for folk making their own swords at home and create a free, professional classified ad platform for the secondary sword market!

It is perhaps this last development - classified ads - that is one of the most exciting!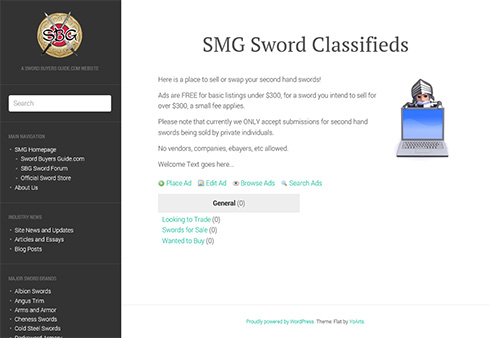 In the past, the only option for selling or trading your second hand swords was either through one of the sword forums classifieds section, or ebay.

The problem with forum classifieds is, not every seller of second hand swords wants to join a forum and gain enough posts to get credibility before they can actually sell something. And the problem with ebay is, the cost!

Personally I think this new and exciting format might help to solve this problem, and while it currently has no ads as - well - no one really knows about it, I hope that with this issue some of you might want to try it out as for all but the heaviest users or those looking to sell above the $300 price point, listings for swords that you want to buy, trade or swap are 100% free! (and if you wish to pay, it's only a flat rate of $5 per listing, half that suggested by the plugin - and all proceeds go to hosting the site and the SBG forum)..

Its not quite finished yet, at least not at the time of loading the digest ready to mail out, but it's only a day or two away at the most I would think, so stay tuned guys. It is going to be worth the wait..

---
Video of the Month
---
Love them or hate them, there is no arguing that without Movie swords, the sword industry would be a lot smaller and less developed than it is today.

And while as a rule movie sword fights and what they can cut (concrete, cars, planets, etc) make those of us who appreciate history cringe, I am pretty sure that out of the 10 movie swords in this video, you will find one you love..
3 guesses on what number one is…


---
Best Forum Posts
---
What it is, how it is made, and - is it worth it? I have my opinion, have a read and form your own..


SBG Forum: Cool and Fair Review
You would think, being a soft target it wouldn't, right? Or would it? You might be surprised…


SBG Forum: Dan's new Video Review Series
It was a nice sword to begin with. But one of our creative forumites customized it to be a one of a kind, very special piece. Check it out here!


SPECIAL NOTE FOR THE FORUM RE-NOVEMBER:
As we mentioned in last months issue, we will soon need to find a new host for the SBG forum. This had led to some very interesting developments..

So stay tuned, it is about to get very, very exciting!


---
Hot Deals on Katana: Low Priced to High End!
---
Last month, our friends at Trueswords.com restocked pretty much ALL of their affordable range of Japanese swords from Musashi and Ryumon, plus added quite a few more new and exciting models.

For example, the Ryumon 1060 Hand Made Katana has real hamon, iron fittings, real rayskin, half bo-hi, horimono engravings and lots of extras, making it and ideal gift.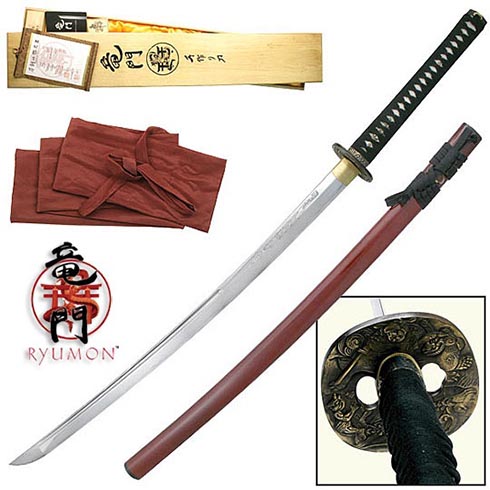 At only $219.99, it is quite a bargain - and it is not the only one in their full Ryumon line up, which you can check out HERE - with Katana ranging from this one at the most basic to the folded, clayed and very ornate models up to $500.
But Katana enthusiasts on a budget are in for a SERIOUS treat, as not only have they restocked all the best Musashi swords here like the $59.99 bare bones Dragon Fury sword, but there are a total of 29 different models in stock to choose from, including the infamous Bamboo Katana.
And if that wasn't enough, they are introducing a new player to the budget Katana market -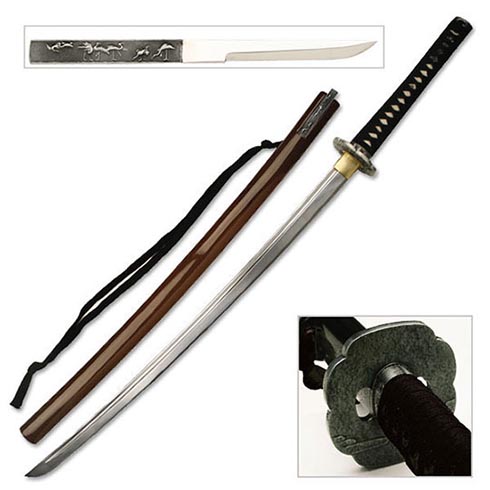 Above is one of their cheapest models, 1045 carbon steel using a special clay tempering technique to produce something that is between a real hamon and a cosmetic one - a small Kozuka throwing knife and at just $59.99 is probably worth giving it a try..

I can't say that I like all their models, as there are some that are more bling than function and possibly overpriced, and while it is too early to draw any firm conclusions, why not check them out here and decide for yourself..

And of course, for more serious collectors - you might want to check out our range of Kaneie Katana at the SBG Sword store..

Expensive? Sure! But Kaneie are (warning, bad pun incoming) a cut above the rest.

Not only do they take extreme pride in their products, but they also import Japanese fittings, including ito, tsuba and fuchigashira, saya and tsuka are individually hand carved from high quality wood for the specific sword it will house, and well - the many years working closely with the Samurai Workshop in the Netherlands has paid off.

Take a look at This Video on Youtube to see what I mean..

No BS - no compromises, if you are in the market for something special - do yourself a favor and check them out at the front page of the SBG Sword Store HERE

---
Project X Chinese Update
---


I think the easiest way to explain where we are at with Project X Chinese is a good news/bad news kind of scenario.

The good news: all the swords are in, and those customers who pre-ordered the Dragon Dao are going to get some of the best quality Chinese Broadswords EVER seen in North America (shipping out early next week).

The bad news: The stock we have at hand of the Dragon Dao are, however, inferior. The blades are great. But the scabbards in particular did not arrive in happy condition..

The good news: This means that there will be some bargains appearing soon as a scratch and dent sale. And I mean SERIOUSLY marked down prices..

The bad news: Well, bad news for us because we lose money (always a risk when you try something new and innovative).

The good news: Anyone who has a Project X Dragon Dao of Marquis Yi already can feel comfortable knowing no more will follow. This is it. And its also good news for those fans of Project X Japanese because the next Project X swords will be those laminated beauties…

The bad news: There are only 2 Jian of Marquis Yi available now - both are in great condition, and once they are sold - it's all over.. Plus the bargains available for the scratch and dent Dao sale are in short supply and aren't quite listed yet. But when they are, they won't be for long. So keep an eye out!

---
FAGANARMS: Antique Sword Sale
---
From $60 to over $1000 - we have covered a few price points in this newsletter. But how about branching out into collecting actual ANTIQUES!

Well, here is your chance - like an actual 3,000 year old European Bronze sword for $1,800!

Prices range from several hundred for Hangers to $10,000 plus - and as they are all one off, truly once in a lifetime opportunities, they also offer payment plans, guides to getting started in collecting actual antique arms and armor and more!
Even if it is only to drool, or perhaps stumble upon a bargain, check it all out at Faganarms:
---

Well, that's it for this issue. Lots of things going on, so keep your eyes open around the place.

In the meantime, take good care of yourselves and hope you are gearing up for - what, Christmas! Is it that time already..?

Wow, stick a sword in the cog, this year is going to fast!

Happy Swordening all,

P.S. Just a quick note, Dan could not make the schedule for this months Collectors Corner as his whole family have been struggling with colds the whole month soon. But he will be back next month with another mad capped sword movie review, so let us wish him and his family a speedy, swordy recovery!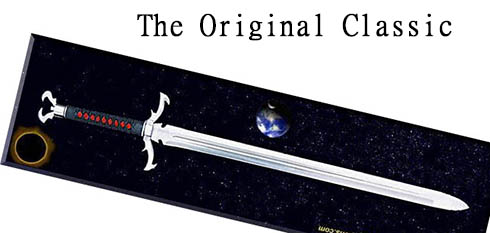 P.P.S. Last chance to get the Chaos fantasy sword above! It and several other classic Gen 2/Legacy Arms Swords have just been discontinued! We still have some stock in the store, so if you want one, NOW is pretty much your last chance..!
---