Hey,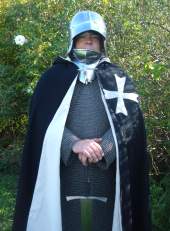 Ok, well its getting towards 'that time of the year again'. And with the way the sword industry has been struggling there will probably be some rather impressive pre-Christmas sales coming soon..
This is a good and a bad thing, but certainly does have some opportunities for the astute and responsible buyer – and a goodly part of this month's digest is dedicated to helping you find the best deals. Plus this month's issue has another great and very thought provoking feature article by our guest writer Moniteur Andrew (Drew) Tharp, some exceptional pre-Christmas sales, a hint of a new project that SBG is developing in conjunction with Ronin swords, and a whole lot more!
So let's get into it!
CONTENTS
1. From the Desk of Paul Southren
2. Featured Article: In Defence of Fencing
3. Best Forum Posts
4. Video of the Month: Basic Fencing Primer
5. Bargain Hunters and Clearout Specials
6. Sword of the Month
---
FROM THE DESK OF PAUL SOUTHREN
---
Well, the Christmas sales are coming soon, and a fair bit of this issue is dedicated to getting the most bang for your buck over the 'silly season' .

There's always a bit of a pattern with it really. And the astute buyer knows how and when to get the best deals. So let's start off with:

QUICK GUIDE TO SNAGGING CHRISTMAS SPECIALS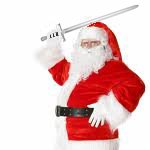 Here's how the Christmas period tends to play out in the sword industry.
First there are pre-orders, specials, etc from now until around thanksgiving. SBG tends to get involved with these a fair bit, often releasing either a few limited one off production swords or offering some great prices on some popular swords that we pass on to you from the manufacturers.
After thanksgiving, there is what you might call 'the middle period price wars', many sellers start going head to head on price for their entire range and it is a great time to cherry pick swords that will sell out fast but that you have always had your eye on. It's one of the best times to buy because stock is usually plentiful, customer service is at its peak and most sellers are happy to price match to get the sale, so it's healthy to play them off against each other (in a fair and polite way of course) to get the best overall deal for your money.
Once stock levels start to get a little low on the most popular items, sellers drop their prices like crazy on everything else and tend to do things like offer free rush shipping, etc. This CAN be a good time to buy, but it's not for everyone - the downside is that UPS and shipping services tend to be clogged up (and their customer service department takes the phone of the hook), orders get lost, wrongly shipped and tend to come from the bottom of the barrel and overall, pretty messy.
But there are some other dangers when Christmas sword shopping. And this year may be a little more worrisome than previous years, so let's see the best ways of:
AVOIDING CHRISTMAS SCAMS
The sword industry is still staggering a bit after 5 years of rapid and vibrant growth and many makers and sellers are facing a real 'make or break moment'. For better or for worse, the glut of choices we have seen over the last few years is narrowing down. So the Christmas sales will be critical – and many sellers and manufacturers passed over by them may not be around next year and sadly, there may be some characters out there who make a last minute grab for cash before doing a dash..
This means that you need to be careful and follow the caveat – if it looks too good to be true, it probably is! Be especially careful with pre-orders where you have to pay upfront and only ever do it with ESTABLISHED reliable sellers, manufacturers or sellers that HAVE and WILL be around for the long haul.
The same goes for ebay, at this time of year it is especially important to ONLY buy from ebay sellers with extremely high reputation ratings (feedback and number of transactions both) and most importantly of all - follow your gut instinct!
While there are a handful of bad eggs, few sword deals that go sour are started with the intention of being an out and out scam (THOSE tend to get a mentioned in the feeback section of the sword buyers directory here) but the thing is, they might end up that way. So just be a little cautious and trust your instinct (in Japan, you might say 'buy from the Hara').
SUMMARY
Finally of course there are the POST Christmas sales as business tends to be slow and many sellers offer special deals or promotions to sell of stock that did not sell as well as they thought it would and again is a GREAT time to contact them personally to see what kind of deal they can offer you on items that are still in stock and you are interested in.
Whichever way you go, there are opportunities for every sword buyer – Katana lovers should be especially happy actually, as either right now or a little later this month SBG is/will be involved with THREE great deals that fall into the 'early bird' specials category.
SOME SBG CHRISTMAS KATANA SPECIALS
Feel free to skip if you are NOT a Katana lover, but if you are you might want to at least have a quick look.
SBG EARLY BIRD KATANA OFFER ONE
It's just been posted on the SBG forums, but Chis from Ronin Katana and I have decided to team up to make the very BEST and most TRADITIONAL Katana using a team of master smith in China from the same large and respected forge that makes his Ronin Katana elite line.
And for this project - we've decided to just pull out all the stops and just do the very best sword possible with no expenses spared. Of course this means it will be a lot more expensive than what we have offered in the past, it will be 100% traditional to the extent that if it was made in Japan, you would almost certainly call it a 'Shinken' (but of course, we cannot call it a Shinken as technically they MUST be made in Japan to have that title, but otherwise should be fairly close)..
We are currently running a competition to win a free Ronin Katana in exchange for simply entering a contest to suggest a name for this company – even if your name is not chosen, you get a chance to win.
Sign up to our STORE NEWSLETTER to stay informed, the project is moving quickly and it is entirely possible we could be taking pre-orders within the next few weeks!(though even if not, we do have some surprises in store that will be released only via the newsletter within the next 2-3 weeks, so either way it's a good idea!)

SBG EARLY BIRD KATANA OFFER TWO
Batch 17 of the SBG custom Katana has nearly left the forge, which means that rather than let our skilled team of smiths sit on their thumbs, it's nearly time to start taking new orders for batch 18..
And this time around we are offering another couple of options to our line for the very first time including a battle wrap option: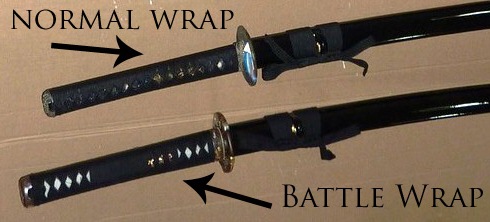 And black leather ito wrap for the COOLEST looking sword possible.

Of course, these will not be available until well AFTER Christmas, but if you want to lock a custom design in, the opportunity will be coming within the next few days, so check it all out here:
SBG Custom Katana – information and waiting list

SBG EARLY BIRD KATANA OFFER THREE
Hanwei are at it again, and this time we are pleased to pass on not one but TWO huge discount offers on two extremely attractive and usually extremely expensive high end Katana.
The first deal is for their YASUKUNI COLONEL'S GUNTO (WWII Katana) – a stunning replica of a military Katana with real silk ito, lockable saya – you name it, this beauty has it. And while it normally retails for around $700-$900 you can pick it up until the end of the month or until sold out for an amazingly low price of $499.99 (SHIPPED FREE IN THE USA, USA ORDERS ONLY).
And for those of you looking for a more traditional Katana, they have also offered deep discounts on their famous BAMBOO MAT KATANA – which normally sells for around $500-$600 but like the Gunto is heavily discounted down to $369.99 until the end of the month.
Both of these swords are made from Hanwei's revolutionary HSW-2S steel and if that wasn't enough, both are also available with an optional sharpening upgrade by Ricky Chen, taking the swords from extremely sharp to perfectly honed or completely reprofiling them until they are guaranteed to be BEYOND razor sharp…!
Check both of these swords and the sharpening option out in our HOT SPECIALS section here
---
FEATURE ARTICLE: IN DEFENCE OF FENCING
Moniteur Andrew (Drew) Tharp
---
Currently it seems that fencing is under fire everywhere on the internet. It is hard to find a thread or article about fencing that doesn't result in someone bemoaning its existence and claiming that it isn't "real sword fighting." I find this troubling; we need to be proud of swordsman, in all of their respective arts, and give them the honor and respect that we expect to receive. If you are considering learning a style of swordsmanship, I would advocate for modern fencing, and here is why:
Fundamentals: I have yet to meet a good swordsperson, of any style, who does not believe in the power of footwork. Footwork is the key element to any form of fighting. Most historical fencers whom I have met that have superb footwork started as modern fencers. Why? Modern fencing coaches put an emphasis on footwork that I just have not seen from most historical groups. Footwork is essential to any style of swordsmanship.
Historical fencers also tend to jump into complex techniques quickly, without much thought as to how that technique should really be used. I was once told by a great instructor that only 5% of a martial art will be used 98% of the time. If one wishes to be great, you need to practice that 5%, 98% of the time. This may seem obvious, but in sword fighting, it is going to come down to hitting the other guy with the sword, and making sure that you aren't getting hit. It is highly important – and relevant - to pay attention to throws, kicks, pommel strikes, and other methods of hitting your opponent, but those are not the bread and butter of sword fighting. I can only think of a few times, when fighting another skilled individual, I felt the need to close the distance to throw or kick. I would much rather use this lethal 3 foot piece of steel I have in front of me. You need to train the fundamentals until you can't move, then train them some more. They are the 5%. Many people claim that fencing is not realistic because it does not allow for throws, or punches, or kicks, but the truth is, those are last resort moves, and should only be used in a pinch. Learn to use the sword first, the others will follow.
Availability: Many budding swordspersons want to practice the most "realistic" thing they can find. That is all well and good, except for when the most "realistic" thing you can find is practicing ninjutsu from a master 5000 miles away who makes you buy his $70 book and $100 DVD. You can't learn a martial art from a book! I have lived in many places, and still have yet to find a place where there is not a decent fencing club within 100 miles (I am positive that these places exist, but my point is that there are MANY fencing clubs). This hypothetical "decent fencing club" most likely has a beginning class, and an instructor who has been fencing for at least a decade. Ok, so you want to learn longsword – that is admirable - but there is no longsword group near you – like 90% of us. At this point, I see many beginners give up, because they feel that fencing is not real swordsmanship (generally because of comments they read online, rather than trying it for themselves). That is an unacceptable answer.
Fencing is a great way to learn fundamentals (see above). If you have no longsword near you, learning fencing, then start a longsword group. You can take the fundamentals that you learned, and apply them to your new group, and you will be a stronger and better swordsperson because of it. Good training in your chosen art is the best, good training in another art is great, and bad training in anything is worthless. I promise that if you attempt to teach yourself swordsmanship, with no background, you will gain much less than if you were to learn modern fencing.
Competition: Competition is an important aspect to learning any martial art. If people blindly follow an instructor and don't test the concepts, then the art will become stagnant and unusable. But, just like training, competition must be GOOD competition. Competition must get to the truth of the matter, not merely who felt better about the bout. Again, people believe that electric fencing equipment is the epitome of anachronism and is completely unrealistic. It is true that they did not have electric fencing equipment back in the 1700's. What they did have is people who fought duels and lived through them, then passed their knowledge on. We do not have that today, so we have to find another avenue to truth. I have many students come to my class who have taken classes with the SCA, ARMA, or another WMA organization, and the first thing that happens when they start fencing electrically is astonishment at getting hit. Why? Because they didn't notice how often they were getting hit when the adrenaline was pumping and people were cheering. Sharp swords do not take much to damage an opponent. It is important to know when you are getting hit – objectively, not subjectively. Electric scoring lets us know, objectively, who hit who.
Modern fencing also gets some complaints be it uses relatively light weapons. There is a reason for that – if you wish to have real competition, you must make some concessions. Either people are going to get badly injured and killed (generally not accepted), or they are going to wear heavy, unrealistic body armor, or they the weapons are going to be lighter or padded. There is no "pulling blows" in fencing. You hit with as much force as you can manage – so in order to keep it safe, the weapons had to be modified.
My charge to those of you who want to learn to sword fight is to TRY FENCING. And try it with an open mind – no style of swordmanship training is completely realistic – unless you are truly fighting to the death. Fencing is a great sport, and a great martial art, that will teach you the basics of sword fighting. With a solid foundation in fencing, you can move on to any other kind of swordsmanship knowing that your time was not wasted and you have some great beginning knowledge – plus you learned a lifelong sport, and probably made some good friends in the process. If you have another school near you to learn the style of swordmanship you want to (kendo, iaido, longsword, I.33, etc.), lucky you! But if not, don't fret, there is probably a fencing club close.
There are not many of us swordsman left, so it does us no good to belittle each other at every turn. You are all welcome, whether you are fencers, WMA-ers, JSA-ers, backyard cutters, etc. to come train at my school, and I wish the feeling was mutual, but for some organizations it is not. We are a brotherhood, so stand united rather than fight over petty differences and we can all learn from each other.
By Moniteur Andrew (Drew) Tharp – Drew is the Senior Fencing Instructor at Indiana University, has a Certification in Martial Arts from IU, and has been collecting swords since the late 90's. He currently practices Longsword, Iaido, and Tai Chi Chuan in addition to Fencing.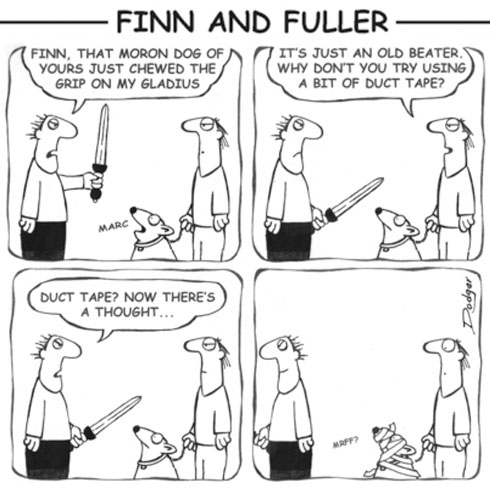 ---
VIDEO OF THE MONTH
---
With our feature article on the sport of fencing, I felt that a quick primer on fencing might be a good idea – and who better to show us than the lovely Mariel Zagunis who won an Olympic Gold medal at the age of only 19.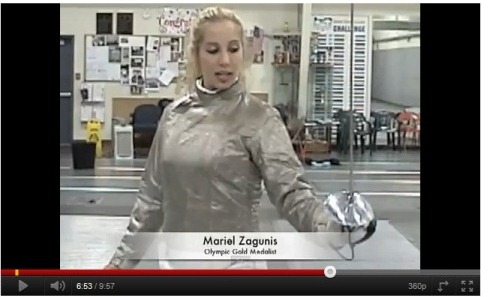 And of course, the related video column is as always a treasure trove of other videos, including some amazing matches – but I'll let you find these as you please..
---
BARGAIN HUNTERS AND CLEAROUT SPECIALS
---
Brookhart Designs
For those of you who don't know, Bruce A Brookhart from Brookhart designs was one of the 'old school' sword designers at Museum Replicas limited. Bruce is selling a portion of my private collection of edged weapons, including some old (30 years) DEL TIN swords from when they were still using the incredibly strong German steel Krupp55, as well as some weapons that have been off the market for some time here on his site brookhartdesigns.com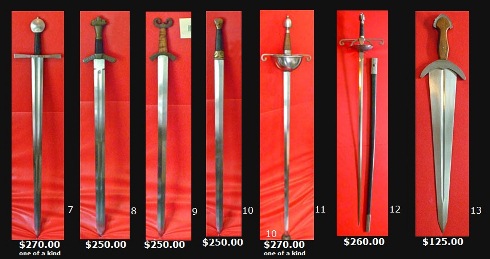 Truly some amazing pieces here that you won't find ANYWHERE else.
Oh, and as an aside I should also mention that Bruce A. Brookhart is currently working with GENERATION 2/LEGACY ARMS and will be offering two 1200 swords, two daggers and two axes after the first of the year. They will have thick,wide one piece tangs peened on, never welded tangs or threaded pommels. With hand made parts and good stiff blades.
Look for more new designs in the coming year!
---
SWORD OF THE MONTH
---
It isn't everyone's cup of tea I know, but personally – I have a real soft spot for well crafted fantasy swords – probably because for many years I enjoyed a good game of Dungeons and Dragons, Warhammer Fantasy Roleplay and other similar genre role playing games.

And even though my usual motto of 'if it isn't functional, I don't want to know about it' – when it comes to fantasy art swords, I am willing to make an exception and just appreciate them for what they are (which is more than I can say for wall hanger historical swords – strange or a double standard maybe, but that's just how I feel about it).

I've reviewed a couple of Kit Rae's swords on the main site – the Exotath and the Mithordin and really could appreciate them for what they are – gorgeous eye candy, and decently made (strong enough to swing around with no problems, though of course not made for cutting practice).

One of his more recent designs is the stunningly ornate Vorthelok sword – pictured below: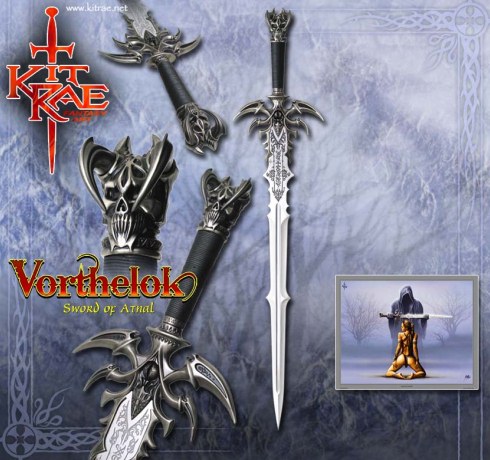 Dark, imposing and very attractive – the sword also includes a color print 'receiving Vorthelok' and they make great Christmas gifts and the swords of the ancients series is very collectible.
Price wise, they typically sell for around $169 or so but the best deal I have found for them is at one of the most popular and highly rated sword sellers in the industry, Trueswords.com where they sell them here for $114.95 (and if you are interested you can also see their full range of Kit Rae swords and products here).
---
Well, that's it for this issue – hope you enjoyed it and talk to you again next time.

Paul Southren
---