Hey,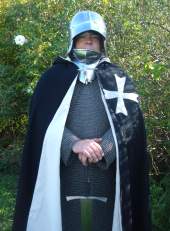 Hope you had a good Halloween!
Lot's to get through with this issue, including some more bits and pieces from my recent trip to the sword forge in Longquan, some interesting projects SBG is involved with, a special customization products and services listing and all the usual stuff.
So let's get straight into it shall we?!
CONTENTS
1. From the Desk of Paul Southren
2. Best Forum Posts
3. Video of the Month: Late Legends of the Sword Community
4. Sword Customization Products and Services

---
FROM THE DESK OF PAUL SOUTHREN
---
First up, a couple of new SBG vids from my recent trip to Longquan..!

The first one is pretty straightforward and is simply a tour of the forges showroom.

It's not an actual sword store where people can walk in off the street to buy a sword but rather a place where resellers can come and see, handle and inspect the catalog products the forge has on offer – basically a 'walk in' catalog.

While most of the swords were fairly 'ho hum' there were a few real gems in there – especially the euro sword I found towards the end of the video and the Chinese swords early on. The domestic market in China for Chinese swords is huge – partly because they are the only kinds of swords that are legally permissible to own in China, and partly because of demand due to Chinese movies (such as the first movie sword seen in the video).

Anyway, it really is a sword lovers paradise – who wouldn't love to a have a room like this at home, right?! ;-)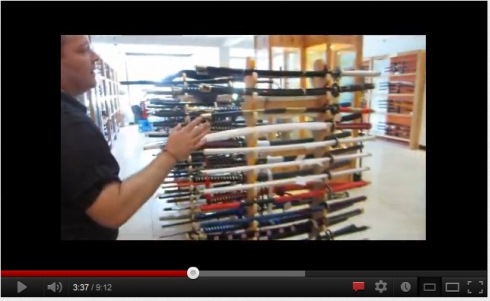 Video Tour of the Forges Showroom

The second video was supposed to go on before this one, but I had some issues with the first edit not displaying properly so had to remake it.. Wasn't fun as I was (and still am) struggling with a nasty cold, but I remade it using a better editing suite.
Essentially, it is a behind the scenes look at how the three main grades of swords are made – wallhangers (which are about 80-90% of the market), functional munitions grade swords (basically anything from $150 to $600 that is forged) and the high end stuff made by master craftsman ($1,000+).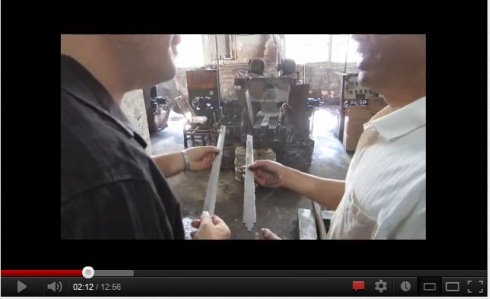 Another video is coming later this month which is dedicated to sword fittings – how they are made, what processes are used, the materials, and much more – so there is plenty more like this coming over the following weeks and months!
In other SBG news (and there is quite a bit going on at the moment) – we have planned for this month the long anticipated overhaul of the Manufacturers and Vendors section of the SBG forum and our sister site, SMG, mentioned earlier this year. It turned out to be a lot more involved than first thought, and yes – it may not be completed on schedule again, but our attention is back on it as much as possible but it really is very much needed for the benefit of the sword community as a whole, so it's back in the spotlight.
Also this month, we are working on a very special project – essentially experimenting with using Japanese made fittings from our new friends from Kyoto at Yamato Budogu and a highly experienced sword restoration expert who will be helping bring some designs I have in mind to life. More on this soon..!
Of course, this is just the tip of the iceberg! I can't begin to tell you how many different projects are finally starting to come together – as well as new ones that are being planned.. Very exciting times ahead, that is for certain…
---
VIDEO OF THE MONTH
---
Everyone knows that I have the greatest respect for the late founder of Museum Replicas Limited, Hank Reinhardt. And few people could make swords like Paul Champagne (R.I.P.). The documentary, reclaiming the blade, had some of the last footage made by these two modern day sword legends.

Here are some of the highlights – and their last words, as always, offer a profound insight into the world of swords.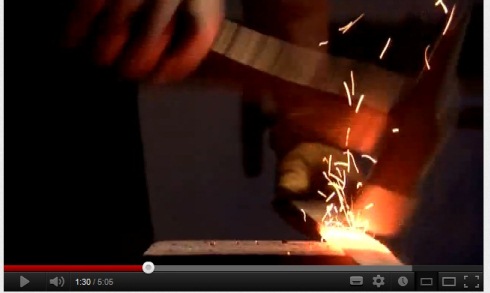 A must see video for anyone looking to broaden their knowledge of the sword industry as it stands today.
---
SWORD CUSTOMIZATION: PRODUCTS AND SPECIALS
---
Kult of Athena have always been on the forefront of the sword world – and recently have started tapping into the pulse of the sword community by offering a reliable and very affordable customization service for medieval swords.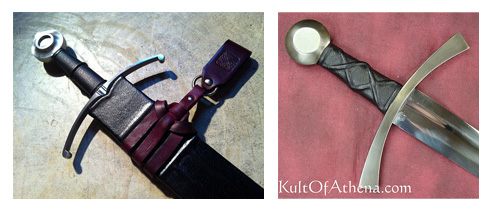 It's all pretty new, but SBG wholeheartedly supports the idea – buy a basic sword like a Windlass or something solid, and for a little or a lot extra depending on your needs and your budget – tweak it until your heart is content.
Medieval Customization Services at KoA
This is something that SBG will soon be offering with Japanese swords – indeed, I've recently ordered a few high quality tsuba, fuchi, kashira and menuki from Kyoto based Yamato Budogu that I will have mounted on some T10 blades from the SBG custom Katana forge as well as some Ronin Katana – and while these components and the service to mount them and do some nice tsukamaki with hishigami are not cheap, Japanese quality fittings are legendary.

In the interim though, if you feel like switching out your tsuba for something MUCH nicer than what you have currently or are doing some of your own tsukamaki projects and looking for the right components – from now until the end of the month Yamato are offering SBG visitors a 5% discount on their entire range of fittings shown here.
After adding items to your cart, click the "View Cart" link at the top of this site to view your cart. At the bottom of the shopping cart you'll see a box where you may enter your coupon code.
To get the discount use the coupon code: SBGMEMBER
As the fittings are already on discount at the moment, this extra 5% adds up to some fairly significant savings on genuine Japanese quality fittings.
Click here to see their selection of available components And finally, since we are talking custom swords, it's that time of year again..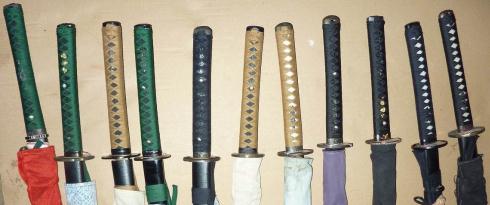 Batch 21 of the SBG Custom Katana is officially open again, but as anyone who has been following the SBG Custom Katana blog will know, it's going to be a very tight one.
The SBG custom Katana batch 20 just left the forge last week, however as we had problems with customs delaying processing half of our orders on the previous batch and are expecting similar delays from now on – the batch we are about to open up on will be much smaller and tighter to try and get it completed earlier so that the customs delays don't drag our lead time out as much.
As such, batch 21 will only be open for a few days at the most, so if you want to get your custom sword design in, now is definitely the time as this will be the last batch for 2012.
Click here to order your SBG custom Katana
---
Well, that's it for the November issue! See you all again next month – until then, happy swordening.

Paul Southren
---