Hey,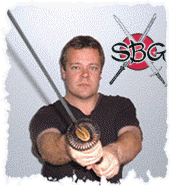 Competitions, new exclusive discounts, industry news and a cool sword training video is just a taste of what the November issue includes.
And you might also notice that the SBG logo and header design has gone through one final facelift and cleanup (you can see it at the top of this email) which should last us for a long time.
Yup, a lot has been going on at SBG! But even more so in this edition of the newsletter, which I think is probably the biggest one in this format - so read on and I hope you enjoy it!
CONTENTS
1. SBG SITE NEWS AND UPDATES
2. SWORD INDUSTRY NEWS
3. SWORD COMPETITIONS GALORE!
4. BEST FORUM POSTS
5. VIDEO OF THE MONTH – 'Highland Broadsword Training'
6. BARGAIN HUNTERS CLEAROUTS AND DISCOUNTS
---
SBG SITE NEWS AND UPDATES
---
As it was last month, October saw a whole plethora of different reviews added to the main site – and there are a lot more coming this month too – with, by popular request, a comprehensive review index once we are a bit more filled out (call me lazy, but as there are so many more reviews that need to go up, I would rather wait until it is a little more stable than adding the index. Though we will need it very soon!).

However, of special note is the Destructive/Torture testing of a Darksword Armoury Medieval Sword. I put this amazingly strong blade through the wringer, and at the end of it –apart from a few small scratches and minor bumps, you would never guess the amount of suffering it went through!

After conducting these tests, and assured that they are indeed the toughest sub US$300 medievals out there – I have started offering a small selection of their blades for sale right here at the SBG Sword Store.
As always, I have priced them lower than what you can get them for anywhere else – and considering these swords are hand forged in Canada, if you are a fan of tough medieval blades, they are hard to go past...
More of their swords will be added to the store as feedback is gained on the individual models – however, everything available at Darksword is also available at the SBG Sword Store upon request, so if there is a particular blade that takes your fancy, drop me a line and I'll work you out a special price.
You'll also notice that I have further refined the SBG logo header and site design to look a lot cleaner and better than ever before. This should be the final draft in the evolution of SBG's look and feel, so I should apologize to anyone who has vertigo from the changes.. :-D
A PEEK BEHIND THE SCENES: I should also add that there is quite a bit of activity going on behind the scenes at SBG. I already mentioned the review index, but there are several other projects are coming together, including a new page on functional fantasy blades which should be going live towards the end of the month.. But there is a lot more than that, indeed – there are some things that are so interesting, I may have to make a special edition of the digest midway through the month to announce it all!! (no promises, as it may take a little longer than I want it to)
In the meantime though, to stay abreast of the new additions and changes as they happen be sure to check the SBG News section or better yet – subscribe to the RSS feed for up to the minute additions and modifications.
---
SWORD INDUSTRY NEWS
---
CHENESS CUTLERY
As you know, Cheness Cutlery have led the way with runs of unique and specialized dojo cutters that no one else makes at this price point. First we had the Oniyuri for the Bujinkan Federation. Then we had the amazing SGC – Specialized Goza Cutters.
But late last month they introduced another unique style blade – two variants of the Shobu Zukuri Blades – Katana with long, leaf shaped tips without a Kissaki.
The unique and attractive style of these blades speaks for themselves, and for the collector looking for a more unusual design that is extremely rare in the production sword world – and unheard of at this price point, will find them to be a great addition to their armoury.

CAS IBERIA
Cas Iberia have recently added the GDFB (Get Dressed for Battle) brand medieval armour to their line up – the real heavy duty stuff, suitable for serious re-encators (and everyone else who wants to have a REAL suit of armour on display in their castle – oops, I mean home!) ;-)
With some 222 different items, including maille, shields, shoes, boots and everything else a medieval armour and clothing enthusiast could dream of – the prices aren't cheap, but you get what you pay for, and then some...
Read the official announcement here
MUSASHI SWORDS
The famous Wind Dragon Katana, which I recommend as the best value for money sub US$100 Katana, has recently been discontinued!!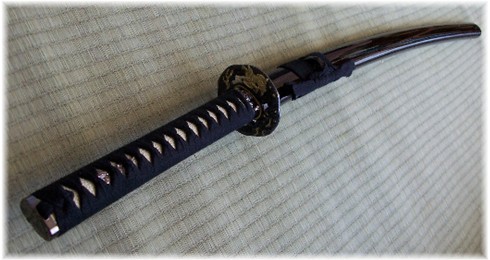 If you've seen my review of this blade before, you'll know just how cool a sword this really is. And it really is a shame to see this sword go…
There are only a handful of them left, with the very last ones available exclusively here at Trueswords.com priced to clear at just $54.99. So if you want to get a piece of Musashi swords (and indeed SBG) history, you'll need to act fast. Once they are gone, they are gone for good…
R.I.P. HANK REINHARDT...
This is a last minute edit - orginally, this was going to be a request for people to keep Hank in their thoughts. After a quintiple bypass surgery on October the 1st, Hank was in the ICU suffering complications from a Staph infection...
But sadly, in the morning of October 30th Hank lost his battle...
For those of you who do not know, Hank Reinhardt was the original founder of Museum Replicas Limited, one of the founding members of the HACA/ARMA, the SCA and a serious sword scholar and friend of the late great Ewart Oakeshott to name just some of his achievements.
A great loss for the entire sword community, he will be sorely missed.
The last of the old guard...
---
VIDEO OF THE MONTH
---
It is a shame that there are not more basic instructional videos on youtube like this one.

This video is a visual demonstration of the basic footwork, wards and the seven cuts of the Highland Broadsword (with a Hanwei Practical Mortuary Sword no less) – though the techniques are solid enough to translate across to all medieval singled handed swords.

But I must admit, that the hauntingly beautiful Gaelic soundtrack makes it worth watching/listening to just for that alone...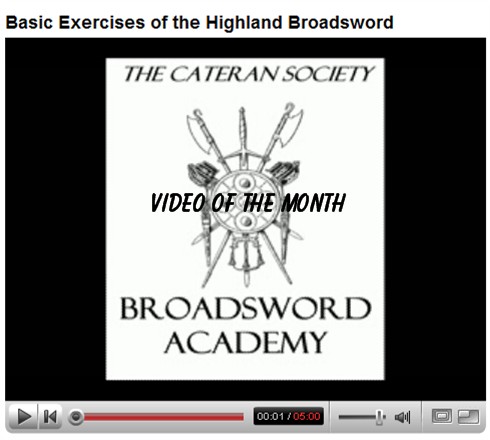 Like I said, I wish there were more vids like this one (though you'll see in the 'related videos' section a few more by this group)...
---
Well, that's all for the November issue.

Good luck with the competitions, and until next time stay safe and Happy Swordening!

Paul Southren
---