Hey,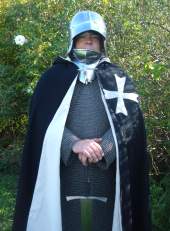 The times, they are a changin'…
And in this somewhat nostalgic issue, we will be taking a bit of a look at some classic posts from what we are now referring to as the 'old' SBG Sword Forum, talking about the guiding principles for the new one (which is in many ways, a return to our roots), looking back over the past 5 years since SBG first started – getting an exclusive first sneak peek at the latest sword in the SBG Professional Grade Katana line – and so much more!
There's never been more happening at SBG than right now, last month was probably one of the busiest ever so we have a lot of ground to cover this issue - so strap in, grab a coffee, an ale or a cool glass of water and enjoy! (the newsletter that is. And the coffee/ale/water too of course!).
CONTENTS
1. SBG SITE NEWS AND UPDATES
2. SBG Sword Store News
3. Special Feature: SBG Sword Forum..
4. Sword Industry News
5. Best Forum Posts
6. Video of the Month: Toshigi Yoshihiko Usuki
7. New Products from Your Favorite Sellers
8. Bargain Hunters Clearouts and Discounts
---
SBG SITE NEWS AND UPDATES
---
As mentioned earlier, August was extremely (extremely) busy month for SBG - both behind the scenes and on the surface - and as you'll see September is about to get even busier!

Most recently I added a new feature to the site that I hope will help beginners and those who just need a little bit of guidance to find that perfect sword via my free sword finding service (after all, I'm quite often asked the same questions, so I've been working to try and categorize them and get the answers out to as many people as possible) - and you can already read a couple of and my answers on the bottom of the page.

But earlier in the month, six excellent quality SBG member reviews were added and featured on the site - Jason Woodard contributed his review of the sword he designed and had brought to life by his friends at darksword-armory, the vampiric themed Carpathian sword.

Medieval sword enthusiasts were spoiled with tests and reviews such as:
The Windlass Classic Medieval Sword (one of the few windlass models that has stood tests of time -pictured below)
And - for fantasy sword lovers (or anyone else who likes a good cutter) a review of the only recently released Warder sword designed by John Lundemo and brought to life by valiant armory..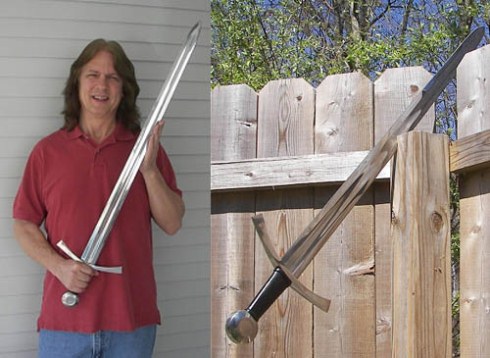 I must admit, it's been ages since I've done a full on review myself - and I've got quite a backlog to get to (oh my goodness do I have some cool swords I've been playing with recently that I want to share with you!), but I will have to wait just a little bit longer while I sort out a rather pressing issue..
And that my friends is the future of the SBG Sword Forum…
---
FUTURE OF THE SBG SWORD FORUM!
---
As most of you probably know - last month the future of our pro-boards hosted SBG sword forum was severely jeopardized..

Somewhere in the Proboards fine print there is a rule against a forum that "Promotes the buying, selling, or trading of firearms or weapons" and after 4 years, out of the blue they decided to enforce it by demanding certain parts of the forum be modified or deleted...

To stop them pulling the plug on us then and there, we first had to heavily modify our manufacturers and vendors sub forum. We complied as quickly as possible, but next they set their sights on the classifieds - and it is not clear where or when it will end...

Naturally enough, the time had come to create a new, independently hosted forum, an idea that had been tossed around several times in the past but because it wasn't broke, we didn't need to fix it (and in retrospect, we were building a castle made of sand)..

Now it IS broke - and while there was (and remains) a sense of urgency to create this new forum quickly (as their sudden rather unpleasant interest in our forum is akin to a 'sword of Damocles' hanging over our heads) - the old saying 'haste makes waste' is a true one.

To buy time, I made the decision to accommodate proboards brutish requests while I backed up as much of the old forum as I could - and spend some time VERY CAREFULLY planning a new forum instead of just reacting and throwing something together - even if this risked a sudden 'blackout' for a week or two..

The reasoning behind this approach was that the Proboards hosted SBG sword forum grew quite organically - and this resulted in many ad hoc rules, categories and conventions that a carefully planned forum could have easily avoided. So I didn't want to just clone it warts and all, not when there is an opportunity to learn from the past and create a solid, unshakeable foundation.

Instead, like a smorgasbord we will take the best of the old, combine it with fresh new ideas and infuse it with the forums original spirit to create a new forum that goes back to, and strengthens, its roots..

As such, the new forum will be a FRESH START and rejuvenation!

Now, I could rattle off a list of cool new features that the new forum will incorporate, but features and doodads don't count as much as true substance.. So what I'd rather talk about with you here are the heart and soul of the new forum - two primary directives that will ensure that it stays true to form and on track, which are:

1) To reinforce our reputation as the most open and friendly sword forum on the Internet, and

2) To leave behind some of the snobbery and bickering that has crept in as we have grown from a handful of members to nearly 4,000..

My ultimate aim is to ensure that the new forums remain civil and polite at all times.

We want to encourage beginners to come and ask any question without fear of being ridiculed or insulted – because nothing annoys me more than when someone gives a beginner a glib or dismissive answer..

And we want our community to have open and meaningful discourse with sword makers – offering them constructive criticism and feedback that will benefit US without making them feel they are being attacked..

That's not to say that you need to agree with everything everyone else says! Far from it..!

Healthy debate and open, constructive criticisms is and always has been the order of the day. Like the old forum, you will always be able to say ANYTHING you want, as long as it is said in a respectful and polite way.

In the new forum, anyone who can't conduct themselves in a civilized and respectful manner will be shown the door. Simple as that.

You see, one of the (many) things I love about the sword community is the living embodiment of the values of honor, chivalry and respect – values that are so rarely seen in this day and age, but so easy to find amoung the members of our (and many other) sword forums.

Perhaps it is this kind of character that attracts many of us to swords in the first place, I don't know…

But what I do know is that such folk DESERVE a haven from the kind of bickering and immature behavior that is rife on the Internet. And it's my job to ensure that I can provide such a place – because I really do have a vision for what I want the forum to be – and only this golden rule will allow it to be possible..

As behind the scenes this new forum takes shape, I'll be inviting a handful of our most respected members true to the old spirit to join and ensure that when the new forum is officially opened - it as bug free and true to the original spirit of the forum as possible.

In the meantime, I have created an unmoderated and open feedback/comments page, so feel free to add your own ideas to the mix – I'll definitely take them into account if it will make the forum a better place for you guys..

I've seen the best and the worst of what has happened on our forum in the past.. The good far outweighs the bad, and the kind of people we have on the forum now, today, it is but a small step away from what I have in mind.

I'm very excited and invigorated about the future and I look forward to seeing you there! Enough rambling from me, it is time to get to work…

See you in the new and improved forums soon!



---
SBG SWORD STORE NEWS
---
August was an extremely busy month for the SBG Sword Store (as I said before, it's been a busy month all round!) – the crazy 2 for 1 Hanwei Raptor Katana deal was both a blessing and a curse – a blessing in that it was probably the best value for money deal we have been able to offer the community, and a curse because we kept running into trouble with models running out of stock due to the incredible stampede! But earlier in the month, I also went through and edited a whole heap of sword descriptions, adding more photos and information than ever before – and this will continue over the following months until every description has a consistent and content rich format.
Unfortunately, August also foreshadowed an inevitable price rise – with global economic forces causing our wholesalers and sword makers to raise their base prices, and OUR retail prices just a fraction over the wholesale cost, something has to give.. And over the coming week we have no choice but to ensure our margins do not dip into the red and need to raise quite a few prices by as much as 10-15% on some items (so I guess now is probably a good time to grab what you can before the prices start climbing)...
Even worse, this price increase is pushing up the cost of our SBG Professional Grade Katana too (which if you know anything about these swords, are worth a heck of a lot more than the asking price) – however I've done the math and think I can still JUST break even selling them at the current prices, but only as an earlybird special…
So next month, when we open up new orders on the Kuramono Katana we will hold the old pricing of $329.99 SHIPPED for the first 7 days and then the price will go up to $359.99 until we reach the forges maximum production capacity (which is only around 20-30 swords per batch)..
This way those who order early may have to wait a little longer, but they save money and are guaranteed a place in our pre-orders que.
As this is about to start within the next 1-2 weeks, I suggest if you have been saving up, now is definitely the time to get ready!
SNEAK PREVIEW: THE KURAMONO ELITE!
If this was not enough, due to popular request I have decided to make a trial run of an upgraded Kuramono Katana – the Kuramono Elite!
With the same higher grade 12 step sharpening as the Torakami and Custom Option blades, but with many additional upgrades including a mean black leather ito, dragon 'horimono' engraving on the blade and more – the Kuramono elite takes this blade to a whole new level…!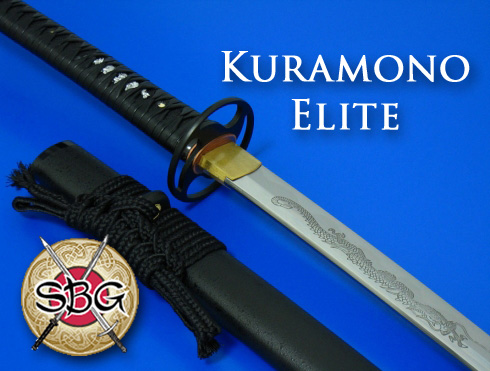 Only a handful of these will be available to pre-order when I open up new orders for the Kuramono, so to stay informed you'll have to sign up to the SBG Professional Grade Store newsletter - (which will also let you know EXACTLY when we are about to start taking new orders)..



---

---
August was another fairly quiet 'business as usual' month for the sword industry overall, but there were still quite a few noteworthy developments.
The first was darksword-armory's new online PDF library - which is basically a massive and expanding collection of free digitized e-books from the public domain which you can find available on their site accordingly.
including such works as "armouries of the tower of London", "a record of European arms and armor" (volumes 1 to 5) and many more, it is refreshing to find them posting their own collection of reference works for everyone to see, and makes for some great reading!
However as it was something of a quiet month, I spent some time reflecting on the last five years of the sword industry and decide to put it down in writing an article entitled 2005 to 2010: the Golden age of swords which details the massive changes in the sword industry over the past five years - and also offers some glimpse into what the future of this industry might be..
At the bottom of this article there is the option for visitors to also contribute their thoughts and experiences with the industry over the last five years, so I welcome you all to make a comment and give your perspective - in an "interactive Wikipedia kind of way" the best and most informative posts will be added to the article, so please feel free to have a mosey on over and add your $0.02.
---
BEST (CLASSIC) FORUM POSTS
---
A blast from the past from some of the earliest posts of the SBG Sword Forum from back in 2006…
Favorite Medieval Swords Poll
Clyde Hollis from Gen2/Legacy Arms asks the early SBG sword forumites what types of medieval swords they like best.
Musashi Swords – evolution begins
Zinje from Musashi Swords explaining some of the first upgrades and changes to the Musashi Swords Line.. He doesn't post now, but this is the kind of thing the new forum will be encouraging – the kind of interaction between sword makers and buyers that took us to where we are now…
State of the Japanese Sword Market – 2006
What kind of Katana were available back in 2006? Have a look and see for yourself! (while there have been dramatic changes, some things remain as true now as they were back then).
The Infamous Red Sword Review
A classic. Enough said.
I'm going to miss the old forum - but I think with the new guidelines we have in mind, the new one will be more like the old one than the old one is now! If that makes sense.. (you'll see what I mean soon enough I am sure)..
---
VIDEO OF THE MONTH
---
A day in the life of a Katana Togishi (sword sharpener) is never dull.. (yes, I know, that's a very bad pun)..

In this video we spend a day with humble sword polisher and martial artist Yoshihiko Usuki, watching him work, explaining about the Japanese sword and of course, checking out some stunning Nihonto!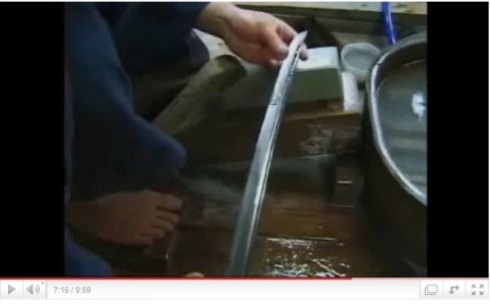 Makes you understand one of the reasons why Nihonto are so expensive (and why kissaski are so often counter-polished!) – artisans like Usuki-san are perfectionist, in 15 years he has only ever been personally satisfied with his work once (though his customers in Japan, always satisfied)
---
NEW PRODUCTS OF NOTE FROM YOUR FAVORITE SELLERS!
---
A quick overview of the latest products of interest from tried and tested sword stockists
KULT OF ATHENA
KoA are offering some great prices on a new line by Windlass Steelcrafts – their Cobra Steel line..
As mentioned in my article about the future of the sword industry in SMG – there is a growing trend towards simple, utilitarian 'tactical' swords designed with as few moving parts as possible, good quality steel and available at a very low price – such as the Hanwei Tactical Wakizashi and Cold Steels Katana Machete..
Well, this month KoA has added the Windlass Steelcrafts/Atlanta Cutlery "Cobra Steel" Range of swords to their line up – cheap (around $50), sturdy and sharp out of the box, and while the scabbards are pretty awful – the blades themselves are exceptional!
Here's a quick summary on the SBG Sword Forum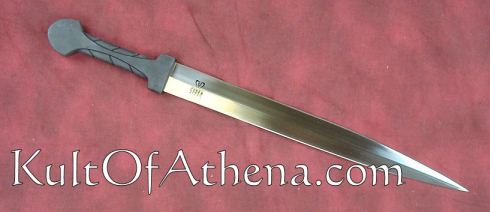 Four blades are available – starting with my favourite, a Kindjal (pictured above, and perhaps the most versatile of the four), an incredibly mean looking Kopis plus a Falcata and finally a 'Sickle' They might not be named very well (their Kindjal is more of a Qama, and the 'sickle' a Seax) but for a cheap and reliable backyard cutter, you can't ask for much more than these..



---
Much work to be done, so I'll wrap it up quick!

Hope to see you in the new forum soon…!!!

Paul Southren
---