antiquing swords
by joe dacciaio
(lindenwold new jersey)
QUESTION: Hi paul i was wondering if I could get your recipe for antiquing my swords and how its applied. Do i soak the whole thing or just brush it on the spots I want done?


Thanks paul
joe dacciaio
ANSWER:
Hi Joe,
Nothing to it really. Just take a spray bottle (like a hairdresser uses) and fill it up with vinegar and a fair amount of salt (there is no specific forumla, just a good mix so that the salt laregly dissolves in the water).
Shake the spray bottle up and give the sword a spray, leave for a couple of nights and see how it progresses. It should start to bubble a bit with red rust marks. Apply more as desired and after a few days, lightly remove the red rust with a scotch brite pad and viola - instant antique and patina, making a modern replica look several hundred years old in a few nights.
Hope this helps and have fun!
- Paul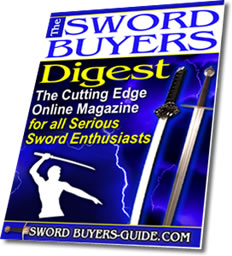 Sword Buyers Digest Newsletter!

Sword Buyers Digest Newsletter

Sign Up to Our FREE Monthly E-zine for all the latest sword news, info and much, much more! Click here for more info.