hanzo steel vs dojo pro
by Aaron Waltz
(Waldoboro, Maine, USA)
Are the Ronin Hanzo Steel katanas virtually a black coated differentially tempered version of Ronins Dojo Pro? At some point I want to buy both a Hanzo bride and a Dojo pro. And probably one of the longer models or O-Katana or the 1" plus sori versions, where I have few light cutters in both 1045 & 1060 all with bo-hi's already I just figure if I'm gonna have heavy cutter in my arsenal it minaswell be a big bad a** HEAVY cutter... But where I also want to get a "brides" hanzo steel sword over the zombie version where it has the 1" more sori like one of the dojo pros models , (IMO the extra curvature looks really sinister) but where the standard Dojo Pro already has an aggressive curve does the 1" extra sori version increase the cutting ability or just similar performance as the standard dotanuki but just a different feel? Thanks, Aaron. You guys are awesome!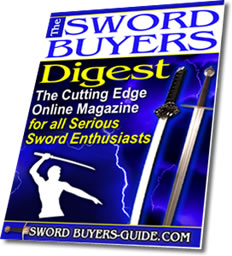 Sword Buyers Digest Newsletter!

Sword Buyers Digest Newsletter

Sign Up to Our FREE Monthly E-zine for all the latest sword news, info and much, much more! Click here for more info.