I've been trained in the art of katana, and buy swords all the time
by Joey
(Texas)
I have bought swords, combat knives, daggers, and prop swords from trueswords... and i have no complaints. This is a GREAT site. Of course, they do have a few daggers and swords that are junk... but im not a fan of none-battle ready swords. i give this website a 10/5 with hands down. This site, along with Arms of Valor are the only sites i buy from.
Join in and write your own page! It's easy to do. How? Simply click here to return to True Swords.

Looking for honest, trustworthy sword sellers? Look no further than:

FEATURED ARTICLES AND REVIEWS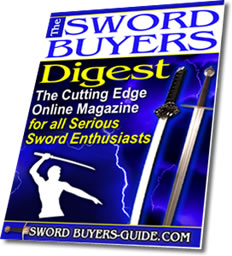 Sword Buyers Digest Newsletter!

Sword Buyers Digest Newsletter

Sign Up to Our FREE Monthly E-zine for all the latest sword news, info and much, much more! Click here for more info.