L & L Creations Master Craftsman
by Lyle D. Yates
(Akron, Ohio)
I have been sharpening knives and swords all my life. I am, by nature, VERY critical about any blade I own. It MUST shave the hair off my arm or it's back to sharppening until it does. I don't perform a paper test unless I am asked because even a dull blade will cut paper if the paper is held right and the blade angled right. A dull knife is not a knife, it's a paper weight. I start out with a fish hook diamond file with a flat edge on one side. These are ideal for me as I can feel with my fingers the file "cut" into the edge through the vibration. I file against the edge, never away from it. Once I have a sharp edge going, every pass thereafter gets lighter and lighter so I don't roll the edge or surpass the edges ability to take an edge with that file. I then take a wide piece of leather belt and secure it to a rubber sanding block similar to the way sandpaper would be secrured to it. I then strop the edges, being careful of course to keep my fingers tucked in. If it is a knife, I will draw the blades edge away from the block. If it is a sword, I will draw the block away from the blades edge. I often go as far to check edges with my loop. Like I said, I am very critical.
Join in and write your own page! It's easy to do. How? Simply click here to return to Sharpening Techniques and Tips.

Looking for honest, trustworthy sword sellers? Look no further than:

FEATURED ARTICLES AND REVIEWS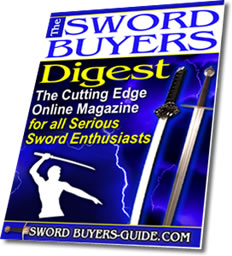 Sword Buyers Digest Newsletter!

Sword Buyers Digest Newsletter

Sign Up to Our FREE Monthly E-zine for all the latest sword news, info and much, much more! Click here for more info.