my first purchase...
by David
(Southern California)
I bought two full tang swords, both were $20 USD. I haven't had a chance to hack, slash or stab anything or anybody yet, but what I have noticed is the overall quality of the blade. First off, they're both Paki made, that alone leads me to believe that they'll break should I hit a fly. Secondly, both blades weren't close to being straight. Both swords were unbalanced and the hilts are in pretty bad shape.


HOWEVER, at $20 bucks a piece, I have no serious complaints and I'm overall satisfied with my purchase.
I will write another review once I buy a more expensive sword... meaning, they will continue to get my business.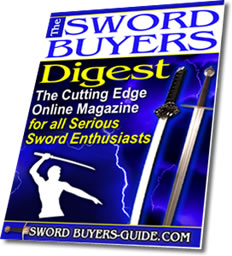 Sword Buyers Digest Newsletter!

Sword Buyers Digest Newsletter

Sign Up to Our FREE Monthly E-zine for all the latest sword news, info and much, much more! Click here for more info.