SUBMIT A SWORD REVIEW TO SBG:
And get a chance to become a member of SBG's elite 'inner circle' of reviewers!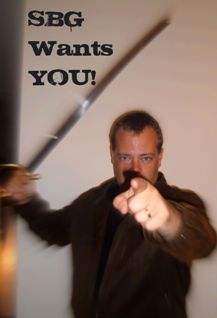 As much as I'd like to be able to, I can't possibly buy every affordable good quality sword on the market (though I'd love to give it a try!) :-)
And since moving to Japan in 2011, it's been a LOT harder for me to get hold of swords to test and review myself, so the time has come to take a back seat and pass on the flame to a new generation of sword reviewers..
Below is a simple form that you can use to submit your own short sword review that will be included in our database of user submitted reviews. While the best reviews are fairly detailed, and include videos, tons of pics, etc all that is really needed is a camera to take a few pics and the willingness to give it a go!
It doesn't matter if you are an experienced sword collector or not - all that matters is that you are willing to give it a go, and EVERYONE's review counts!
But it gets even better because if you submit several good, unbaised 'tell it like it is' reviews, you'll get NOTICED.. And if you get noticed, I might even be willing to SEND YOU SOME FREE SWORDS for some heavy testing out of SBG's coffers (we DON'T accept free swords from manufacturers unless they are totally open to a critical review of their product, so I prefer to fund them myself).
It's really easy to get in on the action, all you need is a digital camera to take a few snaps and to write a few lines and we will take care of the rest (some reviews may be edited for spelling or grammar and may include links to recommended vendors at the end, but are otherwise are unchanged, if you don't like the end result you can request it be removed or changed in the comments section at the bottom of each review).
TERMS AND CONDITIONS
All reviews and pictures that are approved and get posted on sword-buyers-guide.com become the property of sword-buyers-guide.com and are protected by our general copyright.
Reviews MAY be changed slightly when brought across the Sword Buyers Guide for keyword density (SEO, so people can find the review when searching for related terms using google, etc) and to recommend a SBG affiliated vendor as an editors note to keep us funded. However, under no circumstances will these changes alter the nature of the review or your impressions of the sword and will be as minimal and unobstrusive as possible.
Sword-buyers-guide.com is NOT responsible for the abuse or improper application of information contained herein, nor is Sword-Buyers-Guide.com responsible for injury, loss of health, or loss of life.
This offer is subject to change without notice and may be withdrawn at any time. Individuals can also be removed from the review team without notice and at any time at the sole discretion of sword buyers guide.
Swords offered to review team members are at the sole discretion of Sword Buyers Guide. While this offer is open to all countries where swords are legal, choices outside of the USA may be limited by physical shipping restrictions from our wholesale and retail partners.
Do you have this sword? Want to let others know what YOU think?
If you bought this sword, either before or after reading this review, be sure to let others know what you think - share your own impressions here!
Recent Sword Reviews
Click below to see recent reviews that are yet to be assigned to a specific related page...
Review - Wang Katana (Ebay) Tanto

As promised, here is a review of the Wang Katana (Ebay seller) tanto. Keep in mind I have purchased this as a practice piece, to obtain tsukamaki skills, …
Musashi shirakawa 1060 DH katana with burgundy saya

Hi everyone, So it was my birthday last month and to treat myself I purchased the musashi shirakawa series 1060 differentialy hardened dragon katana …
300 Spartan Sword Review

The new Sparta sword design from Darksword-armory (DSA) is very different and unlike any they have made before. Like many of you I'm sure after seeing …
Tori XL Light Not rated yet
I purchased this katana for my collection and not for a cutter as it was built for. I have a less expensive sword for that. The Tsuka wrap is a black …
handmade ninja-to designed by master park Not rated yet
This is my first review plus I'm doing it on a smart phone so if its a little sloppy, I apologize. I am reviewing the munetoshi ninja-to. Now I know …
'Kigan' T10 Katana Review Not rated yet
Since this review is as much about the purchase experience as it is the product, I'll start by saying this was not my first choice from Munetoshi. The …