Swords of Might.com Customer Experiences

UNDER NEW MANAGEMENT
Want info on Swords of Might from other members of the sword buying community? Or better yet, care to share YOUR personal experience with this company?
Here's your chance!
Please Note: Only submissions with a full name and email address will be accepted. Your email address will not be publicly published, but it MUST be included to avoid fraudulent use of this service. Any criticisms must be as constructive as possible and can only contain FACTUAL and verifiable information.
Tell us about your experiences with Swords of Might
What are your experiences with Swords of Might? Tell us about it here!
What Other Visitors Have Said
Read about other visitor experiences with Swords of the East...
A refreshing surprise. Not rated yet
Hello. This was my first purchase and experience with Swords of Might. To be honest, I was reading about the site at Sword Buyers Guide online by …
---
VISIT THEIR HOMEPAGE:
Swords Of Might.com

---
I hope this visitor submitted information on Swords of Might has been helpful. To return to the Sword Buyers Directory from Customer Experiences, click here

Looking for honest, trustworthy sword sellers? Look no further than:

FEATURED ARTICLES AND REVIEWS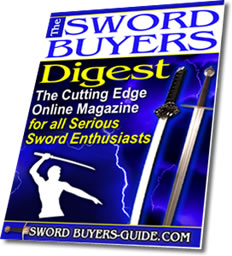 Sword Buyers Digest Newsletter!

Sword Buyers Digest Newsletter

Sign Up to Our FREE Monthly E-zine for all the latest sword news, info and much, much more! Click here for more info.