Hey,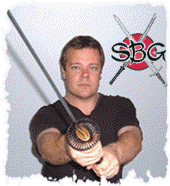 Last month was a very big issue, and to balance it out, this months will be a little on the lighter side...
But you won't want to skip it, that much I can guarantee you (especially the video of the month and the special coupon codes I have secured for you guys in the closeouts section!).
CONTENTS
1. SBG SITE NEWS AND UPDATES
2. SWORD INDUSTRY NEWS (Some revolutionary developments!)
3. BEST FORUM POSTS
4. VIDEO OF THE MONTH – 'My Kingdom for a Horse...!'
5. BARGAIN HUNTERS CLEAROUTS AND DISCOUNTS
---
SBG SITE NEWS AND UPDATES
---
A bit of another 'iceberg' month in July – with not much going on at the surface but a whole heap of stuff going on below...

The same can't be said for the SBG Sword Forum however – which saw some significat design changes early in the month (indeed, some of you were in there when I was 'painting the walls' – which was probably a bit disconcerting! It was funny to read posts such as 'Paul is on the move again!' – lol).

If you haven't visited since the last issue of the digest, check it out – looks nicer I think (hope!).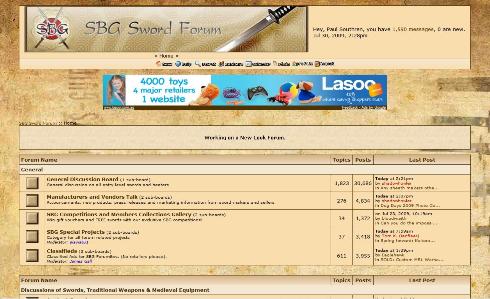 New Look SBG Sword Forum
Speaking of makeovers, a large portion of my time last month has been spent preparing SBG for another revamp and overhaul that will probably be the most radical yet...
The idea is to make navigation even easier and clearer than before, as well as give it more of a modern look – and I think (and hope) you will like how it is going to turn out... (and once I am finished, the sister site will also be given the same treatment – and the two sites easily navigable back and forth depending if you are looking for reviews, or general information).
As far as 'surface' changes go, the only one really worth reporting on is for the Sword Buyers Directory, which has seen the major sword sellers listed there get a '2.0 feedback' area. The idea is for anyone who has dealt with these guys to leave a record of their experiences, and while it is pretty thin on the ground right now – I am hoping that it will be a useful tool for buyers to see exactly what other members of the community REALLY think about the various sellers – which I think is a great way of keeping vendors as transparent and accountable to the community as possible.
Please have a quick look, there has been some reorganization there – and there is plenty of interesting feedback already left on our recommended sellers, but if you have had experiences with them yourself, be sure to give us YOUR $0.02 on each seller.
Click here to see the revamped Sword Buyers Directory
Anyway, lots planned for August. And if it all goes to plan - you'll see some dramatic and very positive changes to SBG's interface early in the month, so to know what is happening and when, be sure to visit the SBG News section or better yet – subscribe to the RSS feed for up to the minute additions.
---
SBG SWORD STORE NEWS
---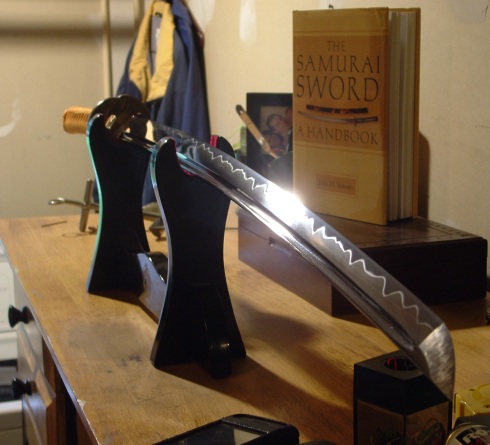 It is nearly 'custom Katana' time again!
With the most recent batch now only around 1 week away from shipping, for anyone who is interested in getting another design added to their collection (or for anyone who HASN'T ordered one yet, or is new to the digest!) – now is definitely the time to add your name to the shortlist…
Speaking of which, I actually had some issues with the shortlist around 3 weeks ago and seem to have lost quite a few names from it, so if you have been waiting – it is probably better to be safe than sorry and add your name to the list again.
Not long to go now guys (and for those of you who are waiting for your sword from a couple of months ago, we should be shipping them out any day now!).
---
SWORD INDUSTRY NEWS
---
NEW ARTICLES
I didn't get as much done on SMG in June as I had originally planned, mostly because of getting carried away revamping the forum and planning the revamp for SBG...
However, there was one significant and very informational 'laying the groundwork' article added by Michael 'Tinker' Pearce himself on what makes a good european style sword that every Euro-sword enthusiast simply MUST read and understand. If all goes to plan, you'll see several new articles added in August (I have nearly finished one myself on the different types of steels modern production swords are made fro, but alas ran out of time), so be sure to check the SMG Newsfeed often - or better yet, use the RSS feed to get announcements in your RSS reader.
P.S. Speaking of running out of time, unfortunately Dan was not able to get this months edition of collectors corner ready due to work commitments. I know all too well what it is like and I am sure you guys do too, but don't worry – it's not permanent!
---
BEST FORUM POSTS
---
Best Sword Related Video Games
If you are a gamer (and obviously, if you are reading this – it's a given that you like swords too!) then this is the thread for you!
That 'first time' sword buying experience
Do you remember your first sword? Well, this one was like a trip down memory lane for me – and the Sticklestad Viking sword is definitely one of my faves.
LoTR Swords Before the Movies!
Yes, there were Lord of The Rings Swords BEFORE the movies came out – and in this excellent thread we see some pics of what they looked like!
What hamon excites YOU?
There are quite a few different styles of hamon (Katana temper lines) – and everyone seems like a different one. Lots of pics of beautiful patterns, have a look and see which one YOU like the best!
---
VIDEO OF THE MONTH
---
How could THIS video NOT be the video of the month!

First off, it has our very own SHOOTERMIKE in it – swords (natch) and his – er, horse, with a quick and hilarous demonstration of mounted cutting..!

Of course, I should probably say 'DO NOT TRY THIS AT HOME' – and 'INSERT DISCLAIMER HERE' – but I think you get the idea...

So with that out of the way...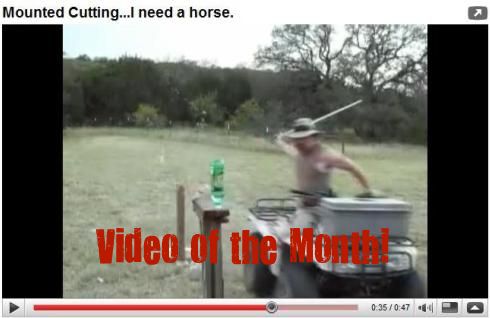 Heheh...
---
BARGAIN HUNTERS CLEAROUTS AND DISCOUNTS!
---
A selection of hot product discounts and clearouts from our affiliated vendors. Grab a bargain and support SBG at the same time!

SWORD N ARMORY And SWORDS OF THE EAST!
I've managed to get a couple of very cool discount coupon codes for you – both for a whopping 10% of their ENTIRE RANGE of swords (and other items) from two very respected sword sellers, Sword N Armory and Swords of the East.
For Swords N Armory the coupon code is: SBGFRIEND (all capitals, no spaces).
Visit their website to have a look at what you can use it on here: www.swordnarmory.com
For Swords of the East, the coupon code is: off10now (all lowercase, no spaces).
And you can of course visit their site here: www.swordsoftheeast.com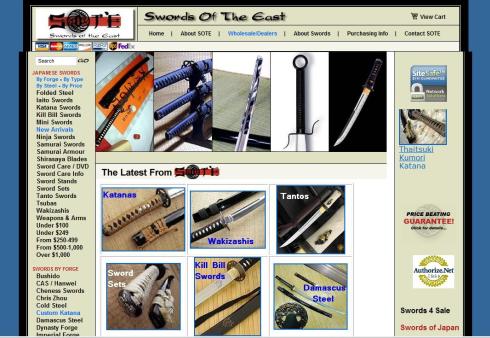 I've had a bit of a look and a play around with a few items to see how much you will save using these, and we are talking some serious dollars... (in some cases, these coupon codes bring the prices down extremely close to WHOLESALE!).
Check it out for yourself, and enjoy! The codes are only GUARANTEED to work until the end of the month, and while I will see about having them extended, with prices so low no seller can really afford to sustain it for very long, so be sure to take advantage of them while you can...
---
Hope you enjoyed the August edition of the digest – don't forget to stay tuned for the new look SBG this month!

Until then – stay safe and have fun with swords!

Paul Southren
---