Hey,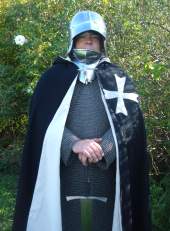 Welcome to the last issue of the digest for 2010 (traditionally we don't send out an issue in January, and after such a crazy year, I could honestly do with a few days off! Lol).
Anyway, this issue is an interesting one – and includes a special holiday season guide to the best buys for Christmas 2010, some more amazing offers from the Hanwei forge, last chance to win an exclusive SBG 'Oyabun' Katana, a call to arms to help support the SBG sword forum (and go in the draw to win a very special prize indeed) and my thoughts for the sword industry in 2011 (and unfortunately, it ain't all good news)..
So sit back, grab a nice warm cup of eggnog and enjoy!
CONTENTS
1. SITE NEWS AND UPDATES
2. SBG Competitions for December
3. SBG Sword Store News
4. Industry News: Paul's thoughts for 2011..
5. Best Forum Posts
6. Video of the Month: Conan the Musical
7. Special Feature: Christmas Shopping Guide 2010
---
SBG SITE NEWS AND UPDATES
---
There's been a lot going on behind the scenes last month, so much so that I have not really had a chance to do any significant updates to the site at all...!

Probably the biggest changes were to the new SBG Sword Forum, with a return to the classic SBG forum header logo, new icons, faster loading times and other tweaks designed to enhance member experiences – and there is plenty more being developed for the next two-three months to really enhance the forum and make it even more user friendly.

Otherwise, apart from working on some secret SBG projects in development – last month has pretty much been dedicated to processing orders for the SBG $330 custom Katana and trying to bring in the last of the SBG Professional Grade Katana (more on this later in this issue)..
Which brings me 'neatly' to some very cool competitions – one involving the SBG $330 custom Katana and the other the SBG forum! (man, with lead ins like that I should have been a newscaster! Hehe, well – maybe not…)
---
SBG COMPETITIONS FOR DECEMBER!
---
SBG Custom Katana Competition – last days!
It looks like a lot of people didn't really see this in the last edition of the digest, but last month we asked for anyone who has bought one of the SBG $330 custom Katana to submit some photos and a brief description and mini review of their design to the SBG Custom Katana gallery
Well, with only 2 entries to date I must admit I am a bit disappointed with the response – especially when the prize is a FREE SBG designed limited edition Shirasaya Katana, the 'Oyabun' that we sold out of in the first few days of offering them for $299.99 at the SBG Sword Store..!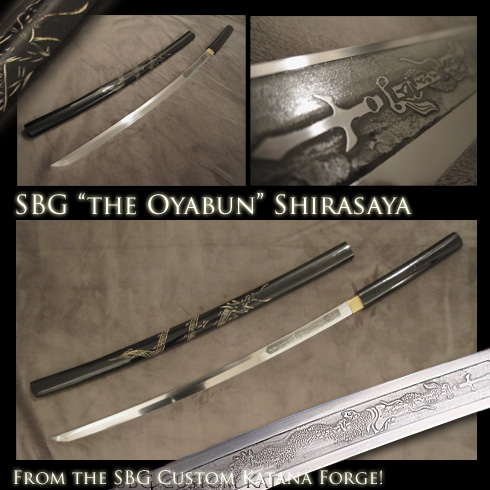 To give everyone a chance to send in a review, we have pushed the draw date on this competition back to the 10th of December, and will be sending the winner (as chosen by me and senior members of the SBG inner circle) this sword as soon as possible afterwards – SO, if you have ever received a SBG custom katana and want a chance to share your design with the greater sword community, help SBG out by raising awareness of what is possible with our custom swords AND go into the draw with an exceptionally high chance of winning a bonus sword, please do submit your pics and a brief blurb of your sword using the form at the bottom of our custom Katana gallery here



---
SBG SWORD STORE NEWS
---
It's been a bit like old mother Hubbard's cupboard at the SBG Sword Store last month - our range of Ronin Katana has been completely sold out – many of our most popular Cheness swords have been out of stock for months, Valiant Armory are running behind schedule due to the requirements of doing the leatherwork in house and to top it all off, we closed off orders on the SBG custom Katana on the 10th of November, so it's been pretty slim pickings for us in the lead up to the Christmas season (which is not the best timing I can tell you!).
As we have had a pretty tough year – in the face of increasingly predatory competition (these days most sellers are lucky to make $10 on a sword that sells for $300 – which is definitely not good business for long term survival and unsustainable), we have decided on a new approach – and that is creating a series of cool themed 'value pack deals' from the Hanwei forge..



By combining products together like this, we are able to save on the shipping price so can pass it on to you and ship free (many of the products listed in these deals are kind of BIG).

So far we only have two main bundle deals in the Hot Specials Section of the Store here one for a Viking/Norse themed kit including an Axe, sword, helmet, speartip and buckler for under $300 and the other a fantasy theme with a massive two handed battle axe, Cas scimitar and the infamous Dark Sentinel sword – but more will be added over the coming week.

The idea is to make it easy to get a nice sample of some different, complimentary products than just swords (as indeed, most of us are at least partial to a few other weapons here and there, I am personally quite fond of spears, tanto and maces!) – with some very interesting bundles still in development, so be sure to check back soon (I'll be making an announcement in the sword store newsletter when it's all done, so if you haven't already sign up to our store newletter here).
---
SPECIAL REQUEST TO ALL PREVIOUS SBG SWORD STORE VISITORS
---
As mentioned, the SBG Sword Store – like pretty much all sellers of swords at the moment – is having a pretty hard time of it..

But just today I received a couple of emails from happy customers and got to thinking, "I often get emails like this – they should be on the site somewhere to encourage other people who aren't so sure to give us a try!"

I'll be the first to admit that the store is not perfect. But I really do try my best to please each and every customer, so I'm really hoping that if you have ever bought from the SBG Sword Store in the past you'll take a few minutes to briefly write about your experiences.

Submit your feedback on the store here

I don't really like asking for this kind of thing, but times are tough and would really appreciate it..

Thanks all.



---

---
Paul's thoughts on the sword industry for 2011
I hate to say it folks, but I think my article '2005-2010: the golden age of swords' may have been more prophetic than I am comfortable with, or at least the title was..
Because all the signs are indicating that the industry we all love may be in for something of a shakeup in 2011..
The latter half of 2010 has really seen every sword maker, seller and everyone involved in the industry struggling to make ends meet – and I fear that as we enter 2011, a micro-industry that has been running out of steam all year has hit an iceberg…
As we all know, probably around 80% of the low priced, production swords we all love are made by a handful of forges based in mainland China (the others are almost all either made in India or the Philippines) – but in the last few weeks many outgoing shipments that were supposed to come in this month (or earlier) are being held back and subjected to unprecedented paperwork..
I first became aware of this when the forge that makes the SBG Professional Grade Torakami and Semi-custom swords advised us that several EMS shipments sent from China to the USA had been bounced back to them (ostensibly in the wake of the Yemenese parcel bomb incident earlier in the month). Within a few days of this, there were posts such as this one on SFI that suggested that this was not at all an isolated event.
But it got weirder when EMS started refusing to send swords not just to the US but ANYWHERE, and the situation appeared to be spreading to much larger sword seafreight shipments too – some of which were unexpectedly brickwalled and refused clearance to leave China by the local authorities…
As all of this is pretty recent and the Chinese authorities are not being very transparent right now, it's too early to say exactly what the outcome will be and when the swords will start moving again.
It is now reaching the point where simply bringing swords in from China is incredibly challenging, expensive and difficult – and all of that means that supplies will be irregular and that prices on Chinese made swords will go through the roof..
So essentially, the word to the wise is – the current wave of bargains may be the last chance to have such a vast selection of swords available at such low prices..! Looking back, I think we will see just how spoiled we are right now – but it's not going to last much longer!
Now I could be wrong, I don't have a crystal ball – but what I can say for certain is that the lead up to these events have seen it become increasingly difficult and expensive to bring swords in from China some time now, and this trend shows no signs of reversing in 2011.
Combine this with an industry spread too thinly, manufacturers dumping stock at cost price left right and center, and so many sellers barely making enough money to keep the (virtual) lights on and it all points to one conclusion – the golden age of 'over-choice' for quality swords is almost certainly coming to a close, and quite quickly..
However, while tough times are ahead and a lot of the swords you see for sale today probably wont be here this time next year, the sword industry is an adaptive and innovative one – and it's going to be an interesting ride, that much is certain..!
While the sheer volume of sword variations currently on the market may thin out, like in the wake of a forest fire there will come new growth..
From this shakeup, you can count on it that new projects will emerge, old sword makers who have seen it all will just keep on plugging away, and the industry will come away wiser and more mature than ever before.
And you can also count on it that through it all, SBG will still be here in one form or another to help you guys make sense of it all and to identify to best value for money deals..
I guess we will see how this all pans out soon enough! It's going to be an interesting year, that much is for certain!
---
VIDEO OF THE MONTH
---
Most sword enthusiasts have at least a soft spot for Conan the Barbarian AND a healthy, well developed sense of humour..

So what happens when the two are combined?

The end result – Conan the Barbarian: the Musical. ;-)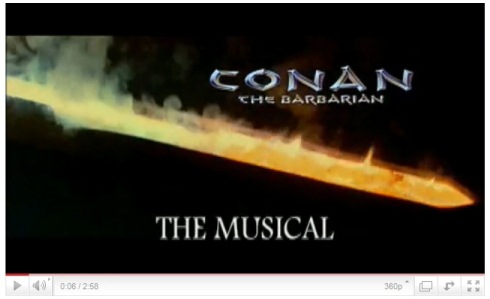 WARNING: it's one of those tunes that get stuck in your head for days – who knew Arnie was such a good singer..!
---
SPECIAL FEATURE: CHRISTMAS SHOPPING BARGAINS!
---
As mentioned earlier in this issue, the recent upheavals to the sword industry mean that this Christmas 2010 is a defining moment for the sword industry.

Some of the items available at rock bottom prices right now may not even be available this time next year, or if they are, you'll be kicking yourself that you didn't buy them when they were cheap!

So to prevent self kicking (a nasty habit if ever there was one) here is my personal list of some great value for money swords that make ideal Christmas presents, either for a sword enthusiast friend or as a Christmas present for yourself for being good all year..! ;-)

TRUESWORDS

Trueswords is always a great place to pick up low priced swords with super fast shipping options and top notch customer service, we all know that.

But to make Christmas shopping easy they have created a one page holiday shopping guide divided into categories such as Huge weapons, hand made swords, sword stands, Ninja gear, stocking stuffers and everything else you need to pick up some inexpensive and unique gifts for your friends – and also some cool bargains for yourself while you are at it!


KULT OF ATHENA

As always, Kult of Athena is the premiere sword store for anyone looking for the most bang for their buck possible – and at Christmas time it is no exception!

The first place to look of course is in their limited time only specials section, where long after all other dropshippers have sold out they continue to offer exceptional deals on Hanwei's Raptor Katana series and the Tinker Pearce swords at prices that no-one else can even come close too..

The second place in their store is amongst their blowouts and scratch and dent which at the time of writing this newsletter include a large number of battle ready swords with minor imperfections that could either be fixed up if you are a tinkerer or just used as is if you are on a budget and not so fussy about minor imperfections (there really are some great deals there, such as Kris Cutlery Korean sword with a bad saya, down to $150, a Cold Steel Two hander with a scuff mark on the leather down to $265 and even a Darksword Crecy with a small tear in the leather for $170! Plus many, many more!).

And finally, for those of you looking for something new and 'cutting edge' their new products section contains some goodies – especially the newly added OlliN Sword Design range – created by brothers Mark and Matthew Grzybowski.

While depending on your Christmas budget they might only be 'droolworthy', these new range of swords are well worth looking at (Mark spent two years working with Albion, and then Barrett Custom Knives before starting his own business, and the work they make speaks for itself).
Always good to support an up and coming sword maker, especially when their designs look as mouthwateringly good as they do!!
---
Well, that's it for this issue of the digest!

It's going to be a very interesting and dramatic year in 2011, so to prepare for it I'll be taking some much needed time off to recharge my batteries, do my bit to try to keep things on track and concentrate on bringing in the last of the SBG Professional Grade swords..

Hope you all enjoy the holiday season, grab some bargains and don't overdo the eggnog! ;-)

See you all in 2011!!

Paul Southren
---