SBG Custom Katana Gallery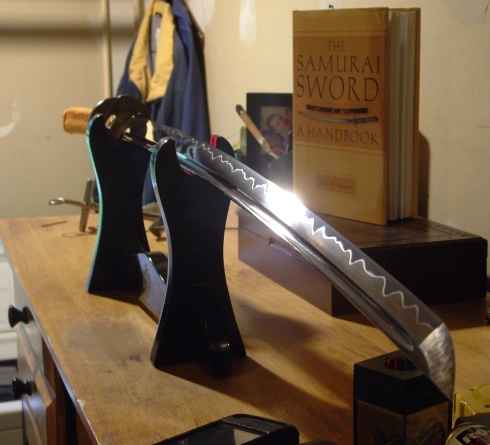 Since we started making the SBG custom Katana in 2008 our forge has created many hundred different unique blade and component configurations that have satisfied both collectors and hard core martial artists the world over.
In this Gallery, we take a look at some of these combinations - from batches of swords at the forge to customer submitted reviews, images and collages.
It's a lot of fun so I hope you will enjoy it and perhaps find some inspiration for your own unique design...

Custom Katana at the Forge
Here are some pictures of the custom Katana at the forge and images of the craftsmen who make them at work. Please click on an image to bring up the full sized image and description.
First up, a couple of pictures from the forge itself - the forge we use is a very small one, but they specialize in making exceptional quality blades using traditional hand forged methods.

Below are some of the completed swords from previous batches ready to be packed up and shipped out to my Canadian agent for final inspection and shipping.

Custom Katana at the Dojo

The SBG Custom Katana have been a hit with serious martial artists worldwide because of the price, the quality of the traditional blades and of course because they can be customized to be a very personal sword. Here are a few pics submitted to us by previous customers who purchased their swords for serious martial arts applications.

Custom Katana 3.0 - Favorite Fittings
Launched in April 2013, the third generation of this sword was based on the need to take the fittings to a new level and streamline the available options.
The current version now uses only PREMIUM fittings in either iron or hardened copper with gold. Here are some of my favorite fittings..
IRON SET TSUBA

Solid iron for maximum durability. A selection of iron Fuchigashira (tsuka/handle mounts) compliment this series.

PREMIUM MATCHED SETS
Annealed, work hardened copper sets plated with real gold and silver inlay! This upgrade is available at no additional cost with a wide variety of themes and styles for those who want some extra 'bling' without sacrificing too much in the way of durability.

You can of course see the full range of available options in our store here.

Reviews and Submissions
Below you can submit YOUR review and pictures of your SBG custom Katana.

Share YOUR Pics of Your SBG Katana!
Bought a SBG $330 Custom Katana and want to show it off? Upload pics and tell us about it here!
Other Visitors Designs
Click below to see contributions from other visitors to this page...

---
I hope you enjoyed the SBG Custom Katana Gallery. To return to SBG Swords from the SBG Custom Katana Gallery, click here.


Buying Swords Online Can Be

DANGEROUS!



Find the Best Swords in the:
Popular & Recommended ARTICLES

---
---