How to Sharpen a Sword

I often get asked how to sharpen a sword.
Whether it is because the sword is unsharpened (or not sharp enough) to begin with (some manufacturers make their blades unsharpened by default) or it becomes blunted with usage, knowing how to sharpen a sword is a skill that EVERY serious sword collector should have.
In this section of the site we will be looking at three main methods to sharpen a sword:
The Old Fashioned way (with a file and whetstone)
With powertools
And with a tool known as the 'accusharp'
However, one important caveat - BEFORE you decide to sharpen your sword, there is one very important thing you need to consider..
Does this sword really NEED sharpening?

There are several reasons why you might not actually want to sharpen your sword at all.
The first is, if the sword is going to be used for training purposes it is MUCH better off if it is not sharpened.. The reasons should be quite obvious, if the sword is unsharpened the chances of an accidental life threatening injury are GREATLY reduced..
But the second reason comes into play when you receive a cutting sword that does not feel sharp to casual observation..
This is much more common on Japanese Katana than any other style of blade. For one reason or another, many people think that a Japanese sword should be RAZOR sharp. But a sword can be too sharp - and you might be surprised to learn that a sword that feels razor sharp, if used in a battle would chip on the opponents bone, while one that feels unsharp would take their arm off at the shoulder..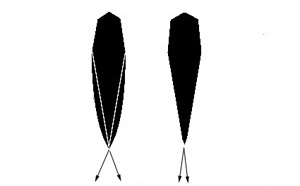 This is due to the fact that the best made Japanese swords have what is called 'Niku' - which is basically the Japanese word for 'meat'. A quick look at the diagram demonstrates the difference between a Katana with niku and one without.
In cases where the sword does not FEEL sharp, but has Niku, the best way to know if it is sharp enough is by actually cutting with it (using correct technique, not just hacking but SLICING - Japanese sword techniques are described in detail here).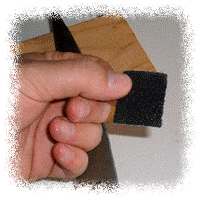 Taking a Katana with Niku and applying the wrong sharpening technique is not a very good idea. However, if you do wish to just touch up the edge a little you can do so with a small square of fine steel grade abrasive paper, a little water and CAREFULLY run it at a 30 degree angle slowly along the blade's length one way and then again on the other side to clean up any microscopic burrs.
But I am getting ahead of myself here - this is actually step 3 of the most basic 3 step sharpening process, so let's take a look at how to sharpen a sword using this basic, tried and true method.

How to Sharpen a Sword - Method 1

One of the most basic ways to sharpen a sword is what I call the 'file and whetstone' method. While it can be time consuming, it is also of the safest methods that can produce an extremely good result.
Naturally enough, as it is entirely done by hand, you need to spend some time practicing before you get it down pat. Sharpening sword is as much an art as it is a science, so we do recommend that you practice first on a cheap machete, knife or (heavens forbid) a stainless steel el-cheapo wallhanger.
How to Sharpen a Sword - Method 2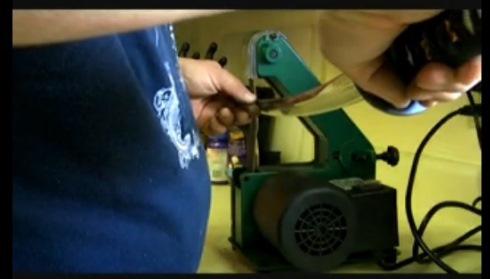 The second method to sharpen swords is using power tools.
Now generally, it is not recommended to use power tools in a casual manner as the friction will heat up the blade, ruining the temper. However, there are some tools and techniques you can use to minimize the chance of any tempering interference.
In this section we have two video tutorials by senior SBG member Tom Kinder, who developed his own methods to sharpen swords to a frighteningly sharp level without causing any damage to the temper - one using a belt sander and the other a block of wood and some abrasive paper..
How to Sharpen a Sword - Method 3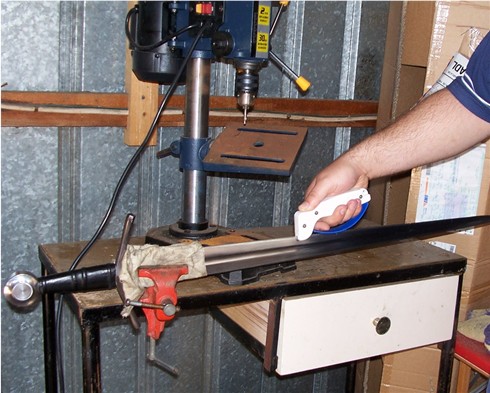 The third technique is considered by many to be 'cheating' because it is simple, fast and creates a secondary bevel from a cheap hand held tool called the "accusharp".
Now normally a secondary bevel is considered an inferior cutting angle for a sword. However, if the steel is good quality and you are looking for 'shortcut' - this method is the easiest of them all.
Of course, there are many, many other techniques you can use to sharpen a sword, and of course a given technique that may work well on one type of sword may not work as well on another.
To read more methods of sword sharpening or share your own techniques or tools that work for you have a look below.

What's YOUR sword care tip?
Do you have some tips on sharpening a sword that isn't covered here? Share it!
Visitor Submitted Sword Care Tips
Click below to see contributions from other visitors to this page...

---
I hope our guides on how to sharpen a sword have been helpful. To return to the Sword Buyers Guide homepage from How to Sharpen a Sword, click here


Looking for honest, trustworthy sword sellers? Look no further than:

FEATURED ARTICLES AND REVIEWS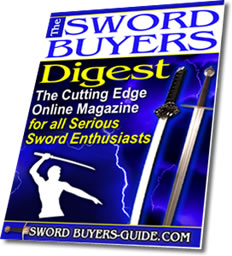 Sword Buyers Digest Newsletter!

Sword Buyers Digest Newsletter

Sign Up to Our FREE Monthly E-zine for all the latest sword news, info and much, much more! Click here for more info.