The best way to sharpen
The best way to get a edge on any sort of blade is to use a wet stone, the only trick is getting the angle right. Insted of using watter use oil, simply place a penny on the stone, then your blade(not the edge) againt the the penny, so the ass end of the blade is angeled unpward, then sharpen.
Join in and write your own page! It's easy to do. How? Simply click here to return to Sharpening Techniques and Tips.

Looking for honest, trustworthy sword sellers? Look no further than:

FEATURED ARTICLES AND REVIEWS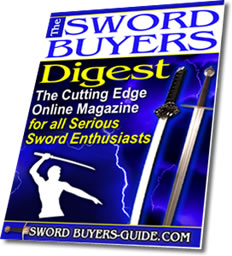 Sword Buyers Digest Newsletter!

Sword Buyers Digest Newsletter

Sign Up to Our FREE Monthly E-zine for all the latest sword news, info and much, much more! Click here for more info.