The Sword Buyers Digest
FREE ONLINE MAGAZINE!
"Hey, Paul, I really like your newsletter. It's attitude is a refreshing change from the usual hype or elitist stuff I see most of the time..."
Jerry Spencer Mings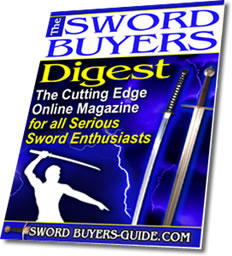 Want to:
Get the deepest discount offers available anywhere on the internet?
Win FREE Swords and Gift Vouchers?
Discover How to Customize and Make Your own Swords?
Watch the coolest sword videos online?
And download FREE high quality sword related ebooks and manuals?
If so, then my monthly 'cutting edge' newsletter is for YOU!
Simply sign up using the form below and on the first day of each month you'll receive the Sword Buyers Digest: ONLINE MAGAZINE hot off the press and into your inbox!
So What Are You Waiting For?

Membership and subscription is completely FREE.
And if at any time you decide for some reason that you no longer want to receive this newsletter, you can unsubscribe with just one click!
Want to Read Some Back Issues First?
No problems, we have an archive of old issues from 2005 onward. Click here to see what all the fuss is about...
---

Buying Swords Online Can Be

DANGEROUS!



Find the Best Swords in the:

Click here for the most reliable, honest and respected sword sellers