The Sword Buyers Digest
FREE ONLINE MAGAZINE!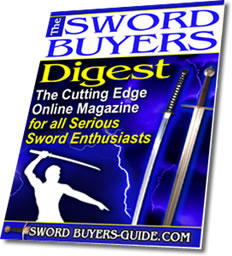 Since 2006
---
What  Others Are Saying About Our Monthly Newsletter...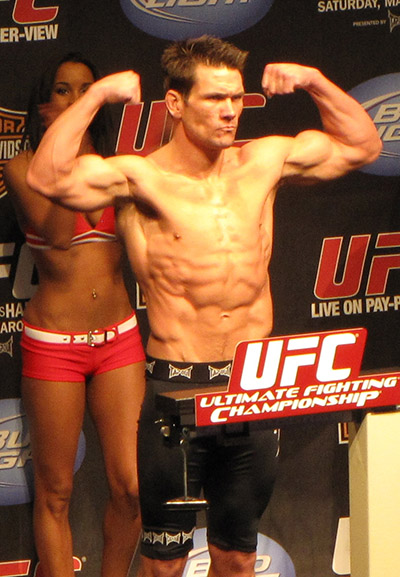 "Truthfully humbly I have seen all the martial art combative world has to offer, fighting the best and winning a world title at Welterweight in the IFL and holding a career HL Head Kick KO that ranks #5 of all time for the UFC. With that being said when I was a total newbie it was Paul's patience and caring that kept my questions coming and my interest peaked. The importance of these article are truly worth their weight in gold to some looking into a world that a certain jargon must be established just to search the right site"
Rory Markham,Former UFC Welterweight Champion
"Hey, Paul, I really like your newsletter. It's attitude is a refreshing change from the usual hype or elitist stuff I see most of the time..."
Jerry Spencer Mings, Former Senior Member SFI
"Sword Buyers Digest is, in my opinion, the best site to obtain information on the functional sword (not cheap "wall-hangers") market with what is available, reviews and very valuable information for beginners to those with much more experience in the field."
Jack Canada
---
Would you like to:
Get the latest sword news, sneak peeks at products in development and get the lowdown before ANYONE else?
See the hottest and most interesting sword videos from around the web?
Enter competitions, get exclusive specials and make your voice heard to shape the industry the way YOU want it to be?
If so, then my monthly 'cutting edge' newsletter is for YOU!
Membership and subscription is completely FREE
And if at any time you decide for some reason that you no longer want to receive this newsletter, you can unsubscribe with just one click!
---
More Subscriber Testimonials

"I am a long time subscriber to SBG digest ( this would be my 9th years) . What so great about the digest is the fascinating stories relating to swords across different cultures and periods .It is also sources for inspiration. I learn new things every issue "
Thana
"A few years ago, when I discovered I might actually be able to buy swords, I ran across The Sword Buyers Guide and what a blessing it was. Paul Southren was a God send, there was so much info about everything sword, it was a real education for me. Info on types of swords from different cultures, types of steel they're made from, quality of swords from different makers, how to take care of your swords, pretty much anything you need to know about swords. I not wealthy, but thanks to Paul and The Sword Buyers Guide I now have a dozen quality, fully functional, budget priced swords in my collection"
Larry Carnegie, Kenedale Texas
"I have been getting Paul's monthly news letter for quite a number of years now.  Always a nice surprise in my e-mail once a month.   I like the occasional video of actual cutting and demonstration of swords (either by Paul or by someone else)  Videos are also a nice surprise ranging from a movie review to short You Tube vids of sword use. And they are not always limited to Japanese swords. Sometimes the forums bring to light nice down to earth insights from around the globe (at least, for me, the English speaking part =).  

All in all,  I hope Paul can continue with his news letters"
Mark Meyers
"Just wanted to say how much I enjoy receiving your SBG newsletter every month as I am a career armourer from the UK who is fed up with the wall hangers we get over here, and I love to hear what the real world has for us true swordsmen and women. I also like your eclectic mix of articles and videos, which I always take the time to watch. Thanks and keep up the great work."
John, Armourer in the UK
"Having been a part of SBG for a good few years I have met many of the patrons and bought a few sharp objects in my time, well more than a few, quite a lot really. In July of 2019 however my home of 20 years was torched, I lost everything and had no insurance, the fire was started by my son, deliberately while I was in my role as a carer. So now I have to put my life back together,  SBG gives me a distraction and the hope that life will be better, I'm still a full time carer, I care for a 78yo lady and an 81yo man in my home, a governmental rental so at least I have a place to call my own. Aussie Rabbit will return to the forum when I have a proper net connection to the internet rather than using my phone and laptop, SBG's digest is still a highlight in my mailbox."
Jeff, 'Aussie Rabbit' from the SBG Forums,

Want to Read Some Back Issues First?
No problems, we have an archive of old issues from 2005 onward. Click here to see what all the fuss is about...

Buying Swords Online Can Be

DANGEROUS!



Find the Best Swords in the:
Popular & Recommended ARTICLES

---
---