"Sword Buyers Guide really makes it easier to buy a sword on the internet. Thanks again." - Dave Garret, Arizona, USA

"I came here a 'blind man' and I now can happily see" - John Kostogiannos, Athens, Greece

"The information you provide and the way you present it make hunting for swords a pleasant experience instead of a risky gamble and I greatly appreciate it." - Seth Bremer, New York, USA

Your FREE Guide To Buying
REAL

Swords Online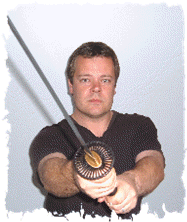 Your Host, Paul Southren
Trying to find good quality REAL swords for sale online (at a reasonable price) can often be a bit of a hit and miss affair...

There really are so many crappy, fall apart "replicas" out there it's just not funny.

And it's not always easy for the beginning to intermediate enthusiast to safely navigate all the marketing hype and identify a half decent blade that you can use and enjoy for years to come...
BUT Sword Buyers Guide.com




MAKES BUYING THE BEST SWORDS ONLINE EASY!



You see, our job here at 'SBG' (Sword-Buyers-Guide) is simple...
 
...to help YOU save time, money and unnecessary hassles in your search for the best quality yet affordable swords for sale!

This site isn't about $40,000 antiques or even $1,000 "performance" blades (though we do dabble there from time to time).

And it certainly isn't about those ever growing piles of cheap "wall hanger" replicas that break off at the handle just swinging the darn things around...

Instead we specialize in trying to identify the best value for money 'entry level' functional replicas, in other words:

"Sword Buyers Guide is all about finding you the best REAL (Fully Functional, Battle Ready) swords for sale at a reasonable price point of between around US$100 to just over $300 at the upper end..."
As avid collectors and sword enthusiasts ourselves, the SBG team and I spend our time searching for bargains that we review and test out, and then report back our findings and results so that YOU can make an informed buying decision.

Simply use this FREE review guide and you're guaranteed to be able to select quality swords for sale online! (I just wish there had been a guide like this when I first started my collection!!)
---
Awesome SBG Member Functional Sword Collections!!!
Also known as the "It Starts With One" Sword (Addiction) Collection Gallery...

By the way these are just some relatively tame examples, to see some SERIOUS sword collections click here

---
By the way, when you see a bunch of pictures in a cluster like this with a "Pin It" link - it might be a gallery (if you hover your mouse over a picture, you will quickly figure it out as text will appear)- in which case you can click it to bring up a larger picture and browse the gallery. (It could also be a link or, well, just a picture! Links to non SBG sites always open in a new window and its safe to click anything, try it and see!)

 SO, WHERE TO BEGIN?

Navigating SBG is, I hope, fairly self explanatory and intuitive.
Throughout each major page you'll find numerous "in context" hyperlinks to other pages and in depth articles on SBG. If you visit our official Sword Store (and we hope you will) just click the SBG logo and you will navigate back here to the homepage and table of contents below.

If you don't know anything much about real swords, I recommend you start your journey with my basic guide and overview to real swords here - otherwise, if you want to jump straight in and have a look at hands on some sword reviews and cutting videos within your favorite types of swords, have a look through the Nav bar for the category that tickles your fancy.

There really is too much info here to go through in one sitting (basically, there is enough information to take you from complete 'newb' to intermediate level 6 sword geek!), so I recommend you bookmark this page now so you can find us again on your next visit. Happy surfing, and I hope that SBG helps you find the deals and information you are looking for!

Sincerely,
Paul Southren
Site Owner, Sword Guy, Editor in Chief and Your Host!
Table of Contents
LEGAL DISCLAIMER:
Sword Buyers Guide (SBG) advocates safety and common sense and does not condone violence in any way, shape or form. Staff and management of Sword Buyers Guide are committed to responsible sword ownership and use, and under no circumstances condone the use of a sword on another living being or any unsafe practices with live blades. The destructive tests shown on the site are done under controlled conditions and should never be replicated. SBG is NOT responsible for the abuse or improper application of information contained herein, nor is it responsible for injury, loss of health, or loss of life.

Buying Swords Online Can Be

DANGEROUS!



Find the Best Swords in the:
Popular & Recommended ARTICLES

---
---