About Sword Buyers Guide.com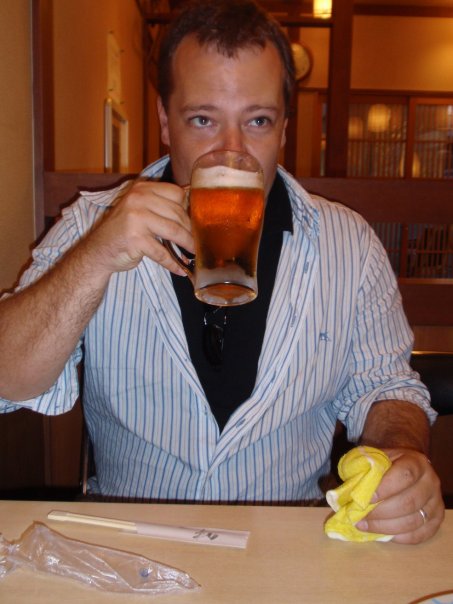 Paul Southren
I'm Paul Southren, originally from Adelaide in South Australia - your host and chief editor of SBG (that's me kicking back with a beer after a hard days slaving away breaking swords and writing reviews!).

I started this site in February 2005, not just as a sword review site, but also as a resource to help shorten the usually fairly steep learning curve encountered when someone starts to get interested in anything beyond a display sword... (click here to read more about how SBG got started)

The reviews are carefully chosen so that as you read each one you are (hopefully) learning a lot about what to look for in good functional replica swords in general, and develop the skill to avoid the cheap and nasty 'sword like objects' that fall apart in your hands when just swung through the air..
"In short, I like to try to keep the site simple and FUN..." :-)
For an example of what I mean by 'fun' check out out lighthearted, family friendly collection of Sword Memes

My "Qualifications"

I'll be the first to admit that I am far from being an expert on swords.
Much of what I have learned over the years is just from hands on experience with buying and selling modern replica functional swords and reading a few books on the subject.
True enough, I've been to some of the forges in China to see how most of the replicas are made first hand. And yes, I have lived in Japan for over 4 years where I have seen some amazing blades and overall, hmm. Well, I guess I am privy to a fair amount of inside information about the sword industry in general - with several wholesale accounts with major sword suppliers and forges..
Hey maybe I do know a little about swords, at least the modern sword market..! ;-)
But as you can probably tell from my reviews, I'm a mediocre academic - there are people at places like Sword Forum International and My Armoury who have probably forgotten more things than I will ever know...!
..The only problem is that some of the experts at these forums have a bit of a reputation as being 'sword snobs'.
In other words, if you ask some of them a question about a sub US$300 sword, the typical response is a flippant 'save up your money for something more expensive'.
But I hope my site demonstrates there are quite a few very sturdy and eminently functional swords in our price range - the real 'jewels in the junk' - and finding these jewels is exactly what SBG is all about...!
Review Format and Rating System

We try to standardize our reviews as much as possible, generally starting off with some background info on the sword in question, a component by component overview and then, if appropriate, test cutting results - with lots of original pics and more often than not, a video or two..
As I mentioned, I am a poor academic, so in depth historical analysis takes a bit of a back seat (sorry)..

At the end of each review, we then wrap it up with a quick 'pros and cons' overview and give the sword a 'star rating' out of 5.
IMPORTANT NOTE: Our 1-5 star rating system should only be used as a rough guide, as it is fairly abstract and works on a sliding scale.

In other words, take the rating system with a big pinch of salt - it (tries to) take into account factors such as the swords overall quality and value for money combined (i.e. if a sword is only of average quality, but very cheap - it might have a 3 or 4 star rating. If it's an amazing sword, but very expensive, it might lose a rating point... The general idea is that the rating system represents overall quality AND bang for your buck, so just use it as a rough guide - don't take it as gospel!).
To give you some idea of what the different ratings mean...
The SBG Rating Sytem


Rating 1 swords are rarely reviewed, we don't get too many of these as our team knows what to look for in a good sword before buying them! But even we still end up buying a real lemon from time to time. A rating 1 sword is a total waste of money.


Rating 2 swords are average at best. They might be worthwhile buying if there is no other alternative, but you are probably better of looking elsewhere for a better sword.


Rating 3 swords are average to good. They are worth buying on the whole, though may have some known limitations. Quite a few swords we review on SBG get a rating 3 - for swords under $100, a rating 3 is about as high as we can go as at this lower price point, more expensive swords usually have MANY improvements over them that limit the maximum comparative rating they can achieve. Other swords are rating 3 because even though they might be excellent swords, they are deemed as being a little too expensive for what you are getting.


Rating 4 swords are EXCELLENT and come HIGHLY recommended. They have few limitations and represent great value for money. When our review team buys a sword, we always aim to try and get what we would call a rating 4 sword, but sometimes we get lucky and we get a...


Rating 5 swords can be summed up in 3 words: "BUY IT NOW!". They are not only the best of breed, they are something very special and come with our top recommendation. We don't hand out 5 star ratings all that often, so when we do - we mean it!

Each review ends with our recommendation on where to buy the sword being reviewed based on price and the reputation of the seller. You are of course free to browse the internet for a different seller, but we highly recommend that if you do and don't have much experience you stick to our list of tried and trusted sellers listed here in the sword buyers directory as there are quite a few unreliable (and even some downright deceptive) sellers out there, so 'caveat emptor' (buyer beware) applies if you go it alone (after all, this IS the interwebz!!).
Funding
You can probably tell that this site is my passion and a labor of love.
But running a site like this costs a lot of money, both to keep it online and also pay for the swords that we trash in the name of testing..
Initially, all these expenses came out of my own (rather shallow) pockets. But over time, as my site grew and its reputation began to grow, I was able to make my site self funding without having to compromise my sites integrity...
As a big believer in transparency, I have no problems letting you know that SBG is funded via the following methods:
We have affiliated ourselves with THE most professional and customer service focused sword sellers in the industry. Because they have such low prices (and low margins) the percentage of each sale we refer to them is much lower than many of their competitors who offer a similar program, but I refuse to link to sellers who do not offer the best prices and the best service.. I've lost count of the number of deals I have knocked back simply because they are not in my site visitors best interests (we are here for the long term, not to make a 'quick buck').
SBG is also funded "the old fashioned way": by direct sales from the SBG Sword Store '. This is a lot of fun and allows me access to behind the scenes information and trade secrets that a normal sword buyer never gets to know. This actually came about by chance, as originally we never intended to be a sword seller ourselves, but it works - you can read more about how SBG started selling Cheness swords by clicking the link if you are interested.
I've found that by maintaining my sites integrity as a completely honest, unbiased resource - and ALWAYS putting the needs of my visitors first SBG has grown in leaps and bounds and is now completely self funded.
A site like this is a lot of hard work true, but as you can tell, I have a lot of fun doing it.. ;-)

Anyway, thank you for having an interest in SBG and how Sword Buyers Guide came about. If you have any questions at all, feel free to drop us a line - we would love to hear from you!
Enjoy the Journey!!!
Paul Southren

Acknowledgements
I'd like to give a brief shout out to some of the people who have helped and/or continue to make SBG a website I am happy to put my name to. While this is no Grammy acceptance speak (hehe) these people deserve no less than my most sincere thanks:

Paul Hansen from the Netherlands for his constructive criticism and helpful suggestions in the early days, without which this site could well have lost relevancy to a broad section of the sword community.
G. Scott Hoagland for being the first person to help review a sword on SBG besides me! Thanks mate! :-D
Jason from Arms of Valor who supplied me my first ever sword bought on the internet. A true swordsman if ever there was one...
Paul Chen from Cheness Cutlery, for helping SBG find a way to fund itself without compromising its integrity.
Mike Harris (aka Shootermike) for his constant encouragement and willingness to put his swords on the line. I owe you a keg or two of ale by now I think!
Chris Scoggin from Ronin Katana for introducing me to his forge in Longquan. A true friend.
Steven Kernan from Auburn, Washington State for his design of the SBG Logo and invaluable advice.
Dr. Ken Evoy for creating SiteBuildIt so someone like me could create this site without having to become an I.T. expert!
But above all, always and forever, my little girl, my daughter - little miss Lana Karin. 

Also, thanks and a BIG shout out to the countless people who have offered me words of encouragement and thanked me for making this info available - and of course a big shout out to all the SBG Sword Forumites and customers of the SBG Sword Store - you guys make it all worthwhile!

---
Click here to return to the SBG Home Page

Buying Swords Online Can Be

DANGEROUS!



Find the Best Swords in the:
Popular & Recommended ARTICLES

---
---