Anime Swords

Anime Swords, that is to say replica swords based on popular Japanese Anime, are extremely popular and a very common way that many collectors get started collecting swords.
Unfortunately, many collectors who get started this way often have no idea what they are actually buying - which is not only dangerous, but also can often result in a waste of time and money..
In this section of Sword Buyers Guide, we will be looking at how to buy Anime Swords for the best price, get a good idea of what you actually get for your money, and take a broader look at their place within the sword industry.
So let's get started..!

Construction of Anime Swords

Anime Swords for sale on the internet are, almost without exception classed as "decorative wallhanger" swords. That is to say, they are not designed to actually be used for test cutting or even dry handling (read, swinging in the air) but only for Cosplay and decorative purposes.
There are many reasons why, for the most part, while they may look like a sword, they are not a real sword - though surprisingly, unlike most other decorative swords on the market, the vast majority are NOT actually made from stainless steel, but instead untempered carbon steel..
The problem with untempered steel is that it does not flex or have the necessary properties of a real sword as is demonstrated very clearly in the video below:

Now obviously, not all Anime swords are as long and thin as this one - the thicker ones, such as those we will review shortly, are sometimes surprisingly durable..
But at the end of the day, just about all the anime swords for sale currently on the market are cheaply made, purely decorative replica anime swords.
Why?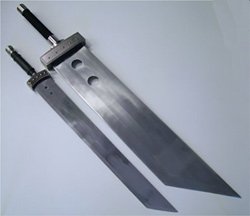 The most requested sword, and the one that was the focus of the legal action by the parent company in 2008 is of course Clouds Buster Sword from Final Fantasy. Advent Children. For a complete breakdown of this sword and what options are available now, click here and for a more detailed article including its history, background and variant replica options click here

The reason is quite simple - the Japanese parent companies who own the rights to the swords do not wish to license functional replicas, so the swords on the market are all unauthorized copies factory made in China at the lowest possible price.
Indeed, in the past, the Japanese parent companies have actually taken legal action against US based sellers who listed Anime swords for sale on their websites, so that these days you will often find the replicas are rather ambiguously named to skirt a second round of legal action.
Personally, I think it is a shame - as it really does limit the market for anime swords to the lowest common denominator as far as quality goes. BUT, that said, some of the swords are, whether more by accident than design, have actually ended up being borderline functional - and in our hands on reviews we will take a look at them from the perspective of two experienced sword collectors so before you buy anime swords, you will at least have a good idea of what to expect.
Anime Sword Reviews

"Black Majesty"

Price Range: $60

OVERVIEW: Based on Kiritos sword in the second half of the 1st season of Sword Art Online, in this review with Dan Dacombe, he compares it to the original and comes away with some surprising conclusions.

"Fantasy Anime Sword"

Price Range: $90-129

OVERVIEW: Another of Kirito's swords, in this hands on review SBG's chief Editor puts it through its paces, finding it considerably more durable and well constructed than expected. Perhaps the best of all Anime swords made to date..

"Sakai Gaming Sword"

Price Range: $40
From the Anime Shakugan no Shana, Dan checks out the Blutsauger sword and finds it both full tang and carbon steel, making it the closest to a functional sword of any anime replica sword to date.
"Ichigo Bankai Sword"

Price Range: $50

OVERVIEW: It is big and impressive looking at first glance. But just - don't shake it.. SBG's chief editor checks it out, and finds some real drawbacks..

"Blue Exorcist Sword"


Price Range: $29.99

OVERVIEW: In many ways, the replica of the Blue Exorcist Sword is a typical stainless steel anime katana. It is cheap, purely decorative and definitely not functional in any sense of the word. But all that aside, for the price, it delivers what it says on the box..

Need Swords for cosplay?

All of the anime swords above, while not sharpened, are made from carbon steel - and so in theory could be sharpened. Because of this, most are not permitted to be worn or carried around at comicon and other related events.
So if you are in the market for a cosplay suitable sword - our top recommendation is the one-stop-shop EZCosyplay.com
Not only do they stock PVC and non-metallic anime sword replicas - but they also have all the associated characters costumes, all official and premium quality. Definitely worth a look, you just never know what you might find there..

---
I hope this information on Anime Swords has been helpful. To return to the SBG Homepage from Anime Swords, click here


Buying Swords Online Can Be

DANGEROUS!



Find the Best Swords in the:
Popular & Recommended ARTICLES

---
---