Chinese Swords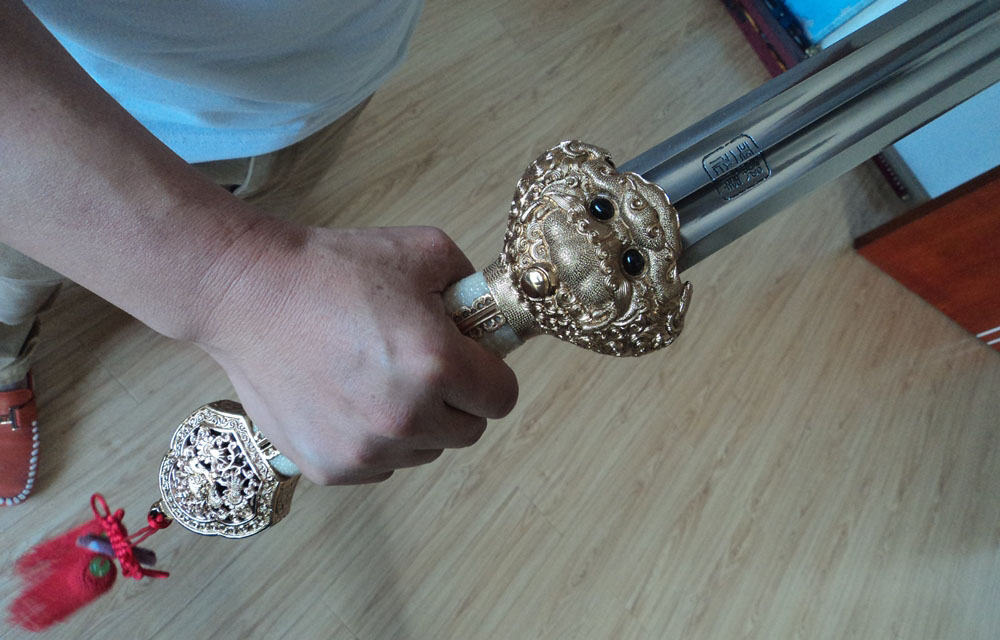 A museum quality replica of the Yong Lo Sword valued at over $10,000! Click for more information on this design, the pinnacle of Chinese Swords
Chinese swords are serviced by a MASSIVE domestic Chinese market, but until recent years there were only really two divisions, either it was really cheap stuff or elite, opulent swords worth tens of thousands of dollars (well, there were also probably millions of flimsy bladed Wushu or  "Tai Chi" swords - I'm talking about actual FUNCTIONAL replicas here).
Luckily, there are a few decent ones in our target sub $300 price point. And beyond this price point - but not quite for the cost of a sports car price - there are some of the finest production blades currently being made in the world to be found in this deeply sophisticated sword market - as are some of the most fearsome beaters are cutters..
We will start our journey into the world of Chinese swords with some solidly made, non flimsy blades for Gongfu by the Hanwei forge, continue to the super tough beaters (one in particular) and end with glimpses into the high end where the action really happens..

Practical Gongfu Style Swords

Most people in the know who are looking for a practical Chinese Gongfu blade on a budget recommend the Hanwei Forge.
While in recent years they scaled back their bold roll out into this market, when the tide came back in it left some solidly made, very effective cutters on the shores for the picking.
They might not be very elegant, but they are very practical - be it for the practitioner of Tai Chi who is looking for something better than the typical $20 Chinatown special or the Gongfu practitioner after a Jian or Dao with an actual, cutting blade..

"Practical Tai-chi Sword"
Hanwei Forge
Price Range: $120-170
OVERVIEW: If your sick of the cheap, flimsy bladed 'Chinatown specials' for Tai Chi and want something balanced and with a sturdy blade that actually has some presence to it - but don't have $400-500 to spend, this might well be your best choice. A solid, low priced, unsharpened (but sharpenable) Jian.

"Dadao"
Hanwei Forge
Price: $149-220
OVERVIEW: More for the collector of exotic swords than for martial arts useage, the Dadao was to Chinese swords what the Falchion was to medieval swords - a big, heavy head chopper of a sword wielded by the peasant armies of old. But my, was it effective..

Chinese Broadsword

Hanwei Forge
Price: $189-250
OVERVIEW: I had an absolute ball with this Chinese Broadsword. Despite its low price, it was one of the best one handed cutters I have had the pleasure of wielding and it was this particular piece that got me excited about what REAL Chinese Swords had to offer.

Oxtail Dao

Hanwei Forge
Price: $199-275
OVERVIEW: A slightly fancier version of the Broadsword I reviewed above, with brass fittings and bright red tassel. And like the Chinese Broadsword, the Oxtail Dao is another great value for money cutter.

Chinese Beaters

Now these are swords with a more 'mass market' appeal. Big, mean and incredibly durable and fearsome, the Gim (Cantonese for Jian) is a fantastic blade for the price - a highly attractive sword that can cut like no-ones business..

"The Gim Sword"
Cold Steel
Price Range: $249-439
OVERVIEW: The Gim sword has the best of all worlds in my opinion: it is very attractive, very sharp, durable and great handling (it does not handle QUITE like a traditional Gim/Jian should, but it's not that far off either). Highly recommended as a general interest Chinese sword for the more causal collector.

Jin Shi Swords

Jin Shi is a Canadian based sword company founded in the spirit of integrity and have fostered deep and lasting relationships with the Chinese sword enthusiast community, making swords that in their own words:
| | |
| --- | --- |
| | that will match or surpass the performance of well-made antique examples. We accomplish this by using modern, engineered steel while staying true to the thoughtful design inherent in antiques. |
While production is at times sporadic, for the price when they ARE available, you really can't get much better bang for the buck.

"Han Dynasty Sword"
Jin Shi
Price Range: $299 to $449
OVERVIEW: An ancient style sword with a differential hardened blade, superior fittings and exceptional handling - the only real downside to these swords is that they are made to order, so require a bit of patience waiting for them to come in. But it pays off in spades...
A Peek at the High End..

The REAL action for Chinese swords begins well above the $1,000 price point.. The best swords are made by certified Chinese Master Smiths with lineages going back into the mists of time and forging traditions and techniques that have created some of the most amazing looking and performing blades that have EVER been seen..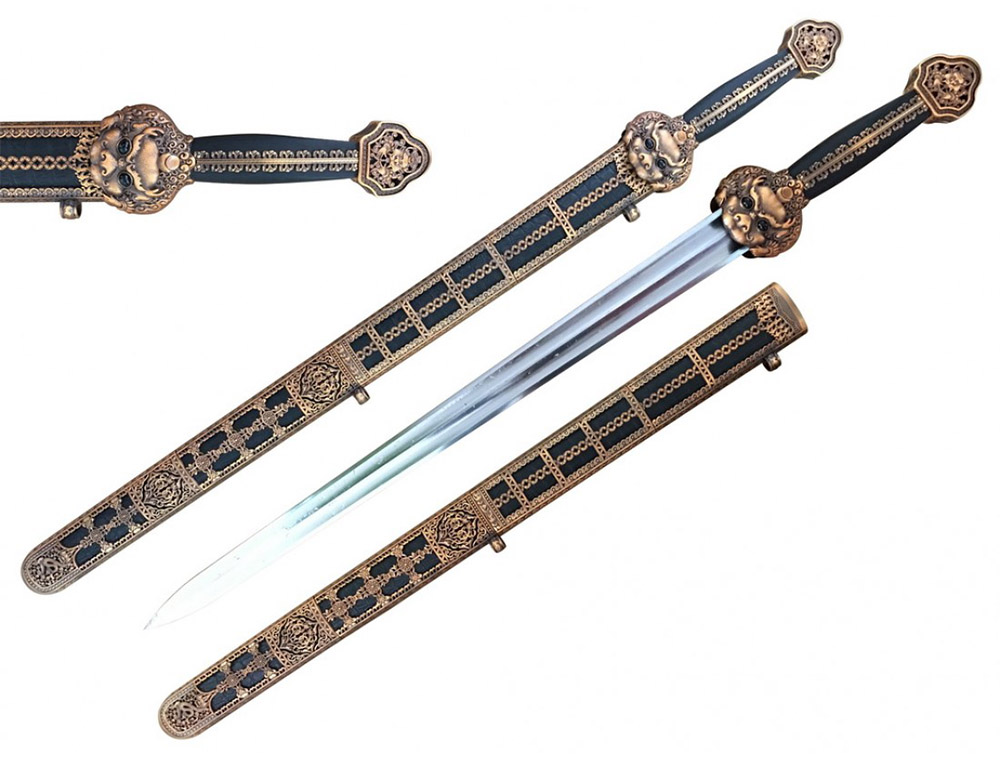 One sword that I feel best represents the world of high end Chinese swords is the so called 'Yong Lo Sword' - a Ming Dynasty Sword gifted by the Emperor to a Tibetan Monastery and now on display at the Royal Armory in Leeds.

From $200 to $10,000 and up,this has had many replicas and incarnations - to get the full lowdown, click here
To most people, this high end world is shrouded in mystery, but on a recent trip to Longquan China to see production of Japanese and medieval swords, I was personally introduced to this world and my fascination continues to grow the more I learn of it..
But my friend Chris Scoggin from Ronin Katana who met up with me on my trip to Longquan went in deep - and uncovered some real treasures. But when he asked the question to a famous young Master smith what was his TOP recommendation for an elite Chinese blade that would not break the bank, he was shown a Jian with a true appleseed blade forged by the master himself (with his signature and guarantee of amazing quality), and after extensive negotiations, agreed to make a limited edition run for SBG .
The Jian of Marquis Yi (click to enlarge pictures)
This project took a new direction in late 2015, when with agreement with the Master sword-smiths we were able to offer these elite Chinese swords to everyone via a special project called Forge Direct..
Click below for details..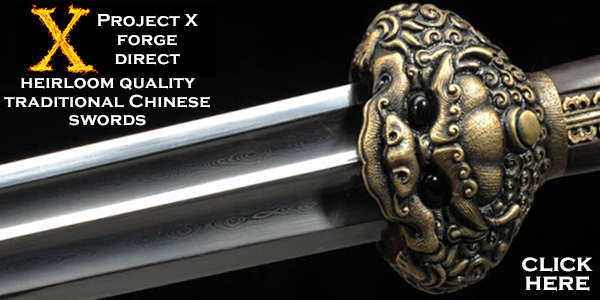 Further Resources

The very best source for information on Chinese sword training and general information on the subject is Scott Rodell's Great River Taoist Centre Forums which includes further reviews, sword training, test cutting, maintenance and much more. High recommended and very informative.
---
I hope this information on Chinese Swords has been helpful. To return to the Sword Buyers Guide's Homepage, from Chinese Swords, click here

Click here for our handpicked range of fully functional Chinese Swords at the SBG Sword Store

Looking for honest, trustworthy sword sellers? Look no further than:

FEATURED ARTICLES AND REVIEWS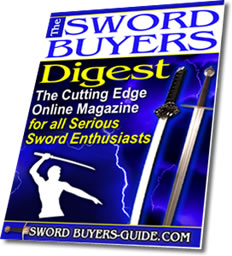 Sword Buyers Digest Newsletter!

Sword Buyers Digest Newsletter

Sign Up to Our FREE Monthly E-zine for all the latest sword news, info and much, much more! Click here for more info.