Budget Yong Lo Sword Review

If you have read our article on the Yong Lo Sword - with several different versions from $200 to $10,000+ you will know that this popular Chinese Sword design has many forms and incarnations.
This version is the budget version - one that is often sold as a higher end sword because it looks the part..
But not at SBG...
We price our swords based on what they cost, not how much we think we can get away with selling them for - and in this hands on quick review so get a quick look at what to expect for this model that we brought to market in collaboration with Mr. Sam Sung from Ryujin Swords.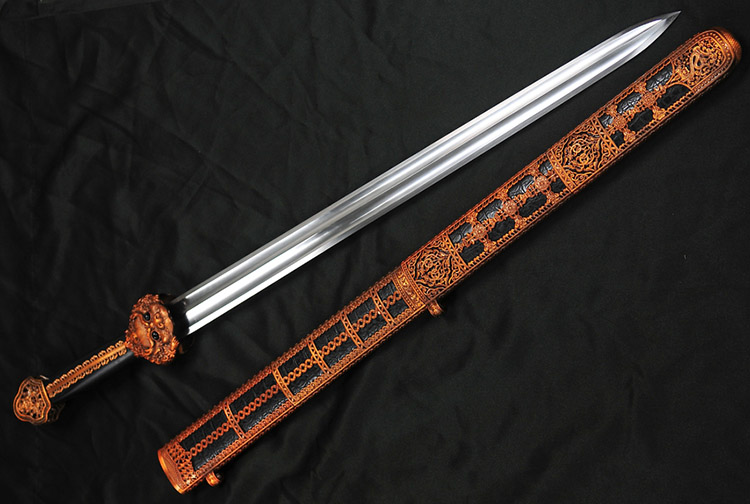 ---
Budget Yong Lo Sword Review
Review by SBG member Kvelduf

---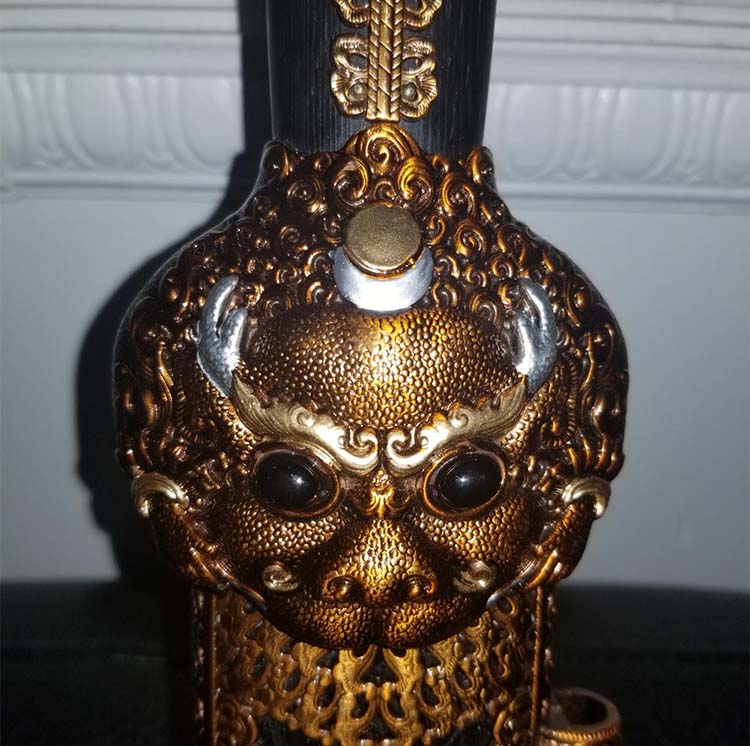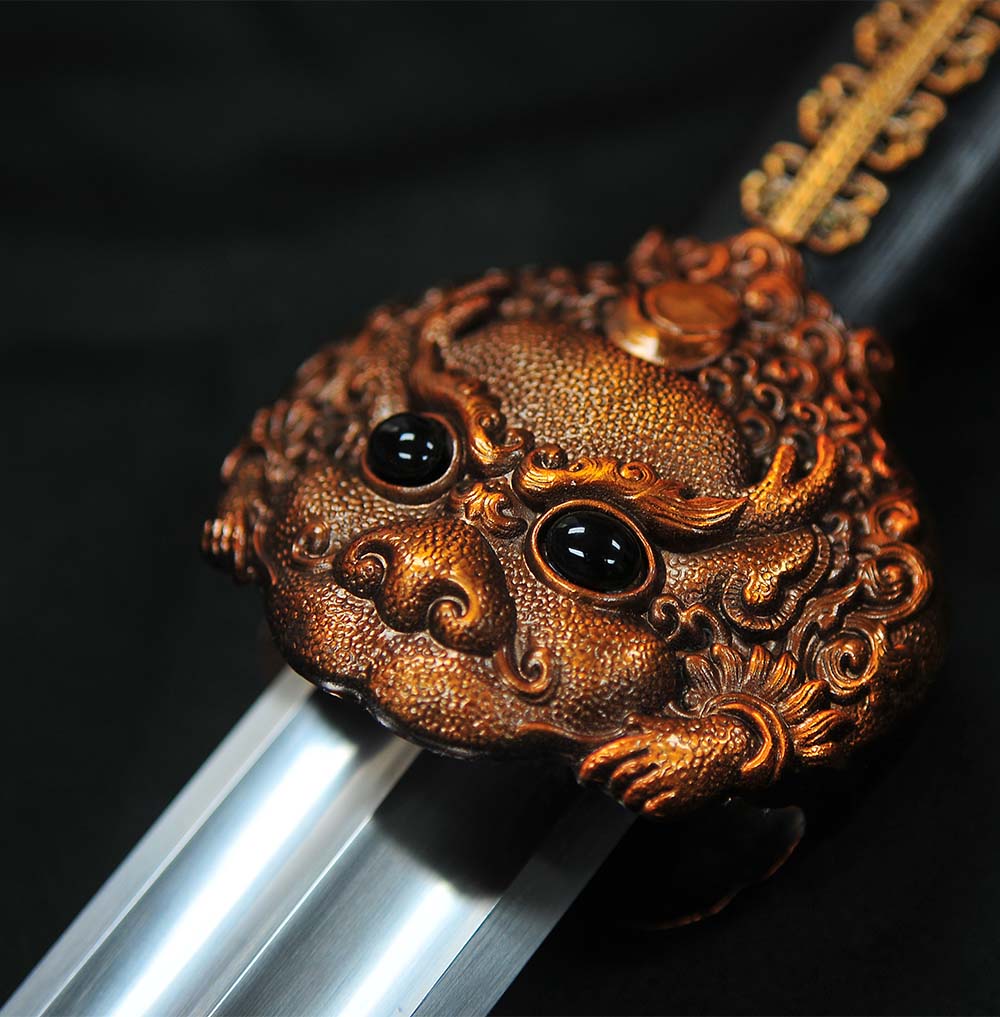 Note that the silver highlights were done by Kvelduf, the sword itself is normally just one color as pictured above (click for a larger image)

I ordered the Yong Lo sword mere hours after the SBG newsletter arrived.
At this price, I couldn't resist! Since it was the weekend, the sword did not ship until June 4. It was on my doorstep in Ontario, Canada on the 11th.
The shipping box -- a normal, plain, heavy cardboard unit -- contained a cloth-covered wood presentation box with a golden orange nylon fitted liner.
The sword and scabbard were exactly as shown in SBG's photographs and, so far as I can tell, exactly the same as the first $1200 SBG replica.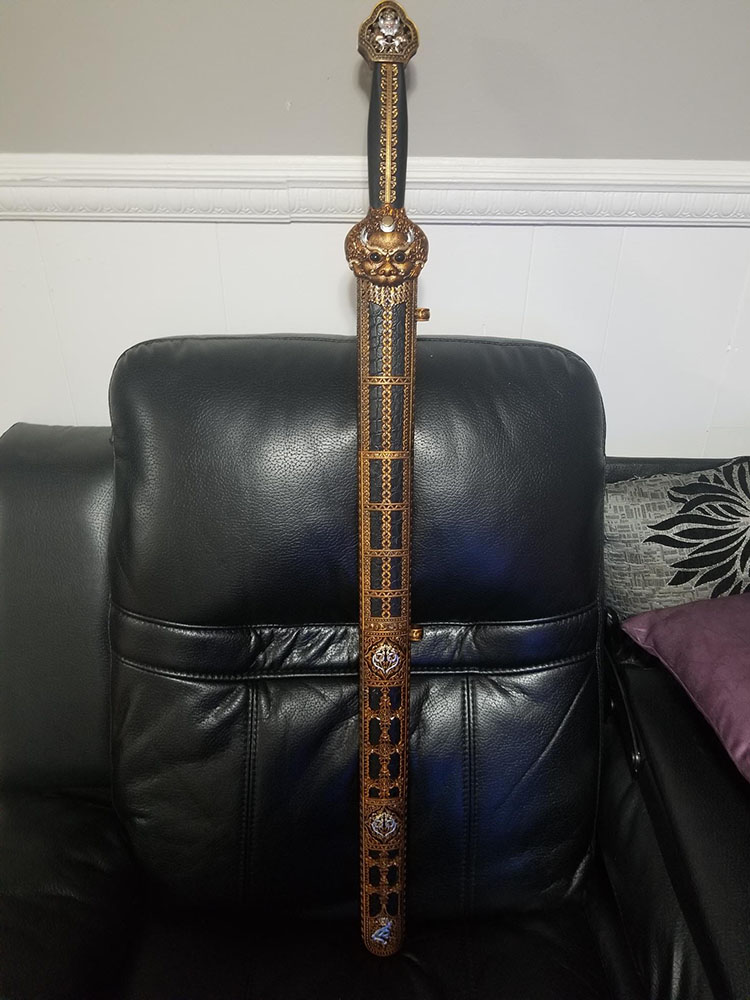 I was expecting the brass fittings to be flimsy stampings but they are very solid and heavy castings lacquered with a copper finish.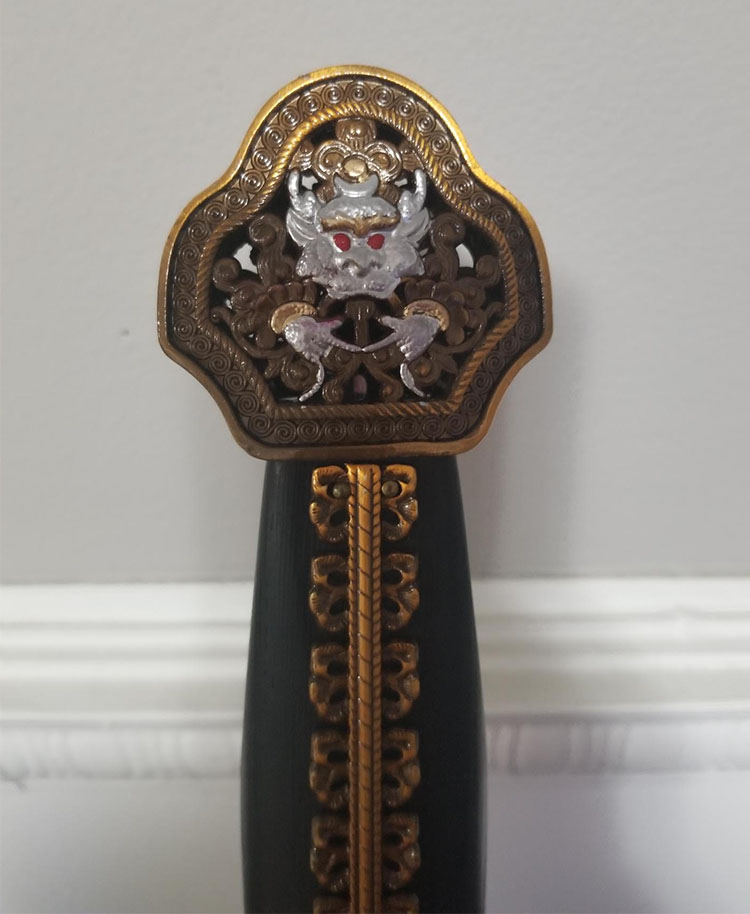 The only substantial difference from spec was in the length of the blade: the specification is 26 inches and my blade is only 24 inches. I guess I'm not the first man to want two more inches.

Just to be clear, the blade measurement starts BENEATH the guard at the end of the handle, thus its length depends on where you define its starting point I guess..
If this were a $1200 sword, I would consider returning it. At $400, I would look at the perfection of the blade with those gorgeously deep fullers and accept a trivial, almost unnoticeable difference. At $200, I'm laughing!
I did make a change to sword and scabbard. I found the copper finish monotonous so, since the original has silver and gold detailing (the silver on the 1403 original now looks dull gray), I broke out my model paints.

---
I hope this mini review of the Yong Lo Sword has been helpful. To return to Chinese Swords from Budget Yong Lo Sword Review, click here


Buying Swords Online Can Be

DANGEROUS!



Find the Best Swords in the:
Popular & Recommended ARTICLES

---
---