Take your time!!!
by Bobby Rominger
(Boone, NC, USA)
I have an Accusharp Knife Sharpener (as listed on your website). Without a doubt this thing works INCREDIBLY WELL!!! Its pretty cheap and it doesnt take any knowledge about sword sharpening to get your blade to a sharp and usable edge for test cutting with the Accusharp. However, for a long time I have been sharpening my knifes and swords the wrong way. I have been pushing down fairly hard and going really fast. THATS NOT THE WAY TO DO IT!!!! It messes up the blades geometry and can case minor weaves in the blade from wear you press down to hard. After further reading on this website, I learned that if you just take your time and push lightly you will get MUCH better results on your blade.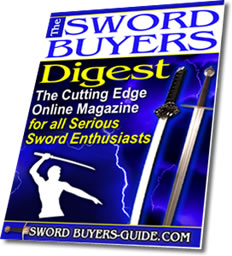 Sword Buyers Digest Newsletter!

Sword Buyers Digest Newsletter

Sign Up to Our FREE Monthly E-zine for all the latest sword news, info and much, much more! Click here for more info.