"stay sharp sword sheath"
by Quinn D'artanian Arthur
Well this is an idea i have had for a while now and is intended for custom or home made swords but the whole concept is a sheath that whenever you draw or sheath your sword it is sharpened becuase of little sharpening stone at the "slot" of the sheath where the blade is inserted, I first got the idea from looking closley at a kitchen knife case that i have, and whenever I drew or sheathed the blade i could hear and feel the "SHIIING" of sharpening stones and it just hit me that I could use it in a sword sheath!


You have to make this sheath though, becuase i don't have any for sale or instructions so you guys are on your own for that one! Sorry....any who that is my concept for sword care and easy sharpening.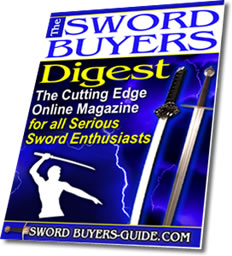 Sword Buyers Digest Newsletter!

Sword Buyers Digest Newsletter

Sign Up to Our FREE Monthly E-zine for all the latest sword news, info and much, much more! Click here for more info.