My personal experience with SBG Store and SBG Custom
by Cory Johnson
(Ontario Canada)
While my initial experience with SBG Custom was not so sweet(refer to review for full explanation) , after owning the sword for a while after Paul had fixed the issue, I found my self a GREAT cutter! I took this sword to many "bottle battles" and always came out the victor! It always handled great, looked very handsome on its wall mount and was the pride of my collection.


A solid sword and the most honorable man backs these swords. I Recently had to sell my SBG for economic reasons, but every day that passes I wish that I had sold something else (family cat, our only vehicle, or my computer.... ;) )
Nothing on this Earth would stop me from buying another (minus lack of funds that is... :( )
Major Cory J.~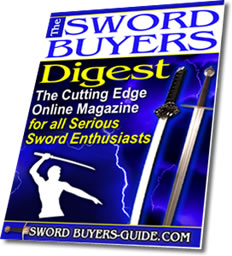 Sword Buyers Digest Newsletter!

Sword Buyers Digest Newsletter

Sign Up to Our FREE Monthly E-zine for all the latest sword news, info and much, much more! Click here for more info.