29 in. blade (folded) with bo-hi, small tsuba, 14 in. tsuka with leather wrap, textured saya.
by Justin Robinson
(Lancaster, Ca.)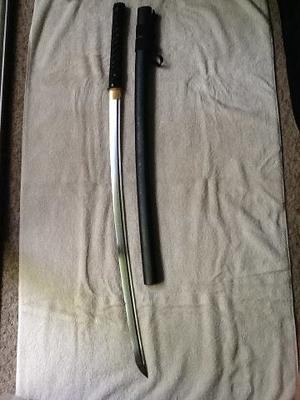 Now that I've had some time to get to know the sword a bit, I'd like to share a few things about it. First, the positive thoughts. The blade itself - is very nice. I selected the folded steel option which gives the blade a very attractive, traditional look. The hamon is gorgeous, and the blade overall has a very nice polish. The bo-hi makes it relatively light, though retaining plenty of heft, and the 'WHOOSH! WHOOSH!" during cuts is very satisfying.

And next, some concerns. Upon placing my order, I requested, and paid for, the tsuka to be extended to 14 inches. So after waiting four months to receive my order the first thing I notice upon opening the box is an 11 inch tsuka. Significant disappointment. I contacted SBG about it and they refunded me the difference plus some for the oversight, but that still leaves me stuck with a shorter tsuka than I wanted. Both the fuchi and koshira are loose. The leather tsukamaki is tight up the length of the handle, but I can pull the koshira almost completely off, and the end knot/wrap with it. Noticed something felt a little odd during some swings, gave the cap a little tug, and off it came. The fuchi has significant lateral movement. The fit of the tsuka to the tang is... less than perfect. The fit of the blade in the saya, also... less than perfect - the effect being small gaps between the tsuka and the tsuba, as well as the tsuba and the saya when the blade is sheathed.

Overall impression - this is going to end up being a project sword. The blade itself is lovely. Everything else, well... it's a good mock up of what I would like the sword to be in it's finished state. Which is fine. For the price, as SBG states, the blade could justifiably be sold in shiira saya, and I consider it such, as I hope to have my friend at Cottontail Customs fit this wonderful blade out properly.