Hey,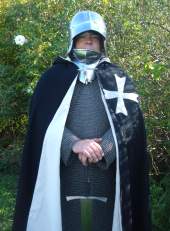 What a crazy, busy month February was!
I've been working pretty much 24-7 since I got back from my trip to Japan trying to play catch up, and I must admit that writing this issue of the digest has been a bit of a challenge (especially as February is a short month, darnit!). But I have thrown together an issue for you all, so even though it may not be perfectly polished – I hope you still enjoy it!
CONTENTS
1. SITE NEWS AND UPDATES
2. SBG Sword Store News
3. Sword Industry News
4. Best Forum Posts
5. Video of the Month: Secrets of the Samurai Sword
6. New Products from Your Favorite Sellers

---
SBG SITE NEWS AND UPDATES
---
No major updates to the site to report for February – pretty much just the usual site maintenance, etc – but of course a good chunk of last month was spent visiting my daughter in Japan (and then trying desperately to catch up on a mountain of emails awaiting me when I got back! Lol – it was like a war, I felt a bit like Miyamoto Musashi with both swords drawn hacking away at every email in sight until my fingers bled – which they did – but that was only because I had cut myself sharpening a sword when I got back!).

Anyway, the trip itself was awesome – I've been to Japan quite a few times over the years and really cannot get enough of the people, the food and the culture. But this time my primary reason for visiting was to catch up with my little girl Lana from my previous marriage – I must admit that a lot of time had passed since I had seen her (she was 3 when I last saw her in May) and I was worried that she might not remember me very well or would be scared or shy of this big gaijin daddy – so I was relieved that her shyness lasted a millisecond, and then she gave me a big hug and it felt like no time had passed at all..



Anyway, while I didn't have the budget to travel much this time, it was still an awesome trip – it even SNOWED in Osaka, which is very, very rare in the city at any time of year (and as it was my first time to see snow, it was especially nice to be able to see it together with my daughter, who also had never seen it up close!).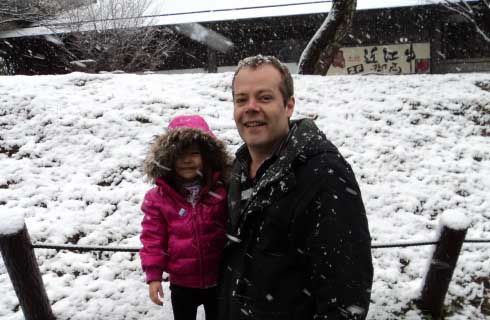 The time there went too quickly, and I feel a strong urge to head back to Japan on a more permanent basis – not an easy task (or as the Japanese would say "AsaMeishi no shigotodewaarimansen" – which I believe from my attempts at butchering the Japanese language means "Not a job that can be done before breakfast!") – but one that I am drawn towards, and at the moment I am saving up my pennies again to spend some more time there in May for Lana's 4th birthday, so who knows..

Anyway, since I missed out on doing any cutting during this time (apart from my finger, which doesn't count) I hope to make up for it big time in March – and have just the swords (and the tatami mats) for it, so stay tuned!

P.S. Sorry that I wasn't able to get any of the promised snaps of Osaka Castle and surrounds, I stayed quite close by but as I have been there before and my daughter actually got a bit of a nasty stomach bug during my stay (projectile vomiting on the subway is not a pleasant experience for anyone! She's fine now btw) it just didn't happen – but gives me a good excuse to go there and try again soon doesn't it.. ;-)
---
SBG SWORD STORE NEWS
---
Yup, it's that time of the year again!
Right now we have just opened up on the 16th batch of the $330 SBG Custom Katana – and with all the new options on offer, it's no surprise that we are rapidly filling up our assigned quota of orders before we slam the door shut again and send all the orders off to the forge to be brought to life – like some of the more unique ones photographed by the forge before shipping below.



So for anyone who has been waiting for this opportunity, now is definitely the time to reserve your place and get your design submitted before we close off again!

$330 SBG Custom Katana!



---

---
March sees a couple of very cool releases of new products, perhaps most notably the much anticipated Falchion by Valiant Armory…



Of course, it's not going to be called 'Falchion' – and indeed until the 14th of March you have a chance to win the first one by giving it a suitable name – just click here for details on how to enter!

But that's not all – the new ancient sword related movie, the Eagle (click here for the trailer, basically a Roman vs Celt swordfest) https://www.youtube.com/watch?v=z_cYUGpAoJw has seen some related (real) movie swords created by Windlass Steelcrafts – and for once, they are at least reasonably historically accurate and definitely unique.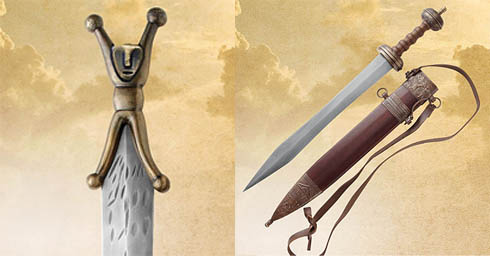 With two versions of a Celtic Anthropomorphic sword (and good looking, but also functional la tenne swords are hard to come by) and 3 gladii on offer, plus some daggers, roman armor and more ranging from $160 to $245 for the swords (minus the 10% MRL/SBG discount of course – click for details on that) even if the movie is a flop, I think that these swords look like an excellent option for the collector of ancient world swords.
Click here to check them all out for yourself

---
VIDEO OF THE MONTH
---
Well, last month I featured Mike Loade's excellent video series ,'weapons that made Britain: the sword' so this month I thought it only fair to try and find something of a similar calibre for Japanese sword enthusiasts..

I can't say that I have been 100% successful (the weapons that made Britain series is pretty hard to top!) – but I did find a recently uploaded video series called 'Secrets of the Samurai Sword', which takes a serious with modern scientific techniques why and how a Katana is made the way it is (not to mention some 'ccc' - cool cutting clips!)..

The video quality is a little grainy, but well worth watching regardless.
Here are the other 5 parts of this series:
Part II
Part III
Part IV
Part V
Part VI
Fascinating stuff, even the most jaded Japanese sword enthusiast can learn something new from this series I think!
---
NEW PRODUCTS FROM YOUR FAVORITE SELLERS!
---
Trueswords.com
Musashi has done it again, with some new releases of their extremely popular sub US$100 differentially hardened Katana with real hamon (same blades as the famous 'bamboo' Katana reviewed on SBG here)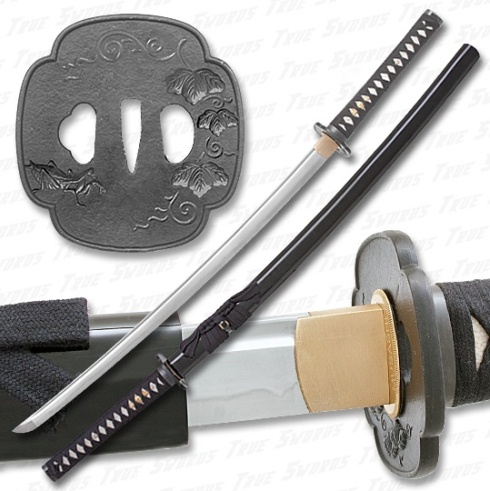 In theirNew Products section you can see four new additions to this series, 2 with nice thick iron tsuba and the other two with Shikashi (cut out) designs to suit your preference, both aesthetically and handling wise.

Click here to see the entire range in this now quite extensive series.

Definitely some serious bang for the buck – and medieval sword fans have not been forgotten, with the elegant but extremely tough Italian hand and a half sword by Cold Steel (pictured below) for just $229.99 ($399 and backordered at Cold Steel – click here to see the official promo video, worth watching even if just to see a raw chicken hanging on a hook get cut in half! Lol).

Museum Replicas Limited (MRL)

This one is a nice little find from their sample room (actually it is the only item in there at the moment) – it's not historical, but for $125 the 34", 3lbs 8oz Scottish Battle Sword seems like pretty darned good value to me!



---
Sorry for the slightly rushed issue – I'll probably take a day or two off to actually unpack my bags from the Japan trip from now, but after that it's full steam ahead for what promises to be a very, very busy month!

Until next issue, Happy Swordening all!

Paul Southren
---